Sen. Bob Worsley, R-Mesa, was elected in 2012 to represent legislative district 25 in the Arizona Senate. Worsley's entrepreneureal accomplishments include being the founder of SkyMall.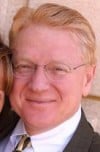 East Valley businessman Bob Worsley is the founder of SkyMall in-flight catalog; he is planning to run for the District 25 Arizona state Senate seat, which serves East Mesa and vicinity.

Incumbent Rich Crandall, left, will not be running for the legislative district 25 state Senate seat. Newcomer Bob Worsley will, however, be running against Russell Pearce in the GOP primary.

Sen. Rich Crandall, standing, confers with Sen. Bob Worsley during the day-long debate over the state budget, including Medicaid expansion.
Monday, March 18, 2013 9:12 am
We in the conservative movement are still licking our wounds from the last election. As we do some soul-searching, it should be easy to answer one question: Do we side with those who think no tax is high enough, or are we on the side of America's entrepreneurs, professionals, farmers, ranchers and small business owners?
Tuesday, August 28, 2012 8:12 pm
Unofficial results show Russell Pearce is facing his second election defeat in a row — once again to a political newcomer who vowed not to pursue divisive illegal immigration legislation.
Tuesday, March 20, 2012 3:55 pm
Recalled Arizona Senate President Russell Pearce found himself facing a Republican primary battle even before he announced his re-election bid.
Wednesday, April 18, 2012 8:00 am
The Mesa businessman who founded SkyMall created a brand that's known to countless millions, even as Bob Worsley remained an obscure figure in his community.

Sen. Rich Crandall, R-Mesa, pictured here talking about the Fiesta Bowl scandal in March 2011, is moving to Legislative District 16 to run for the state Senate. After legislative boundaries were redrawn this year, Crandall found himself in District 25, where recalled Sen. Russell Pearce and SkyMall founder Bob Worsley have already announced plans to run for that district's Senate seat. (AP file photo)
Tuesday, April 17, 2012 1:24 pm
With two companies to run and an acceptance letter from Vanderbilt to pursue a degree in educational leadership, state Sen. Rich Crandall had decided it was time to leave the Legislature.
Monday, March 19, 2012 9:36 pm
Former state Senate President Russell Pearce wants to be a lawmaker again.
Tuesday, February 12, 2013 6:15 pm
The future of voting is online, and moving Arizona's elections to the Internet would save money, deter voter fraud and increase efficiency, a state lawmaker says.
Tuesday, October 18, 2005 6:40 am
Federal officials have agreed to guarantee a $16 million loan so a company can build a power plant in northeast Arizona to generate electricity from wood.
Thursday, September 27, 2007 5:23 pm
Two East Valley companies are forming a new venture that will focus on renewable energy and emission controls at coal-fired power plants.
Friday, March 15, 2013 9:12 am
State lawmakers are poised to make it more difficult for some people to collect unemployment benefits.
Sunday, February 24, 2013 12:47 pm
Arizonans who fear the federal government will make their folding money worthless may soon be able to substitute privately minted gold and silver coins.
Thursday, April 18, 2013 3:38 pm
A plan to revamp the state's recall laws for all future elections fell apart Thursday as some Republican senators broke party ranks.

In a Tuesday, Nov. 8, 2011 photo, Arizona State Sen. Russell Pearce, R-Mesa, left, prepares to address the media in Mesa, Ariz. after losing his recall election bid, as Maricopa County Sheriff Joe Arpiao, right, stands by his side. The ex-legislator who championed Arizona's illegal immigration law says he has no regrets but that he'd like voters to give him a second chance. Ousted in a November 2011 recall election in which the immigration issue was a major focus, Russell Pearce is now running to return to the Arizona Legislature, where he was Senate president when ousted. Pearce faces what appears to be an uphill climb as he faces prominent businessman Bob Worsley in the Aug. 28 Republican primary for the state Senate seat for a redrawn district in suburban Mesa. (AP Photo/Matt York)
Thursday, May 16, 2013 9:45 pm
State senators approved their version of a new $8.8 billion budget Thursday -- but not before adding millions of dollars to the original Republican plan.
Wednesday, March 21, 2012 6:47 am
Two longtime Arizona pollsters say the odds are stacked against former Arizona Senate President Russell Pearce in his campaign to return to the legislature.
Monday, August 20, 2012 2:43 pm
Some big names in Arizona legislative politics face contested races in the Aug. 28 primary election, with redistricting fallout expanding the normal array of intraparty rivalries resulting from ideology and ambition.
Friday, March 1, 2013 6:24 pm
Those who hope to scratch or pick their way to riches may soon get some protection from family and friends and foes.
Friday, February 8, 2013 7:15 pm
Hoping to avoid another ouster of one of their own, Republican legislators on Thursday voted to change the rules for recall elections.
Saturday, September 1, 2012 7:00 am
Arizona's primary election may indicate the tea party is losing some of its influence, public opinion experts said after Tuesday's vote.