Terry Williams

A bronze figure called "The Ten Titled Sculpture" is surrounded by oil paintings and a plaster woman sprouting a wing from her shoulder in "The Fine Art of William Barnhart," a show by a longtime Mesa artist at Vision Gallery in Chandler. [Mandy Zajac/Tribune]

An untitled plaster figure and an oil painting titled "San Juan's Dream" greet visitors to The Fine Art of William Barnhart exhibition at Vision Gallery in Chandler. [Mandy Zajac/Tribune]

Visitors can get an up-close look at works by William Barnhart, including this untitled plaster figure, at the Mesa artist's new show at Vision Gallery in Chandler. [Mandy Zajac/Tribune]

A bronze figure called "The Ten Titled Sculpture" is surrounded by oil paintings in "The Fine Art of William Barnhart," a show by a longtime Mesa artist at Vision Gallery in Chandler. [Mandy Zajac/Tribune]

A plaster and feather sculpture titled "My Winged Victory" and an oil painting called "A Boy and His Dog" are two pieces by Mesa artist William Barnhart on display through March 8 at Vision Gallery in Chandler. [Mandy Zajac/Tribune]

Four Brothers, a massive oil painting that seems to reveal more the longer one looks at it, occupies an entire wall in Chandler's Vision Gallery. Mesa artist William Barnhart created the $28,000 work for his solo show currently on display at the gallery. [Mandy Zajac/Tribune]

"Mama's Chair," a small bronze sculpture, is one of the works on display in Mesa artist William Barnhart's show at Vision Gallery in Chandler. [Mandy Zajac/Tribune]

"The Family Tree," a bronze tower of five figures, is one of the works on display in Mesa artist William Barnhart's show at Vision Gallery in Chandler. [Mandy Zajac/Tribune]

"The Family Tree," a bronze tower of five figures, is one of the works on display in Mesa artist William Barnhart's show at Vision Gallery in Chandler. [Mandy Zajac/Tribune]

"The Family Tree," a bronze tower of five figures, is one of the works on display in Mesa artist William Barnhart's show at Vision Gallery in Chandler. [Mandy Zajac/Tribune]

A child appears to be gazing out of an oil painting titled "Far Too Late" in Mesa artist William Barnhart's show at Vision Gallery in Chandler. [Mandy Zajac/Tribune]

Desert Vista coach Dave Williams has a new look to his roster after graduation along with tranfers in and out of the program.

Actor William Shatner poses for a portrait in Los Angeles, Monday, Jan. 30, 2011. Shatner is starring in the upcoming broadway show "Shatner's World: We Just Live in it." (AP Photo/Matt Sayles)

After joining the Cardinals practice squad last December, William Powell earned a roster spot by rushing for 249 yards during the preseason.

The Cardinals offense is in shambles these days without Ryan Williams (out for the season), Beanie Wells, Levi Brown, Todd Heap and others.

Arizona Cardinals running back Ryan Williams walks off the field after being injured during the fourth quarter of an NFL football game against the St. Louis Rams Thursday, Oct. 4, 2012, in St. Louis. (AP Photo/L.G. Patterson)

Ryan Williams leads the Cardinals in rushing with 105 yards - 62 of which came in the fourth quarter of Sunday's victory over the Eagles.

Arizona Cardinals running back Ryan Williams (34) fumbles the ball as he is tackled with under two minutes remaining in the fourth quarter while the Cardinals lead the New England Patriots 20-12 in their NFL football game in Foxborough, Mass., Sunday, Sept. 16, 2012. The Cardinals defeated the Patriots 20-18 in the Patriots first regular season home loss since 2001. . (AP Photo/Stephan Savoia)

United States' William Priddy points to a teammate after scoring during a men's preliminary volleyball match against Serbia at the 2012 Summer Olympics, Sunday, July 29, 2012, in London. (AP Photo/Jeff Roberson)

William Claye reacts after competing in the triple jump competition at the U.S. Olympic Track and Field Trials Saturday, June 30, 2012, in Eugene, Ore. (AP Photo/Charlie Riedel)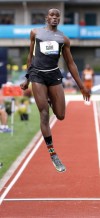 William Claye participates in the men's long jump finals at the U.S. Olympic Track and Field Trials Sunday, June 24, 2012, in Eugene, Ore. (AP Photo/Matt Slocum)