Wednesday, May 1, 2013 12:00 am

Higley's Williams Field High School in Gilbert will see 340 students receive diplomas this year. Those students have already been awareded $5.6 million in scholarships.
Wednesday, July 7, 2010 2:39 pm
Two Gilbert boys have now been charged following allegations they damaged a sprinkler head at Williams Field High School in May, causing $170,000 in damage to the Higley Unified School District campus, according Maricopa County Juvenile Court records.
Wednesday, June 9, 2010 1:20 pm
Two 16-year-old Williams Field High School students have been arrested in connection to a prank that caused $170,000 in damage to the Gilbert campus, according to police.

Williams Field High School senior Celina Ramos works with a solution to break down the genetic material of the Palo Verde plant. Ramos is among nine honors students who worked on the gene sequencing project for her high school biotechnology class. (Submitted)
Tuesday, May 15, 2012 12:00 pm
The Williams Field High School marching band, known as the Black Hawk Regiment, will appear in the 2012 Citrus Bowl Parade in Orlando in December.
Saturday, August 7, 2010 12:00 pm
Higley Unified School District and Rio Salado College have partnered to provide their "Premier College Partnership" early college program to students at Williams Field High School and Higley High School, and to community members.
Monday, May 24, 2010 3:45 pm
The Higley Unified School District is still investigating several pranks that took place Friday at Williams Field High School.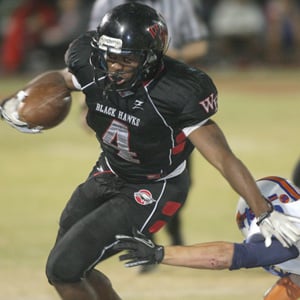 High school football game action from the first round of the AIA State Championship, Friday, Nov. 4, 2011.

Williams Field coach Steve Campbell against Campo Verde in their playoff game Friday, Nov. 2, 2012, at Williams Field High School in Gilbert. [Paul Connors/Special to Tribune]

Campo Verde fans cheer against Williams Field during their playoff game Friday, Nov. 2, 2012, at Williams Field High School in Gilbert. [Paul Connors/Special to Tribune]

Williams Field flag girl Emily Dean performs with the band before the Bulldogs game, Friday, Oct. 26, 2012 at Queen Creek High School. [Brant Clinard/ Special to Tribune]

Campo Verde cheerleaders take a knee during an injury time out against Williams Field during their playoff game Friday, Nov. 2, 2012, at Williams Field High School in Gilbert. [Paul Connors/Special to Tribune]

Williams Field quarterback Jeddediah Fagg looks for an open receiver against Campo Verde during their playoff game Friday, Nov. 2, 2012, at Williams Field High School in Gilbert. [Paul Connors/Special to Tribune]

Williams Field runningback Sean Schweichler, left, is tackled for a loss by Campo Verde linebacker Mitch Siebenaler, right, during their playoff game Friday, Nov. 2, 2012, at Williams Field High School in Gilbert. [Paul Connors/Special to Tribune]

Campo Verde quarterback Luke Pineda, right, breaks away from Williams Field safety Branden Amenta, left, on his way to the endzone during their playoff game Friday, Nov. 2, 2012, at Williams Field High School in Gilbert. [Paul Connors/Special to Tribune]

Campo Verde defensive back Brock Sanderson, left, attempts to intercept a pass intended for Williams Field wide receiver Nick Adamcik, right, during their playoff game Friday, Nov. 2, 2012, at Williams Field High School in Gilbert. [Paul Connors/Special to Tribune]

Campo Verde quarterback Luke Pineda, left, is chased down by Williams Field cornerback Terrence Payne II, right, during their playoff game Friday, Nov. 2, 2012, at Williams Field High School in Gilbert. [Paul Connors/Special to Tribune]

Campo Verde coach Max Ragsdale talks with his players during a timeout against Williams Field in a playoff game Friday, Nov. 2, 2012, at Williams Field High School in Gilbert. [Paul Connors/Special to Tribune]

Williams Field players take the field as supporters hold lengths of chain prior to playing Campo Verde in a playoff game Friday, Nov. 2, 2012, at Williams Field High School in Gilbert. [Paul Connors/Special to Tribune]

Williams Field marching band member Troy Davis balances a contra on his shoulder prior to the game against Campo Verde in their playoff game Friday, Nov. 2, 2012, at Williams Field High School in Gilbert. [Paul Connors/Special to Tribune]

Williams Field runningback Sean Schweichler, right, rushes as he is chased by Campo Verde defensive back Brock Sanderson, left, during their playoff game Friday, Nov. 2, 2012, at Williams Field High School in Gilbert. [Paul Connors/Special to Tribune]

Campo Verde quarterback Luke Pineda, left, is chased down by Williams Field defensive end Steve Elliot, right, during their playoff game Friday, Nov. 2, 2012, at Williams Field High School in Gilbert. [Paul Connors/Special to Tribune]

Williams Field kick returner Josh Page carries the ball on the opening kickoff against Campo Verde during their playoff game Friday, Nov. 2, 2012, at Williams Field High School in Gilbert. [Paul Connors/Special to Tribune]

Williams Field quarterback Jeddediah Fagg collects himself after being sacked by Campo Verde linebacker Sean Appel during their playoff game Friday, Nov. 2, 2012, at Williams Field High School in Gilbert. [Paul Connors/Special to Tribune]

Campo Verde's Zack Patton, left, makes a reception in front of Williams Field cornerback Terrence Payne II, right, during their playoff game Friday, Nov. 2, 2012, at Williams Field High School in Gilbert. [Paul Connors/Special to Tribune]