Friday, May 10, 2013 5:00 pm

The placemat is a favorite at many dinner tables: The often-whimsical plastic version catches the slip of spaghetti from a youngster's fork, while a nice cotton placemat elevates the dining experience just a little without having to set down a whole tablecloth.
Thursday, May 9, 2013 6:00 pm
LAS VEGAS — To step into club XS at the Wynn Las Vegas is to enter the dreamscape of a modern artist with fetishes for gold and bronze and bodies in motion.
Monday, May 6, 2013 5:00 am
Looking for a fresh way to liven up your garden walls? Think plants, not paintings.
Wednesday, April 24, 2013 6:00 am
NEW YORK — You might as well roll out the red carpet in front of the school gymnasium or hotel ballroom and line it with parental paparazzi: Prom season provides many girls a chance to have their moment in the spotlight.
Thursday, April 18, 2013 3:15 pm
Miles of stucco-coated strip malls and houses topped with red tiles roofs got you feeling a little ... homogenized? The Modern Phoenix Expo might be the cure for what ails you.
Thursday, April 18, 2013 12:00 pm
If your favorite stores are on Etsy.com, the weekend's Big Heap Festival could be your chance to finally get to shop the kind of places you dig in person.
Friday, April 12, 2013 12:01 am
Robert Redford does his most compelling work in some time as both actor and director in "The Company You Keep," a tense yet admirably restrained thriller about a fugitive forced out of hiding after 30 years to prove his innocence. Adapted with clarity and intelligence by Lem Dobbs from Neil Gordon's novel, and lent distinguishing heft by its roster of screen veterans, this gripping drama provides an absorbing reflection on the courage and cost of dissent.
Wednesday, April 10, 2013 12:00 pm
In our wi-fi world of planes, trains and automobiles, travel is taken for granted; in days gone by, it was considered a prerequisite for a well-rounded education. It not only broadened the mind, but also deepened one's experience and knowledge of the world. That vintage wisdom holds true today, making events like the Gilbert Global Village Festival on Saturday a red-letter day.
Tuesday, April 9, 2013 5:20 pm
Thursday, April 4, 2013 5:00 am
NEW YORK — With the housing recovery gaining steam, Americans have more incentives to paint up, touch up and otherwise redecorate their homes. But there's no need to spend willy-nilly.
Friday, March 22, 2013 6:00 am
Falcon Field Airport will host its fifth annual Open House 9 a.m. to 2 p.m. Visitors can get close to aircraft, unique cars, military vehicles and more. Admission and parking are free.
Thursday, March 21, 2013 4:00 am
Visiting this spring's décor previews often felt like exploring an art gallery. There was an artistic vibe to everything from dinnerware to drapery, art photographs to textiles.
Saturday, March 16, 2013 7:00 pm
If you remember when kosher wine meant mostly cheap and sweet, you probably also know that the second part is no longer true. Today, there are plenty of quality kosher wines being made around the world.
Friday, March 15, 2013 5:00 am
SAN FRANCISCO — If you're a baseball fan looking to add a new pastime to your vacation itinerary, consider setting a goal to visit all 30 of the sport's major league stadiums.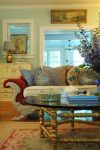 In this November 1, 2012 photo provided by The Decorologist, Downton Abbey-inspired decor with vintage portraits and gold finishes is shown in this living room. Intrigued by the drama and inspired by the sophisticated lifestyle of British aristocracy, many "Downton Abbey'' fans are plotting to bring the PBS series' style into their homes. From gilded finishes to opulent upholstery to portrait paintings, the style holds appeal to those trying to inject a little more formality and glamour into today's casual home decor. (AP Photo/The Decorologist, Kristie Barnett)
Saturday, March 9, 2013 6:00 am
Many Americans have embraced outdoor decorating, filling their yards with fluffy sofas, gleaming end tables and even outdoor rugs.
Wednesday, March 6, 2013 9:00 am
From fashion to music, vintage is "in" these days. "Memphis," the Tony Award-winning musical on stage this week at ASU Gammage, taps into that vibe.
Monday, March 4, 2013 6:00 pm
If you've never seen an ostrich race, it's a good reason to head to Tumbleweed Park March 8-10. If you have seen an ostrich race, it's probably a good idea to go down there and see another one to make sure it wasn't some odd, exhilarating dream.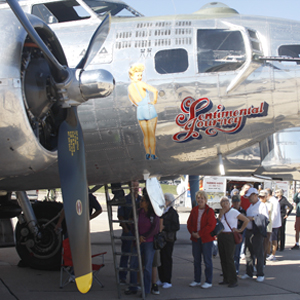 Aviation enthusiasts look over vintage war planes Friday,March 1, 2013, at the Phoenix-Mesa Gateway Airport during the Commemorative Air Force's AirPower History Tour. [Tim Hacker/Tribune]
Saturday, February 16, 2013 3:04 pm
The Chandler Police Department will take part in the second annual Public Safety Day and Department Open House on March 2. The event will run from 10 a.m. to 2 p.m. at the police department's main precinct, 250 E. Chicago St.
Wednesday, February 13, 2013 5:59 am
On Valentine's Day, the Arizona Lindy Hop Society is asking East Valley residents to grab their partners and enjoy a night of dancing and fun in the grand opening of the Swing Lounge in Tempe.
Tuesday, February 12, 2013 2:00 pm
The Musical Instrument Museum invites you to enjoy a selection of internationally inspired hors d'oeuvres and beverages while The Sugar Thieves, pictured, and the Savoy Hop Cats perform live music and local artists paint pictures before your eyes. Each ticket includes a complimentary beverage and access to a cash bar. The museum galleries will be open.
Wednesday, February 6, 2013 12:00 pm
Don't worry if you've yet to find something special for loved ones this Valentine's Day. You can easily and inexpensively add extra heart to gifts by making them at home.
Friday, February 1, 2013 1:00 am
"Warm Bodies," the latest permutation of the zombie screen phenomenon, places heart over horror and romantic teen angst over sharp social commentary.