In this Jan. 6, 2012 photo, attendees check out the unveiling of 4G devices at the Verizon booth during the Consumer Electronics Show, in Las Vegas. Challenging Netflix, Verizon said Monday, Feb. 6, 2012, it will start a video streaming service later this year in cooperation with Redbox and its DVD rental kiosks. (AP Photo/Isaac Brekken)
Saturday, April 10, 2010 2:11 pm
Q: I use a Verizon Air Card; the mobility, thus far is great, but I am only able to use it on one computer. Recently heard that I could network the Air Card by using one of the CradlePoint 3G/4G Routers. Any pertinent information you can share? - Gloria
Friday, January 27, 2006 5:01 am
Verizon will lay off more than 400 workers at a Chandler call center in March as a result of changes in the telemarketing industry, including the National Do Not Call Registry, a Verizon spokesman said Thursday.
Tuesday, April 29, 2008 1:35 am
NEW YORK - Verizon Communications on Monday reported steady earnings in a stormy economy.
Monday, October 19, 2009 3:41 pm
Verizon Wireless said Monday it has officially completed the conversion of former Alltel retail stores in the Valley to the Verizon brand and has completed the merger of the Alltel billing system with Verizon's system nationwide.
Saturday, April 28, 2007 5:34 am
Verizon Wireless has signed a lease to establish a new Southwest regional headquarters in Chandler, the company said Friday.
Tuesday, August 23, 2005 7:22 am
SAN FRANCISCO - Verizon Communications Inc. and Yahoo Inc. have teamed up to launch a cheaper high-speed Internet service designed to compete against cable operators and dial-up service providers.
Monday, April 25, 2005 6:20 am
NEW YORK - Verizon is widely expected to boost its bid for MCI again now that the longdistance phone company has embraced a rival $9.75 billion bid from Qwest, though it remains unlikely Verizon will need to pay that much to win MCI back.
Tuesday, March 29, 2005 5:15 am
Verizon Wireless said Monday it will hire 150 full-time customer service employees in Chandler to serve the company's growing customer base in the Southwest.
Wednesday, February 15, 2012 7:00 pm
Phone company Verizon Communications Inc. will challenge Netflix and start a video streaming service this year with Redbox and its DVD rental kiosks.
Tuesday, February 15, 2011 7:53 pm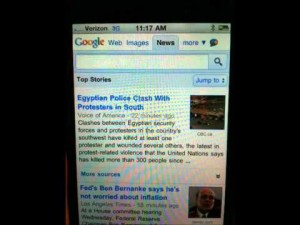 Wednesday, December 1, 2010 11:31 am
NEW YORK — Verizon Wireless says its new "4G" wireless broadband network will start accepting customers on Sunday in 38 cities.
Wednesday, October 28, 2009 2:26 pm
Verizon Wireless said Wednesday it will introduce the new Droid smart cellphone by Motorola on Nov. 6.
Saturday, July 18, 2009 2:54 pm
Sarah Porter, health and wellness coordinator at Verizon Wireless' Chandler-based customer service center, adeptly kick-boxed the chest of a life-like dummy as a handful of fellow employees on treadmills cheered her on without slowing their own pace.

WORKOUT WITH A SMILE: Manny Lopez and Shannon Copruz enjoy their morning workout at the Verizon Wireless offices in Chandler. "We know happy employees equals happy customers," says company spokeswoman Jenny Weaver.
Monday, September 10, 2007 9:14 pm
East Valley seniors 65 years and older can get a cell phone and calling plans tailored to their needs under a program introduced last week by Verizon Wireless.
Monday, July 16, 2007 1:54 pm
NEW YORK - Blue chip stocks rose Monday as news of a potential big telecom deal involving Verizon pushed the Dow Jones industrials to a new record close, and put the index closer to 14,000. Overall, stocks traded were mixed as investors digested the market's huge gains of last week.
Wednesday, December 27, 2006 3:43 am
FAIRFAX, VA. - Verizon Communications has flooded mailboxes, gone door to door and even handed out free ice cream as it seeks to sell its new FiOS television, telephone and high-speed Internet service.
Monday, July 31, 2006 6:50 am
NEW YORK - Verizon Wireless is eliminating the monthly $15 fee for its music download service in conjunction with the launch of a cell phone featuring an iPod-like click wheel and a memory card that can hold up to 1,000 songs.
Tuesday, February 15, 2005 6:01 am
PHILADELPHIA - Verizon Communications, which began its life as two of the companies spawned by the breakup of the Bell system 21 years ago, Monday agreed to buy MCI, the company that helped instigate the breakup.