Friday, October 13, 2006 3:19 am
Outlook: Valley Christian's defense will get a stiff test this week from a pass-first offensive team that runs out of the shotgun formation with multiple receivers.
Friday, October 27, 2006 3:32 am
Outlook: The door to the 2A playoffs is open for Scottsdale Christian, but there happens to be a big bouncer standing in the way whose name is Valley Christian.
Friday, October 21, 2005 1:58 am
Address: 1751 W. Indian School Road, Phoenix; Records: Valley Christian 6-1, 4-0 Metro; Phoenix Christian 4-2, 2-2.; Gametime: 7:00 p.m.
Saturday, February 20, 2010 8:41 pm
Kristen Johannsen summed up Valley Christian's triumph Saturday night early in the fourth quarter when she jumped as high as she could and dislodged the ball stuck between the rim and backboard at the Trojans' end of the floor so play could resume.

Derek Robinson teaches Bible last week at Chandler's Valley Christian High School. [Michelle Reese/Tribune]

Derek Robinson teaches Bible last week at Chandler's Valley Christian High School. [Michelle Reese/Tribune]

Students discuss class guidelines with their speech teacher, Sheri Templeton, last week at Chandler's Valley Christian High School. [Michelle Reese/Tribune]

Sophomores Mattae Van Dyke and Clay Susich work on problems during their biology class last week at Chandler's Valley Christian. [Michelle Reese/Tribune]
An update from Valley Christian athletic director Marlin Broek, about Dillon Lackhan, the LB who was injured on a tackle during Friday night's loss to San Tan Foothills…..

Will Lane played for the Ahwatukee Dodgers growing up, playing with a lot of the players on Desert Vista and Mountian Pointe but chose to go to Valley Christian.
Thursday, April 14, 2011 9:15 pm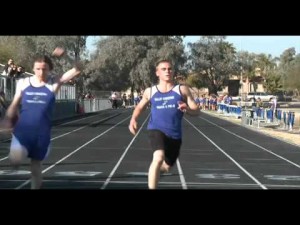 Valley Christian track
Monday, August 23, 2010 3:44 pm
Tuesday, September 23, 2008 12:48 pm
A spiritual twist has been added to the cocktail of exercises known as yoga.
Saturday, September 20, 2008 12:58 am
TOMBSTONE — Tombstone's worst fears of playing Chandler Valley Christian came true as the Yellowjackets were routed 47-6 Friday night.

Holy Yoga instructor Kathy Marcucci leads her class through their movements on Wednesday at the Horizon Presbyterian Church in Ahwatukee.
Friday, November 9, 2007 11:13 pm
Chandler Valley Christian will be able to wear its blue home uniforms the rest of the way after it dominated the ground game and coasted to the Class 2A state semifinals by routing visiting Wellton Antelope 45-20 Friday.
Saturday, October 20, 2007 1:52 am
Penalties almost cost Chandler Valley Christian their homecoming game, but they fought back from a 7-point first half deficit to beat rival Phoenix Northwest Christian 27-20 in the end.
Thursday, August 23, 2007 8:14 pm
Key matchup: Young Valley Christian is set to unleash running back Troy Roffi against an improved Page squad.
Sunday, February 18, 2007 6:30 am
In order to appreciate how dominant Valley Christian was in its 2A state quarterfinal boys basketball victory over Pinon, consider this:
Friday, November 10, 2006 2:56 am
Outlook: One might think Valley Christian coach Bill Morgan would be relieved to be playing Bourgade Catholic again, since his team handled the Eagles 33-14 on Oct. 6.
Saturday, November 4, 2006 2:36 am
Chandler Valley Christian took the first step Friday in defending its 2A state football championship with a resounding first-round playoff victory over visiting Willcox, 35-6.
Friday, November 3, 2006 2:38 am
Outlook: The Trojans begin their drive for a repeat against a dangerous Cowboys team.
Tuesday, December 19, 2006 12:02 am
Save for any unexpected revelations, it appears the Chandler Valley Christian football program is in the clear.