FILE - In this Friday, Aug. 17, 2012 file photo, Sheila Bird, right, waits in line for employment interviews at a job fair at City Target in Los Angeles. Unemployment rates fell in nearly 90 percent of large U.S. metro areas in August, mainly because more people gave up looking for work. The Labor Department said Wednesday, Oct. 3, 2012, that unemployment rates dropped in 329 large cities, the most in four months. (AP Photo/Nick Ut, File)

FILE - In this Sept. 28, 2011 file photo, construction workers check rebar on a highway construction project on Interstate 5 in Los Angeles. Applications for unemployment benefits fall to 390,000 Thursday, Nov. 10, 2011, lowest level since mid-April. (AP Photo/Reed Saxon, File)

Construction workers check rebar on a highway construction project on Interstate 5 in Los Angeles Wednesday, Sept. 28, 2011. The number of people seeking unemployment benefits fell sharply last week, an encouraging sign that layoffs are easing. (AP Photo/Reed Saxon)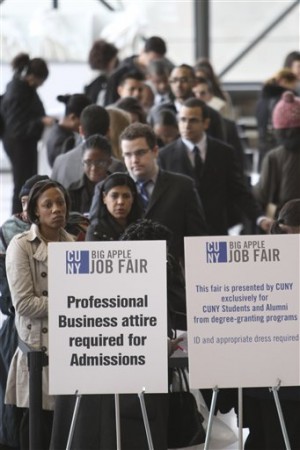 In this April 8, 2011 photo, job seekers stand in line to enter the 23rd annual CUNY Big Apple Job Fair at the Jacob K. Javits convention center, in New York. The number of people applying for unemployment benefits rose for the first time in three weeks, although the broader trend still points to a slowly healing jobs market.(AP Photo/Mary Altaffer)
Wednesday, February 23, 2011 12:23 pm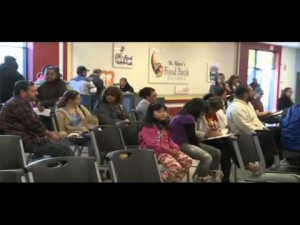 Sunday, October 10, 2004 5:53 pm
The last unemployment figures before the November election are out, and the numbers have stubbornly refused to cooperate with the political needs of the two presidential campaigns.

At Maricopa Workforce Connections in Phoenix, trainer Andrew Ridley leads an interviewing techniques workshop. One goal of the instruction is reducing the stress of a job search.
Friday, September 9, 2011 11:03 am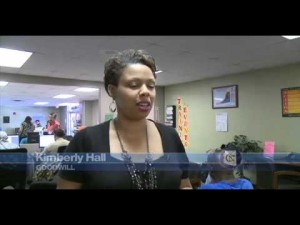 In the midst of President Obama's speech on unemployment, more than 100 valley residents are still scrambling to find jobs. Cronkite News Reporter Leah Masuda visited one valley job fair aiming to help these individuals seek employment.
Friday, June 17, 2011 10:00 am
How uncaring can you get and still remain human? The unemployed are witnessing unprecedented inhumanity at the hands of our extremist, right-wing Legislature.
Monday, March 29, 2010 4:09 pm
A political spat in Washington is going to cost thousands of unemployed Arizonans some — if not all — of their benefits.
Friday, November 6, 2009 6:53 pm
The Arizona Department of Economic Security is warning unemployment insurance recipients of a fraudulent scheme that could allow thieves to obtain their weekly benefits.
Wednesday, September 16, 2009 4:20 pm
What's the Deal? blog: Feeling the stress of being unemployed in the economic downturn? A Chandler business is offering free massages to the jobless.
Thursday, June 4, 2009 5:02 pm
Valley resident Richard Brady is fed up with the Arizona Department of Economic Security, as are Mesa residents Casee Powell and Dennis Crummy.

Dennis L. Crummy walks away from the Department of Economic Security office in Mesa after not getting the help he needed. June 4, 2009.
Saturday, April 25, 2009 3:44 pm
Brad Kempf, 47, went from being assistant vice president of development to joining the burgeoning list of laid-off workers in March.
Saturday, April 25, 2009 3:51 pm
Some 60,000 Arizonans who have been unable to find work are in line for a bit of extra financial help. Gov. Jan Brewer on Friday signed legislation that alters state law to extend jobless benefits by 13 weeks once the unemployment rate hits 6.5 percent and stays there for three months.

GETTING INVOLVED: Claudio Ieronimo of Chandler recently took a voluntary severance package from a technology company and has been in the job market since February. He said he applied to volunteer at Banner Desert Medical Center in Mesa because he appreciates their work and because he has an interest in the field.
Thursday, January 17, 2008 4:19 am
Arizona and the Valley's unemployment rates rose more than half a percent last month as the economy's growth slowed.