Thursday, March 6, 2008 8:59 am

NEW YORK - A small bomb caused minor damage to an empty military recruiting station in Times Square early Thursday, shaking guests in hotel rooms high above "the crossroads of the world."
Sunday, November 9, 2008 9:15 pm
NEW YORK - A 90-year-old who says she's the woman being kissed by a sailor in Times Square in one of World War II's most famous photographs reunited in town with the Navy on Sunday — days before she is to serve as grand marshal of the city's Veterans Day parade.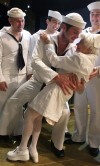 Edith Shain, foreground right, the nurse in the famous photograph taken by Alfred Eisenstaedt of a sailor kissing a nurse in New York's Times Square on V-J Day, tries to imitate the photo's embrace with Nick Mayo, foreground left, a member of the cast of the musical South Pacific as they pose with other South Pacific cast members at the Vivian Beaumont Theater in New York, Sunday Nov. 9, 2008. Shain, 90, is in New York to serve as the grand marshal of the 2008 New York City Veterans Day parade.
Monday, January 1, 2007 2:44 am
NEW YORK - The big ball is not all that drops in Times Square on New Year's Eve. As revelers headed home early Monday, the first day of 2007, work crews moved in to sweep up the remnants of 2006. Their mission: picking up 3.5 tons of confetti (a record-setting amount), as well as sandwich bags, food wrappers and other debris from the big bash.

A police officer walks over the confetti and trash left over from the New Year\'s Eve celebrations in Times Square in New York, Monday, Jan. 1, 2007.
Friday, November 24, 2006 5:48 am
NEW YORK - David Blaine has escaped - again. Shackled to a spinning gyroscope and hovering forty feet above Times Square, the magician managed to free himself Thursday about 2:15 p.m., bringing an end to his latest stunt.

Magician David Blaine talks to the crowd moments before jumping to the ground from 30 feet on Thursday.
Wednesday, December 14, 2005 5:24 am
NEW YORK - Mariah Carey will perform live from Times Square on ABC's "Dick Clark's New Year's Rockin' Eve." It will mark the first time in the 34-year history of the year-end special that a singer has performed from Times Square, the network said.

Mariah Carey
Monday, November 5, 2012 11:07 am
Tom Kenny is a man of a thousand voices -- or so it seems.
Friday, July 21, 2006 11:11 am
The race for the Republican nomination for governor is heating up, but it's not boiling yet. The four candidates fighting to win the GOP primary in September took short potshots at each other Thursday during the first televised gubernatorial debate sponsored by the Citizens Clean Elections Commission.
Monday, August 16, 2004 10:28 am
Monday, August 16, 2004 11:04 am
SANTA MARIA, Calif. - Fans of Michael Jackson erupted in cheers Monday as the pop star emerged from a double-decker tour bus and went into court for a showdown with the prosecutor who has pursued him for years on child molestation charges.
Monday, December 31, 2007 2:15 am
NEW YORK - More than a million revelers in Times Square cheered as the giant crystal ball made its 100th drop on Monday night and a ton of confetti rained down on the urban canyon, ushering in the new year.
Thursday, April 14, 2011 12:49 pm
The West Valley's premier sprinters will face off for the first time Saturday during the Westside Invitational at Deer Valley High School. The meet starts at 9:30 a.m.
Saturday, March 4, 2006 5:52 am
Arizona's auto dealers and AAA Arizona are squabbling at the Capitol over what the latter claims is a power grab. Legislation being pushed by the dealers would spell out in statute that vehicles must be delivered directly from the dealership to the customer.
Saturday, December 5, 2009 4:20 pm
Together, they have thrown for more than 56 miles in 31 NFL seasons. Brett Favre and Kurt Warner are still at it, with no sign of diminished abilities, at age 40 and 38, respectively. Each has his team at the top of its division.
Tuesday, July 12, 2005 6:45 am
"If you give a man a fish, he eats for a day. If you teach a man to fish, he eats for a lifetime."
Monday, July 28, 2003 1:01 pm
Five months and more than $100,000 later, Sandra Kapilovic's dream was over.
Saturday, October 6, 2007 12:11 am
The defensive back "has a lot of love" for the receiver he'll be trying to tackle today. In return, the receiver says the defensive back he'll be trying to beat today is "someone I have admired for a long time."