Terri Ouellette shows off a table cloth craft her family created in 1999 displaying family members hand prints as well as family pets. [Tim Hacker/ Tribune]

Terri Ouellette shows off a table cloth craft her family created in 1999 displaying family members hand prints as well as family pets. [Tim Hacker/ Tribune]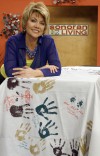 Terri Ouellette show off, Tuesday, Nov. 13, 2012, a table cloth craft her family created in 1999 displaying family members hand prints as well as family pets. [Tim Hacker/ Tribune]

Terri Ouellette show off, Tuesday, Nov. 13, 2012, a table cloth craft her family created in 1999 displaying family members hand prints as well as family pets. [Tim Hacker/ Tribune]

Terri Ouellette show off, Tuesday, Nov. 13, 2012, a table cloth craft her family created in 1999 displaying family members hand prints as well as family pets. [Tim Hacker/ Tribune]

Terri Ouellette show off, Tuesday, Nov. 13, 2012, a table cloth craft her family created in 1999 displaying family members hand prints as well as family pets. [Tim Hacker/ Tribune]

Ouellette
Friday, June 27, 2003 10:53 am
When Valley TV personality Terri Ouellette returns to the airwaves Saturday, viewers who've come to associate her with "you can make this at home!" will get a bit of a shock.
Thursday, November 22, 2012 8:12 am
One of the nicest things about the holidays is that it's an excuse to do one of my favorite things – crafts!
Thursday, August 9, 2012 3:50 pm
"Terri O" is on the go – this time back to a front-and-center seat in front of Valley morning television viewers.

Susan Casper is joining Terri Ouellette as a host of ABC15's Sonoran Living Live.
Monday, July 12, 2004 6:38 am
Friday, March 14, 2003 9:02 am
Terri Ouellette loves crafts, and this month the whole country will know about it. For the second year, the Valley TV personality — host of "Home With Terri O" and the upcoming "On the Go With Terri O" — is spokeswoman for National Craft Month. Ouellette will make appearances at craft stores as nearby as Prescott, and as far away as New Jersey.
Thursday, November 4, 2004 6:18 am
Wednesday, January 2, 2013 5:16 pm
ABC15's Susan Casper is joining Sonoran Living Live as a host on Monday, Jan. 7.
Friday, September 19, 2003 10:23 am
I hate spending money on Halloween costumes. Therefore, I wait until the last minute and end up spending more because everything the little darlings want is sold out.
Saturday, April 20, 2013 5:00 pm
I was chopping vegetables for dinner recently when my 14-year-old daughter, Grace, disappeared with the unusable end of the bok choy. She returned five minutes later with paper, a stamping ink pad and the pilfered vegetable.
Friday, January 2, 2004 9:54 am
It's been a great year for "On the Go With Terri O," but things are about to get even better. In our first show of 2004, you'll learn more about one of the biggest trends in outdoor decor: Fountains.
Friday, December 5, 2003 9:44 am
This is the time of year I break out the glue gun and whip up a little something for a friend or neighbor to say happy holidays.
Friday, November 21, 2003 9:36 am
Getting through the holidays may not be easy, but it's possible. Tammy Baker, a registered dietitian with the Dairy Council of Arizona, has a few simple tips.
Saturday, March 13, 2004 6:58 am
If Martha Stewart trades her Connecticut-based kingdom for a rustic prison jumpsuit, other media divas would tear out each other's eyes for her crown. Who will be the next Lord of the Napkin Rings? The Tribune examines the field.
Friday, July 30, 2004 10:06 am
Friday, February 13, 2004 9:38 am
I'm not one to find myself looking for a place to just hang out very often. But I recently found myself with some precious time to kill. At the advice of a friend, I discovered the coolest coffee bar in town: Lux Coffee Bar, on Central Avenue across from Central High School.
Friday, February 6, 2004 9:20 am
When I was a little girl, one of my favorite things to do was to play dress-up: I would spend hours in my mom's closet, dressing up and chatting with what I imagined was a room full of people. My mom said sometimes she would forget I was even home.
Friday, November 7, 2003 8:44 am
When I was a little girl, my mom and my older sisters would spend every other Saturday touring model homes.