Sunday, November 21, 2004 5:51 am

Former Congressman Matt Salmon was scheduled to speak during an energy symposium last month in Albuquerque, N.M.
Thursday, February 25, 2010 4:54 pm
State lawmakers voted Thursday to let themselves stay in office longer.
Thursday, August 16, 2007 4:42 am
CARACAS, Venezuela - President Hugo Chavez proposed sweeping constitutional reforms that would allow him to be re-elected indefinitely and tighten government control over the economy in the Western Hemisphere's largest oil exporter.
Tuesday, January 15, 2013 3:35 pm
The experts are giving it little chance of passage, but H.J. Resolution 15 is stirring a lot of talk.
Thursday, January 14, 2010 5:30 pm
In what may be her last act as a legislator, Sen. Carolyn Allen is trying to convince voters to undo the damage she helped cause nearly two decades ago: imposing term limits on lawmakers.
Sunday, February 15, 2009 1:56 pm
CARACAS, Venezuela - President Hugo Chavez won a referendum to eliminate term limits Sunday and vowed to remain in power for at least another decade to complete his socialist revolution. Opponents accepted defeat but said Chavez is becoming a dictator.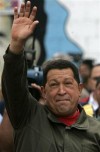 Venezuela's President Hugo Chavez arrives to vote on a constitutional amendment referendum at a polling station in Caracas Sunday Feb. 15, 2009.
Wednesday, December 24, 2003 8:26 am
Tom Rawles, a candidate for Mesa City Council, filed suit this week in Maricopa County Superior Court to prevent his opponent, Vice Mayor Dennis Kavanaugh, from seeking a third consecutive four-year term on the council.
Wednesday, January 7, 2004 8:32 am
Mesa Vice Mayor Dennis Kavanaugh is asking a judge to dismiss a lawsuit meant to stop his re-election bid.
Saturday, August 14, 2004 6:23 am
Saturday, August 14, 2004 6:22 am
Rep. Jeff Flake is refusing to say whether he will abide by the term-limits pledge that has been a staple of his congressional career.
Saturday, May 28, 2005 7:35 am
ARLINGTON, Va. - The union representing pilots at US Airways and America West filed an objection Friday to a provision in the airlines' proposed merger that the union believes would limit its ability to contest the merger.
Monday, December 19, 2005 5:48 am
As his second term winds down, President Bush naturally begins to contemplate how history will judge him and now perhaps realizes that history will give him low marks for his administration's almost obsessive culture of secrecy.
Saturday, November 13, 2004 5:13 am
A newly approved voter initiative requires state employees to check the immigration status only of those applying for welfare programs — and not even all of them — Arizona Attorney General Terry Goddard concluded Friday.
Thursday, July 15, 2004 6:21 am
Arbitration agreements in employment contracts are unenforceable in Arizona, the Arizona Supreme Court ruled Wednesday.
Friday, December 26, 2008 5:32 pm
It's time to think carefully about "tolerance." We've heard a lot about "tolerance" this year, especially in light of the election of our first ethnic minority president. But let's think critically about this idea.
Tuesday, December 26, 2006 5:02 am
Bob Beaudette didn't think much about teen driving laws until June 13. That was the day his 16-year-old niece was badly hurt when the car full of teenagers she was riding in crashed near Flagstaff. She died nine days later.
Friday, October 7, 2005 8:33 pm
Speculator - Someone who buys or sells stocks, commodities, land, etc., usually in the face of higher than ordinary risk, hoping to take advantage of an expected rise or fall in price; also, to take part in any risky venture on the chance of making huge profits. (Webster)
Friday, May 30, 2008 8:53 pm
Joe Arpaio has quietly filed thousands of signatures to qualify for the November ballot as he seeks to win a fifth term as Maricopa County sheriff. Since last week, Arpaio has turned in more than 12,000 signatures from registered voters with the Maricopa County Recorder's Office.
Wednesday, April 14, 2004 6:32 am
Perhaps U.S. News & World Report is onto something. In the magazine's March 22 issue, it hyped Scottsdale as one of the five most peaceful places to vacation in April.
Friday, March 25, 2005 10:20 am
Friday, November 14, 2008 6:34 pm
A provision in a contract limiting one party's financial liability in cases of malpractice is not unconstitutional, the Arizona Supreme Court has ruled.
Saturday, April 4, 2009 9:27 pm
WASHINGTON — The payday loan industry, threatened by Congress with extinction, has deployed well-connected lobbyists and hefty sums of campaign cash to key lawmakers to save itself.
Thursday, September 6, 2007 1:18 am
NEW YORK - The stream of credit offers that has filled consumers' mailboxes in recent years may be slowing just a bit.