In this Jan. 20, 2011 photo a Southwest Airlines jet takes off at Boston's Logan International Airport. Southwest Airlines has joined a sweeping increase of $10 in the price of many domestic round-trip airfares Monday, March 7, citing the need to offset high fuel prices.(AP Photo/Stephan Savoia)
Friday, April 21, 2006 11:19 am
The second biggest airline operating in the Valley has a competitive edge — a voluminous hedge on soaring jet fuel costs, said Southwest Airlines CEO Gary Kelly on Thursday.
Friday, August 21, 2009 11:12 am
DALLAS -- Southwest Airlines is on its way to providing in-flight Wi-Fi access on all of its aircraft.
Tuesday, September 1, 2009 9:22 am
DALLAS -- Southwest Airlines will temporarily halt flights on three routes early next year as it deals with a decline in air traffic and tries to bend its schedule to fit seasonal demand.
Thursday, July 30, 2009 11:11 am
DALLAS -- Southwest Airlines Co. is seeking to trump a rival bid and acquire Frontier Airlines, a Denver-based carrier operating under bankruptcy protection.
In this Sept. 22, 2008, file photo, Frontier Airlines planes sit stacked up outside gates on the A concourse in Denver. Southwest Airlines Co. is seeking to trump a rival bid and acquire Frontier Airlines, a Denver-based carrier operating under bankruptcy protection. Southwest said it faces an Aug. 10, 2009, deadline for submitting a binding bid.
Wednesday, June 11, 2003 9:58 am
America West Airlines is still the hometown airline, but it's no longer the plane of choice for the Phoenix Suns.
Thursday, October 16, 2008 8:30 pm
DALLAS - Southwest Airlines Co. lost money for the first time in 17 years as falling oil prices forced the company to write down the value of its fabled fuel-hedging transactions in the third quarter.
Tuesday, April 5, 2005 6:29 am
The Valley's two largest airlines ranked in the top six among domestic carriers for quality service in 2004, according to the Airline Quality Rating.
Thursday, March 31, 2005 10:37 pm
Anyone in this "Land of Opportunity" who naively believes that all you need to launch a successful company is a good business plan, entrepreneurial savvy, financial backing and a healthy work ethic should spend an hour with Southwest Airlines co-founder Herb Kelleher. We did earlier this week and it was a real eye-opener.
Thursday, September 4, 2008 8:33 pm
Southwest Airlines, one of the two largest carriers at Phoenix Sky Harbor International Airport, bucked the U.S. airline industry trend of cutting capacity, instead choosing to add seats and flights this year.
Sunday, August 8, 2004 7:38 am
DALLAS - Over the past two years, Gary Kelly made a series of bets that the price of jet fuel would rise, a hunch that has saved Southwest Airlines millions — possibly the difference between a profit and loss in some quarters.
FINES LEVIED: Southwest Airlines jets are lined up at Phoenix Sky Harbor International Airport.

CHANGES COMING: The new gate procedures at Phoenix Sky Harbor International Airport for Southwest Airlines are scheduled to begin Thursday. New numbered poles will organize travelers in lines.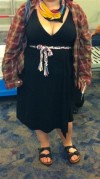 In this Spring 2012 photo provided by a woman identified as Avital and made available to the blog Jezebel, Avital poses for a picture at McCarran International Airport in Las Vegas, showing what she was wearing after she says a Southwest Airlines gate agent approached her, alleging she was showing too much cleavage. Airlines give many reasons for refusing to let you board, but none are stirring as much debate in 2012 than how a passenger is dressed. (AP Photo/Courtesy of Avital)
Thursday, October 2, 2008 5:48 pm
Dallas-based Southwest Airlines, one of the top two carriers at Phoenix Sky Harbor International Airport, said it flew nearly 6 percent fewer passengers in September than in September 2007.

FILE - In this April 4, 2011 file photo, a Southwest Airlines plane sits in a remote area of the Yuma International Airport, after the plane had a section of fuselage tear from the plane during a flight on Friday, April 1, in Yuma, Ariz. Investigators trying to determine why the roof of a Southwest Airlines jet cracked open in flight on Monday, April 25, 2011 issued preliminary findings that suggest there may have been flaws in the riveting work when Boeing built the plane 15 years ago. (AP Photo/Ross D. Franklin, file)
Monday, April 3, 2006 1:18 pm
WASHINGTON - Ask for a pillow and blanket to help get through a long flight and you may be out of luck. Or you may be able to buy a "comfort package" from Air Canada for $2.
Thursday, March 6, 2008 11:14 am
It's unclear if damaged planes ever flew over East Valley skies, Southwest Airlines said after getting slapped with the largest fine ever levied by the Federal Aviation Administration.
Tuesday, May 15, 2007 6:42 am
Consumers like the IRS better than they like Tempe-based US Airways these days. That's according to a national study of customer likes and dislikes scheduled to be released today by the University of Michigan's Ross School of Business.
Tuesday, February 5, 2008 11:32 pm
Domestic airline delays in 2007 were the second worst on record, the Transportation Department said Tuesday.
Saturday, October 30, 2004 7:10 am
DALLAS - Southwest Airlines, the discount carrier that has long stuck to its policy of seating passengers on a first-come, first-served basis, is seriously considering assigning seats, officials said.
Saturday, May 21, 2005 7:24 am
A strengthened US Airways could become a more formidable competitor along the East Coast, but the proposed merger of Tempe-based America West Airlines with the bankrupt carrier is not likely to have much of an impact to the U.S airline industry, experts said Friday.
Wednesday, September 19, 2007 10:17 am
Southwest Airlines passengers love LUV's way of doing things. That's why the low-cost carrier is not abandoning its 36-year-long policy of "no seat assignments," Southwest CEO Gary Kelly said Wednesday.