Gilbert coach Leland Rogers tries to fire up his defense after giving up a touchdown early in the homecoming game at Red Mountain, Friday, Sept. 21, 2012 in Mesa.

In this Sept. 26, 2010, file photo, Arizona Cardinals cornerback Dominique Rodgers-Cromartie, left, breaks up a pass intended for Oakland Raiders wide receiver Darrius Heyward-Bey during an NFL football game in Glendale, Ariz. The Philadelphia Eagles have traded quarterback Kevin Kolb to the Cardinals for Rodgers-Cromartie and a second-round pick in 2012.

New Orleans Saints running back Reggie Bush (25) looks back at Arizona Cardinals linebacker Clark Haggans (53) as he runs to the endzone to score a 46-yard touchdown during the first quarter of an NFL football divisional playoff game in New Orleans, Saturday, Jan. 16, 2010.
Wednesday, August 12, 2009 4:34 pm
Small but wily tailback Jacquizz Rodgers burst onto the field for Oregon State last season, collecting records and honors.

LOOKING FOR DIFFERENT KIND OF GREEN: Cardinals rookie Dominique Rodgers-Cromartie tells the Tribune that he's not a real fan of green; green foods, that is, as broccoli ranks as the top food he will not eat.

MAKING THE PLAY: Cardinals cornerback Dominique Rodgers-Cromartie, rear, breaks up a pass intended for New York Giants receiver Plaxico Burress during a game earlier this season.

ALL THE WAY: : Cardinals rookie Dominique Rodgers-Cromartie strolls into the end zone during his 99-yard interception return Sunday against the St. Louis Rams. Rodgers-Cromartie has three interceptions this season.
Thursday, May 1, 2008 6:00 pm
The first thing you notice about the Cardinals' first-round draft pick is his size.

BIG PLAY: Miami defensive end Calais Campbell celebrates after recovering a fumble during a Sept. 1 game against Marshall. The 6-foot-8 Campbell was picked in the second round by the Cardinals during Saturday's NFL draft.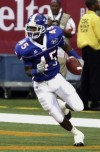 NEW BIRD: Former Tennessee State star Dominique Rodgers-Cromartie, shown in this 2007 photo released by the university, was selected 16th overall by Arizona in Saturday's NFL draft.
Friday, December 7, 2012 5:53 pm
My name is Hunter Rodriguez. I was the quarterback for Desert Vista — last year's state championship team.
Friday, November 30, 2012 5:30 pm
Gilbert football coach Leland Rodgers said he was fired by the school Friday afternoon.
Brady Rodgers goes the distance, stays unbeaten as ASU tops Cal 5-1 to take series opener.
Tuesday, January 31, 2012 4:15 pm
Gilbert hired Mesquite defensive coordinator Leland Rodgers as its new football coach on Tuesday.
Tuesday, January 31, 2012 6:28 pm
Not four hours after being officially named Gilbert's new football coach, Leland Rodgers was headed for a Booster Club meeting.
Saturday, January 16, 2010 3:51 pm
NEW ORLEANS — Arizona cornerback Dominique Rodgers-Cromartie left the divisional playoff game against New Orleans late in the first quarter with a sprained left knee.
Wednesday, January 6, 2010 5:04 pm
Arizona coach Ken Whisenhunt tried to be cautious in his team's regular-season finale to protect his players from injury. Instead, he had two important players on the sideline with injuries from the game when the Cardinals went back to work on Wednesday.

Cardinals cornerback Dominique Rodgers-Cromartie stretches during a game against the Green Bay Packers in Glendale. Sunday, Jan. 3, 2010.
Monday, December 7, 2009 11:39 pm
GREEN BAY, Wis. — A month ago, the Green Bay Packers were worried that their season was slipping away.