Tuesday, August 29, 2006 6:39 am

HOUSTON - Kinder Morgan said Monday its board of directors approved a $15 billion buyout plan from the pipeline operator's management to take the company private at a higher pershare price than announced three months ago. The company's shares soared to a new 52-week high.

STARTING ANEW: Suns general manager Steve Kerr, left, and owner Robert Sarver continue their search for a new coach.
Tuesday, November 28, 2006 8:27 pm
NEW YORK - Tracy Morgan, a former "Saturday Night Live" regular who co-stars on NBC's "30 Rock," was arrested Tuesday in Upper Manhattan on drunken driving charges, the district attorney's office said.
Friday, February 1, 2008 8:43 am
Admit it. You were hoping Robert Horry would play. We all were. Ever since that fate-altering hip check back in May, the Valley has been an air-tight kitchen with the oven gas turned on.
Saturday, April 19, 2008 1:06 am
 What will define success in this postseason? It seemed like a simple question to ask the Suns on the eve of the NBA playoffs. But it turned a basketball team schizophrenic.
Thursday, July 5, 2007 12:25 am
Some men you just can't reach. So you get what we had here at the Tribune Thursday morning after Suns beat writer Jerry Brown reported the team had signed free agent forward Grant Hill to a two-year deal.

Arthur Mutmbara, deputy Prime Minster of Zimbabwe, left, Robert Mugabe, President of Zimbabwe, Morgan Tsvangirai, new Prime Minster of Zimbabwe and Thabo Mbeki, South African President join hands at the signing of the power sharing deal ceremony in Harare Monday, Sept, 15, 2008.
Wednesday, September 19, 2012 3:08 pm
If you loved the movie "Crazy Heart," you'll enjoy this discussion with the author who wrote the book it was based on — Thomas Cobb. He will be discussing his newest book, "With Blood in Their Eyes." Award-winning author Robert Morgan will also be on hand to discuss his book "Lions of the West: Heroes and Villains of the Westward Expansion." Seating begins at 6 p.m. with the presentation starting at 7 p.m.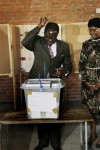 President Robert Mugabe reacts after casting his vote on election day in Harare, Friday, June, 27, 2008. Looking on, is his wife Grace. Zimbabwe is holding a run off election in which Morgan Tsvangirai, the main opposition leader in the country has pulled out citing violence and intimidation
Saturday, October 1, 2011 1:57 pm
LOB_Arizona 3, Milwaukee 8. 2B_Braun (1), Fielder (1). 3B_Y.Betancourt (1). HR_R.Roberts (1), Fielder (1). SB_Bloomquist (1). SF_Hairston Jr..
Thursday, June 29, 2006 10:46 am
North Scottsdale resident Henry Becker's art is about to be crushed under the force of a city judge's gavel.
Thursday, June 29, 2006 5:51 am
North Scottsdale resident Henry Becker's art is about to be crushed under the force of a city judge's gavel.
Sunday, October 2, 2011 5:58 pm
Tuesday, January 20, 2004 8:52 am
NEW YORK - Another bank merger, another transfer of plastic in your wallet.
Tuesday, May 15, 2007 12:37 pm
If Amare Stoudemire and Boris Diaw do receive suspensions for leaving the bench late in Game 4 after Spurs forward Robert Horry body-checked Steve Nash, the Suns want to make sure the duo has company.
Friday, October 7, 2011 5:55 pm
Wednesday, October 5, 2011 10:15 pm
Friday, January 9, 2004 8:47 am
Frenzied gasoline buyers acting on a rumor of potential shortages Wednesday were just doing what comes naturally to human beings, an East Valley psychology expert said.
Wednesday, September 5, 2007 4:25 am
The Willow Canyon High School volleyball team fired its third straight shutout Tuesday night. The Wildcats improved their record to 3-0 with a 25-19, 25-16, 25-20 home win against Maryvale. Willow Canyon has yet to lose a game in three matches this season, posting 3-0 wins last week against Central and Mesa Dobson. "This wasn't as pretty as the way we played last week against Dobson, but we got the job done," said Morgan Ratlief, Willow Canyon coach. "The girls played 100 times better against Dobson." The Wildcats threatened to blow out the Panthers in each game, yet always seemed to find a way to let Maryvale hang around. Willow Canyon squandered a 22-12 lead in the first game and frittered away a 12-2 advantage in the third game before closing out the match. "I think the long weekend knocked us out of our routine," the coach said. "Then we didn't have a good practice this week and that was a first for us." Despite the sluggish play, the Wildcats found key moments to turn around their fortunes. In the first game, that play came from Tanner David and Kourtney Roberts. The two joined forces to block a spike from Maryvale's Yadira Serano, who had been hitting lasers across the net from her outside blocker position. The resulting point snapped an 11-11 tie and ignited an eight-point run for the Wildcats. "Kourtney and Tanner mesh really well out there," Ratlief said. "Jadalynn Cirillo works well with those two as well." Roberts and David joined forces again in Game 2. Roberts set up David for a kill to give Willow Canyon the serve and a 21-16 lead. Roberts subsequently served out the match, assisted by Rebecca Valdez's kill from midcourt. The Wildcats raced to a 12-2 lead in the final game before Maryvale rebounded to tie the contest at 15-15. That was when Veronica D'Amato delivered a kill from backcourt that got Willow Canyon back on track. Maryvale never got closer than two points from the lead the rest of the way. Ratlief credited Kelsey Anderson as another catalyst in the win. "She picks up the team every time she's in there," Ratlief said. "She just has an attitude that she's going to win." Tiffany Weaver also turned in a crowd-pleasing play for the partisan Willow Canyon fans. Weaver raced near the scorer's table to make a save in Game 3 and then helped the Wildcats rally to win the point to take an early 2-0 lead. Willow Canyon plays host to North Canyon at 6 p.m. Thursday before participating in the Queen Creek tournament on Friday and Saturday.
Tuesday, March 6, 2007 5:16 am
A major Valley developer has set its sights on Mill Avenue with plans to build an eight-story office building on the US Airways headquarters campus in downtown Tempe.
Wednesday, July 28, 2004 11:23 am
Thursday, June 26, 2008 8:37 pm
Saying that it was not worth the continuing murder of his supporters — not to mention the likely possibility of his own assassination — Zimbabwean opposition leader Morgan Tsvangirai withdrew from Friday's presidential race.
Tuesday, August 28, 2007 10:32 am
There won't be any speed limits on the Willow Canyon High School volleyball court this season. Second-year coach Morgan Ratlief said her squad will emphasize speed and quickness to overcome a height disadvantage against most opponents. "We knew that we weren't going to have a tall team so we went to a lot of speed camps this summer," said Ratlief, who led the Wildcats to a 13-13 record last season. "Quickness is a huge strength for us." Willow Canyon also has a veteran roster which went through growing pains last season. "Last year we were a young team that frequently lacked leadership and maturity," the coach said. Willow Canyon returns five starters and six overall players from last year's squad. Key players will be senior right side hitter and outside hitter Veronica D'Amato and junior middle blocker Tanner David. "Veronica has been one of our leaders and Tanner has worked all summer on her vertical (game) and arm swings," the coach said. The squad has also received a pleasant surprise in the play of outside hitter and middle blocker Brianna Olsker, the lone sophomore on the squad. "I really didn't expect Brianna to make varsity, but she just kept getting better and working hard," Ratlief said. Willow Canyon steps up in class this season, going from Class 4A Division 1 to the Class 5A Division 2 Northwest Region. "It will be harder, but I can tell the kids are stronger," the coach said. "Last year, they had the physical ability and skills, but lacked the maturity. This team is much better." VARSITY ROSTER: Tiffany Weaver, Jadalynn Cirillo, Kelsey Anderson, Lacee Depue, Brianna Olsker, Rebecca Valdez, Irene Flores, Kourtney Roberts, Alexis Wonser, Veronica D'Amato, Tanner David, Claire Planeta, Stephanie Miller.
Wednesday, November 8, 2006 9:32 pm
CHICAGO - Lindsay Lohan says she hates her reputation as a party girl. "I'm 20 years old. Is it a crime to go ... dancing with your friends?" the actress said Tuesday on "The Oprah Winfrey Show."
Monday, September 12, 2005 11:18 am
GENEVA - A U.N. panel awarded to comedian Bill Cosby on Monday an Internet domain name based on the Fat Albert cartoon character he created in the 1960s.