Wednesday, September 10, 2008 10:02 am

There is an old trick called "the dollar bill test" that can help you see if your refrigerator is working overtime.
Thursday, July 30, 2009 11:47 pm
NOGALES, Ariz. -- Arizona authorities stopped a refrigerated truck hauling fruit and found almost 100 illegal immigrants - some as young as 9 - crammed inside the trailer in near-freezing temperatures, officials said Thursday.
Friday, June 19, 2009 1:42 pm
NEW YORK (AP) — Federal authorities are investigating a new outbreak of a bacteria-triggered illness, this time related to a sweet treat treasured by the heartbroken and children-at-heart — packaged raw cookie dough.
Thursday, August 21, 2008 10:45 am
Gilbert police arrested James Canty at 2:30 p.m. Wednesday after they responded to a call in the 1500 block of East Indigo about a man backing his Honda pickup into the driveway at a foreclosed home.
Wednesday, June 18, 2008 8:27 am
A Mesa Bashas' reopened after firefighters responded to an early-morning hazardous-material call Wednesday following an employee noticing a haze in the air inside the supermarket shortly after it opened at 6 a.m.
Saturday, July 24, 2004 9:57 am

APEX WINE CELLARS & RACKING

Easy-to-make refrigerator magnets can incorporate important places you have enjoyed.

UTILITY UPGRADES: Kevin Molloy received help from MesaCAN to replace the water heater, air conditioner, refrigerator and air ducts in his Mesa mobile home.

Police say the 2003 Volvo Conventional tractor with a refrigerated trailer was carrying 4,100 pounds of marijuana.

Alexander Frenette, 9, selects a healthy snack, a yogurt, from the refrigerator of his Gilbert home as his mother, Heather, watches.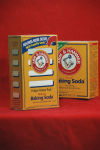 Arm & Hammer Baking soda boxes are shown in this undated photo. The distinctive yellow boxes deodorizing most American refrigerators and freezers. (AP Photo/Richard Drew)

Paz De Cristo volunteer Jay Krakora takes a quick break in a packed refrigerator after helping to give out more than 1,200 food packages and turkeys to people in need. Nov. 24, 2009.

Rancher Bill Dunn walks past an old refrigerator and appliances which were dumped in a wash outside the town of Kearny. Dunn is very active in cleaning up and preventing the illegal dumping in the area.

FANCY LEATHER: A 72-inch-long demilune bar has black leather armrests and acid-etched brass panels. Features include a drawer, adjustable and pullout shelves, a compartment for a refrigerator and space for six wine bottles.
Wednesday, July 4, 2012 8:09 am
Salt River Project is partnering with the Environmental Protection Agency's Responsible Appliance Disposal Program to recycle old, working fridges and freezers for free. In exchange for the recycled appliance, customers receive a $50 check.
Sunday, December 16, 2012 8:59 am
Dear Speaker Boehner, I'd like to purchase a new refrigerator. Would you please help me understand your logic on this issue?
Friday, June 26, 2009 10:37 am
NEW YORK -- Inspection reports from a Nestle USA cookie dough factory released Friday show the company refused several times to provide Food and Drug Administration inspectors with complaint logs, pest-control records and other information.
Thursday, August 16, 2007 4:29 am
JACKSON, Miss. - Even from beyond the grave, Elvis Presley still generates big bucks. That's even more true this week. Fans from Europe, Asia, Australia, South America - and even from exotic locales like Kansas - are spending their hard-earned money for T-shirts, coffee mugs, salt and pepper shakers, refrigerator magnets and other trinkets during the events commemorating his death 30 years ago.
Friday, June 22, 2007 2:46 pm
Touch-screen refrigerators with built-in defrosters. Dishwashers that "sense" how dirty your dishes are. Smart microwaves that are programmed to cook food by reading bar codes on packages. Kitchen appliances continue to evolve and become technologically advanced. Today they do most of the work for you.
Thursday, June 7, 2007 12:59 pm
Every so often, it slips my mind just how deeply nostalgia permeates almost everything Gilbert's Hale Centre Theatre does. And then this: Owner David Dietlein, before a recent show, announced to the audience in his cozy 380-seat playhouse that he's printed the upcoming season schedule, as a friendly reminder, on refrigerator magnets.
Thursday, June 4, 2009 4:26 pm
Pinal County prosecutors on Monday dismissed the case against a Gilbert man accused of disposing of a woman's body that was stuffed into a refrigerator.
Saturday, May 14, 2011 5:00 am
Salt River Project is offering more than $11 million in energy-efficiency rebates for businesses of all sizes, an increase of nearly 40 percent over last year.
Saturday, May 14, 2011 5:00 am
Salt River Project is offering more than $11 million in energy-efficiency rebates for businesses of all sizes, an increase of nearly 40 percent over last year.