Monday, May 13, 2013 12:50 pm

BOISE, Idaho — The U.S. is heading into a tough wildfire season made even more challenging because budget cuts mean fewer firefighters to battle blazes, Interior Secretary Sally Jewell said Monday.
Monday, May 6, 2013 5:00 am
Looking for a fresh way to liven up your garden walls? Think plants, not paintings.
Friday, May 3, 2013 12:00 am
High winds and low humidity are creating a danger for the upcoming fire season, the state forester said Thursday, especially for southeast Arizona.
Wednesday, May 1, 2013 5:00 pm
FLAGSTAFF — Teeth-chattering. Axle-busting. Head-pounding.
Monday, April 29, 2013 3:00 pm
Just about all the actors in "The Big Wedding" are severely typecast. Diane Keaton is a high-strung, divorced mother like in "Something's Gotta Give," Robert De Niro is the father of somebody getting married like in "Meet the Fockers," Amanda Seyfried is a blushing bride like in "Mamma Mia," Robin Williams is an eccentric minister like in "License to Wed," Topher Grace is a deadpan, quick-witted nice guy like in "That '70s Show," and Katherine Heigl is a needy single woman like in every movie she does. Even though the actors are in their comfort zones, not a single person feels natural in "The Big Wedding." That's probably because the film doesn't understand its own characters or their motivations. Nobody behind the camera has any idea what they're doing, resulting in one of the most awkward romantic comedies of recent memory.
Wednesday, April 24, 2013 6:37 am
Just before sunrise at a campground near Payson, Carly Stoltenberg and her husband, Steve, woke to their friends screaming, "Bear! Bear!" from a nearby tent.
Monday, April 15, 2013 11:42 am
SAN DIEGO — La Jolla's jagged coastline is strictly protected by environmental laws to ensure the San Diego community remains the kind of seaside jewel that has attracted swanky restaurants, top-flight hotels and some of the nation's rich and famous, including billionaire businessman Irwin Jacobs and former presidential candidate Mitt Romney.
Friday, April 12, 2013 3:00 pm
While Thursday's opening day at Country Thunder was the shortest day concert-wise, there was no disappointment in the four acts that took the stage – especially not when it came to headliner Brantley Gilbert.

The band Sweetwater Rain during an interview.
Sunday, April 7, 2013 10:53 pm
The Arizona Department of Environmental Quality is issuing a high pollution advisory (HPA) for Monday.
Friday, March 29, 2013 6:00 pm
Dwayne Stowell was just a high school senior when his life was instantly changed.
Friday, March 29, 2013 3:17 pm
Nearly 10,500 fans gathered to bid a farewell to the 2013 Major League Baseball Spring Training season Thursday afternoon.
Thursday, March 21, 2013 8:01 am
With April being Water Awareness Month, March turned out to be a pretty good time to start focusing on saving water when Salt River Project hosted its sixth annual Water Conservation Expo at the SRP PERA Club in Tempe.
Wednesday, March 13, 2013 9:46 am
"OK, it can stop raining now, at least until the monsoon. I've gone through nearly two bottles of weed killer and I'd rather not have to buy a third."

Dust, hail, rain, and snow have hit parts of Arizona today, and this winter storm is still affecting our state. Lines of storms pushed from west to the east across the Valley, dropping rain and hail. Strong winds associated with those storms also picked up areas of dust in the West Valley Friday afternoon.
Friday, March 8, 2013 6:33 pm
A major storm rolling through Friday caused a weather warning at Sky Harbor Airport, as well as closures and outages around the Valley.
Saturday, March 2, 2013 8:01 am
Heavy snow and icy mornings accompanied colder-than-normal average temperatures throughout Arizona in February, according to the National Weather Service.
Thursday, February 28, 2013 1:02 pm
Unseasonably cold temperatures and heavy rains this past month have left some homeowners facing unexpected emergency home repairs: leaking roofs, poorly working heating systems or frozen pipes. The Gilbert Emergency and Minor Home Repair Program provides no-cost repairs to homes owned by income-eligible Gilbert residents when health and safety issues are present. Funded by the federal government, participating homeowners must meet certain requirements and eligibility standards to participate in the program. For information, contact the Gilbert Community Action Program (CAP) office at (480) 892-5331 or Gilbert Housing Rehabilitation Specialist Robert Kropp at (480) 503-6277.
Saturday, February 23, 2013 7:48 pm
It may be a cliché but Courtney Hiroku really did pick a great time to hit the first home run of her career.
Thursday, February 21, 2013 9:18 am
A winter storm brought snow to the Tucson area and hail and sleet to the Phoenix metropolitan area Wednesday, disrupting flights, making for slushy rush-hour commutes and creating the rare sight of flurries at a professional golf event in southern Arizona.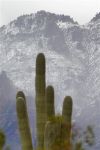 The Superstition Mountains are blanketed in snow Wednesday, Feb. 20, 2013 in Apache Junction, Ariz. Snow, hail and rain left a blanket of white in parts of the Phoenix metro area Wednesday afternoon. (AP Photo/Matt York)

In this photo provided by the Arizona Diamondbacks, snow covers Salt River Fields baseball park, Wednesday, Feb. 20, 2013, in Scottsdale, Ariz. Snow, hail and rain left a blanket of white in parts of the Phoenix metro area Wednesday afternoon. (AP Photo/Arizona Diamondbacks, L.M. Parr) NO SALES