Wednesday, May 15, 2013 10:15 am

PHOENIX — Obstacle course runners start on their feet, but eventually end up on their stomachs, sides, even backs at they clamber through mud, over shipping containers, across netting made of mangled ropes.
Wednesday, May 15, 2013 6:00 am
Beer fans can get a lift to this weekend's big brew party.
Tuesday, May 14, 2013 3:40 pm
A free all-day workshop for women in Phoenix this Saturday, May 18, aims to offer a way to "unlock one's true potential as a catalyst for lasting love, stronger relationships and a greater sense of fulfillment," says event promoter, Jan Hemming.
Thursday, May 2, 2013 10:12 am
While rowing has been a sport dominated by colleges and teams on the East Coast, crew teams have started to flourish in unsuspecting places — like the desert.
Wednesday, May 1, 2013 12:00 am
Gilbert's Highland High School will graduate 715 students in its Class of 2013. The students have earned $10 million in scholarships.
Tuesday, April 30, 2013 5:16 pm
BOSTON — The defense team representing the Boston Marathon bombing suspect got a major boost Monday with the addition of Judy Clarke, a San Diego lawyer who has managed to get life sentences instead of the death penalty for several high-profile clients, including the Unabomber and the gunman in the rampage that injured former Arizona Rep. Gabrielle Giffords.

Mesa Special Olympics athlete flys down the track during the 100M dash at the Special Olympics of Arizona - State Track & Field Competition - April 27, 2013, in Mesa. [Greg Herriman/Special to Tribune]

Mesa Special Olympics athlete excitedly approaches the finish line during the 100M dash at the Special Olympics of Arizona - State Track & Field Competition - April 27, 2013, in Mesa. [Greg Herriman/Special to Tribune]

Mesa Special Olympics athlete out runs the competition during the 100M dash at the Special Olympics of Arizona - State Track & Field Competition - April 27, 2013, in Mesa. [Greg Herriman/Special to Tribune]

Special Olympics volunteer Major Gehm of the US Army 6253rd Hospital (Mesa, Arizona) returns an athlete's salute at the finish line during the Special Olympics of Arizona - State Track & Field Competition - April 27, 2013, in Mesa. [Greg Herriman/Special to Tribune]

Mesa Police color guard presents the colors while attendees sing the National Anthem at the opening ceremonies for the Special Olympics of Arizona - State Track & Field Competition - April 27, 2013, in Mesa. [Greg Herriman/Special to Tribune]

Scottsdale Special Olympics athlete flys down the track during the 100M dash at the Special Olympics of Arizona - State Track & Field Competition - April 27, 2013, in Mesa. [Greg Herriman/Special to Tribune]

Lighting the torch to officially start the Special Olympics of Arizona - State Track & Field Competition - April 26, 2013, in Mesa. [Greg Herriman/Special to Tribune]

Fans cheer for their favorite athlete during the Special Olympics of Arizona - State Track & Field Competition - April 27, 2013, in Mesa. [Greg Herriman/Special to Tribune]

Athletes greeted by law enforcement officials during Opening Ceremonies at the Special Olympics of Arizona - State Track & Field Competition - April 26, 2013, in Mesa. [Greg Herriman/Special to Tribune]

Adrian Airington from Chandler Special Olympics waits for the baton during the 4 x 100M relay at the Special Olympics of Arizona - State Track & Field Competition - April 27, 2013, in Mesa. [Greg Herriman/Special to Tribune]

Relay team from Chandler Special Olympics on the medal stand after winning silver in the 4 x 100M relay at the Special Olympics of Arizona - State Track & Field Competition - April 26, 2013, in Mesa. [Greg Herriman/Special to Tribune]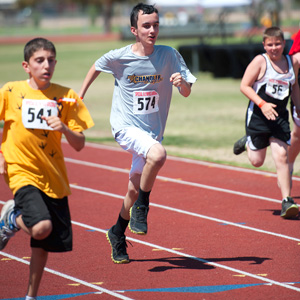 Special Olympics of Arizona - State Track & Field Competition - April 27, 2013, in Mesa. [Greg Herriman/Special to Tribune]

Kade Hansen from Chandler Special Olympics runs hard during the 100M dash at the Special Olympics of Arizona - State Track & Field Competition - April 27, 2013, in Mesa. [Greg Herriman/Special to Tribune]

Dan Corrigan from Chandler Special Olympics sprints down the track during the 100M dash at the Special Olympics of Arizona - State Track & Field Competition - April 27, 2013, in Mesa. [Greg Herriman/Special to Tribune]

Jessica Wells from Chandler Special Olympics finishes strong during the 100M dash at the Special Olympics of Arizona - State Track & Field Competition - April 27, 2013, in Mesa. [Greg Herriman/Special to Tribune]

2013 Law Enforcement Torch Run Queen Heather Honea from Chandler Special Olympics poses with Ronald McDonald at the Opening Ceremonies for the Special Olympics of Arizona - State Track & Field Competition - April 26, 2013, in Mesa. [Greg Herriman/Special to Tribune]

JJ Nikolaisen from Chandler Special Olympics works hard for his second medal at the Special Olympics of Arizona - State Track & Field Competition - April 27, 2013, in Mesa. [Greg Herriman/Special to Tribune]

Alexa Herriman from Chandler Special Olympics crosses the finish line of the 4 x 100M relay at the Special Olympics of Arizona - State Track & Field Competition - April 26, 2013, in Mesa. [Greg Herriman/Special to Tribune]

Brandon Reilly from Chandler Special Olympics leaps over the bar during the high jump at the Special Olympics of Arizona - State Track & Field Competition - April 27, 2013, in Mesa. [Greg Herriman/Special to Tribune]