FILE - In this Sept. 15, 2011, file photo, high fructose corn syrup is listed as an ingredient on a can of soda in Philadelphia. Scientists have used imaging tests to show for the first time that fructose, a sugar that saturates the American diet, can trigger brain changes that may lead to overeating. The study, in the Journal of the American Medical Association on Tuesday, Jan. 1, 2013, is a small study and does not prove that fructose or its relative, high-fructose corn syrup, can cause obesity, but experts say it adds evidence they may play a role. (AP Photo/Matt Rourke, File)

Obesity rates
Thursday, March 9, 2006 5:59 am
Issues in American presidential politics tend to be collective ones — defense, education, environment — but in the 2008 campaign health care could be discussed in disconcertingly concrete terms: Individual obesity.
Saturday, October 22, 2005 6:24 am
Face it, parents. You're part of the problem.
Wednesday, September 12, 2012 9:19 am
Applications are now available for UnitedHealth HEROES program. UnitedHealthcare and Youth Service America (YSA) are seeking schools and community-based nonprofits that want to fight against childhood obesity.
Saturday, October 15, 2011 10:15 am
Youths across Arizona once again have the opportunity to become "Health Heroes" by learning about childhood obesity, designing programs to address it and implementing the programs in their communities.
Monday, February 21, 2011 10:42 pm
Dan K. Thomasson, guest commentary
Sunday, July 18, 2010 6:15 am
As their peers cheered them on, campers at a Mesa school this week raced against one another in a relay designed to increase their heart rates and get them moving.
Tuesday, April 20, 2010 11:00 pm
Ahwatukee resident and retired profess Chuck Corbin is taking the content he used to teach at Arizona State University and trying to combat a national epidemic.

From left: Chuck Corbin, Guy LeMasurier, Dolly Lambdin, and Meg Greiner at the national convention in March when the program was introduced.
Thursday, October 22, 2009 12:56 pm
TOPEKA, Kan. — The memory still bothers Ken Keller: A panicked ambulance crew had a critically ill patient, but the man weighed more than 1,000 pounds and could not fit inside the vehicle. And the stretcher wasn't sturdy enough to hold him.

In this photo taken Aug. 7, 2009, American Medical Response operations manager Ken Keller talks about the specially-equipped ambulance used for obese patients at the company's Topeka, Kan. facility.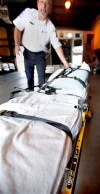 American Medical Response supervisor Bill Beasley loads a heavy duty gurney rated at 1,600 pounds into a specially-equipped ambulance used for obese patients at the company's Topeka, Kan. facility
Monday, February 16, 2009 8:25 pm
CONCORD, N.H. - It's not just fast food restaurants that have Supersized the way Americans eat — cookbooks share the blame.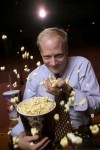 This undated file photo provided by Bantam Books shows Cornell University marketing professor Brian Wansink.
Sunday, September 7, 2008 11:44 pm
TRENTON, N.J. - In a new and disturbing twist on the obesity epidemic, some overweight teenagers have severe liver damage caused by too much body fat, and a handful have needed liver transplants.
Monday, August 27, 2007 11:08 am
WASHINGTON - Loosen the belt buckle another notch: Obesity rates continued their climb in 31 states last year. No state showed a decline.
Tuesday, September 4, 2007 11:53 pm
State health officials say they've always suspected that obesity in Arizona coincides with where people live and the value of their homes. Now they have proof.
Monday, July 9, 2007 11:23 am
LONDON - While being fat increases your chances of a heart attack, some studies suggest a puzzling paradox: Obese people seem to have a better chance of surviving one.
Tuesday, November 7, 2006 5:07 am
Chris Lineberry stood in front of hundreds of seventhgraders at Apache Junction's Thunder Mountain Middle School, holding a long glass tube containing 39 grams of sugar.

Russell Sgro, principal of Thunder Mountain Middle School in Apache Junction, holds up a vial containing 39 grams of sugar and a soda during an assembly.
Monday, July 3, 2006 6:23 am
CHICAGO -- Is it OK for doctors and parents to tell children and teens they're fat? That seems to be at the heart of a debate over whether to replace the fuzzy language favored by the U.S. government with the painful truth - telling kids if they're obese or overweight.