Monday, October 12, 2009 5:46 pm

Goodbye YouTube, hello "Tonight Show." Newark Mayor Cory Booker, who has garnered national attention for his passionate defense of New Jersey's largest city, is taking his act to the "Tonight Show."

Late-night television host Conan O'Brien and Newark Mayor Cory Booker will settle their playful feud Friday night on O'Brien's show.
Monday, October 27, 2008 10:40 pm
NEWARK, N.J. - Two reputed gang members were charged with murder Monday in connection with a drive-by shooting spree last week that prompted the mayor to vehemently deny that the slayings were part of a heightened drug war.

A passenger aircraft waits on a taxiway as another takes off from a farther runway at Newark Liberty International Airport in this June 27, 2008 file photo in Newark, N.J.

President Bill Clinton greets Pope John Paul II during ceremonies on their arrival at Newark International Airport in Newark, N.J. in this Oct. 4, 1995 file photo.

Hoboken Mayor Peter Cammarano, left, is led into FBI headquarters in Newark, N.J., after an being taken into custody. July, 23, 2009.

New Jersey Devils' Bobby Holik, right, checks Coyotes' Ed Jovanovski to the ice in Newark, N.J. March 12, 2009,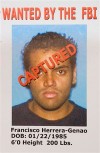 This handout photo provided by the FBI shows the captured poster of Francisco Herrera-Genao in Newark, N.J., Friday, April 6, 2007.

2007 Miss USA hopeful Nicole Bosso of Newark, Del. takes the stage during the swim wear portion of the Miss USA 2007 preliminary competition on Monday.
Thursday, June 18, 2009 8:58 am
NEWARK, N.J. -- The Continental Airlines pilot who died on a trans-Atlantic flight from Brussels to Newark was in "perfect health" and fellow crew members initially thought he had just fallen asleep, his wife told a Houston television station.
Thursday, July 23, 2009 12:42 pm
NEWARK, N.J. -- A member of the New Jersey governor's cabinet has resigned amid a sweeping corruption investigation that has ensnared three mayors, two state legislators and several rabbis.

Sen. Robert Menendez D-N.J., speaks at a news conference on Monday at the Port Authority of New York and New Jersey, in Newark, N.J., shown in aerial views at rear.
Friday, February 19, 2010 3:08 pm
A US Airways plane headed to New Jersey experienced an engine problem shortly after takeoff Friday afternoon and landed safely back at Sky Harbor International Airport.

ON THE RISE: In this Aug. 27, 2008, file photo, a tugboat passes a cargo ship loading containers at the Port of Newark in New Jersey. The once-mighty dollar is making an improbable comeback. Trouble is, that may not be a good thing. While a stronger greenback makes commodities like oil cheaper, it also makes U.S. exports more expensive, hurting American companies that get a big chunk of their earnings from overseas.

In this Sept. 2, 2008, file photo, rock 'n roller Jon Bon Jovi pauses for applause during a news conference about affordable housing in Newark, N.J. New Jersey-native Bon Jovi is among 30 nominees to the second class of the New Jersey Hall of Fame, said Bart Oates, chairman of the Hall's board of commissioners. Voters will select the 10 finalists by voting online through Nov. 30.
Friday, November 12, 2004 9:57 am
A Chandler man was one of 14 people, including pharmacists, street gang members, mobsters and college students, who were arrested Wednesday and Thursday on suspicion of flooding the Boston area with the powerful painkiller OxyContin, prosecutors charged Thursday.
Friday, February 1, 2013 8:31 am
At the end of an evening meal, the husband said to his wife: "Let's watch some TV." She said: "Ok. — What's your preference?" And the conversation proceeded like this. How about a movie? Ok — there's Alien. No. There's Aliens. No.
Friday, April 6, 2007 10:40 pm
BRANCHBURG, N.J. - When a third suspect was caught Friday in a bank robbery investigation that led to the fatal shooting of an FBI agent, he had a request for officers: "Just shoot me."
Friday, March 16, 2007 11:42 pm
TRENTON, N.J. - Sleet, snow and freezing rain pelted the East Coast on Friday, dashing hopes that spring had arrived because temperatures had soared into the 60s and 70s two days earlier.
Tuesday, September 25, 2007 11:16 am
TEMPE - US Airways has been awarded a coveted route between Philadelphia and Beijing by the U.S. Department of Transportation and plans to start daily service in 2009, the airline said Tuesday.
Sunday, April 1, 2007 9:04 pm
Authorities in India apprehended a man Sunday who is suspected of killing his estranged wife in her Ahwatukee Foothills home.
Sunday, April 1, 2007 8:05 am
Phoenix police confirmed Saturday they have obtained an international warrant and are working with India to catch the suspect in an Ahwatukee Foothills homicide.
Wednesday, January 28, 2004 7:13 am
HAPEVILLE, Ga. - R&B singer Faith Evans and her husband, record executive Todd Russaw, were arrested on drug possession charges.
Monday, October 29, 2012 3:06 pm
Thousands of flights to and from the Northeast region are canceled because of Hurricane Sandy. Phoenix Sky Harbor International Airport was also affected Monday.