Michael Moore is the Oscar and Emmy-winning director of "Roger & Me," "Bowling for Columbine," and "Fahrenheit 9/11." He can be reached at his website MichaelMoore.com.
Wednesday, February 20, 2008 10:01 pm
LOS ANGELES - "Sicko" director Michael Moore jokes that Fidel Castro would be a "ratings grabber" at Sunday night's Academy Awards show. Moore's Oscar-nominated documentary on the health-care industry concludes with a trip to Cuba, where he seeks care for a group of 9/11 responders who have experienced health problems.

Filmmaker Michael Moore arrives at the premiere of "Semi-Pro" in Los Angeles on Tuesday, Feb. 19, 2008.
Saturday, August 1, 2009 6:49 pm
TRAVERSE CITY, Mich. — Oscar winner Michael Moore has more big plans for his adopted northern Michigan hometown of Traverse City, where he's already established a film festival.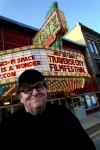 In this photo taken July 19, 2009, filmmaker Michael Moore is seen outside the State Theater in Traverse City, Mich.
Friday, June 13, 2008 6:55 pm
NEW YORK - Take cover, McCain. You too, Obama. Michael Moore is coming out with a new book. The tome, titled "Mike's Election Guide," a manual of mockery for the 2008 presidential election, will be published Aug. 19 by Grand Central Publishing, Jimmy Franco, a spokesman for the publisher, said Friday.

In this Feb. 24, 2008 file photo, Michael Moore arrives for the 80th Academy Awards at the Kodak Theatre in Los Angeles.
Friday, May 23, 2008 2:04 pm
TRAVERSE CITY, Mich. - Madonna's new film on the impoverished nation of Malawi has wowed another maker of documentaries: Michael Moore.
Thursday, May 10, 2007 7:16 am
LOS ANGELES - Academy Award-winning filmmaker Michael Moore is under investigation by the U.S. Treasury Department for taking ailing Sept. 11 rescue workers to Cuba for a segment in his upcoming health-care documentary "Sicko," The Associated Press has learned.
Saturday, November 10, 2012 7:45 am
This country has truly changed, and I believe there will be no going back. Hate lost on Election Day. That is amazing in and of itself. Add to that all the women who were elected and you have a total rebuke of Neanderthal attitudes.

American director Michael Moore pose during a photo call for the film \"Sicko,\" at the 60th International film festival in Cannes, southern France, on Saturday, May 19, 2007.
Wednesday, October 13, 2004 6:51 am
Thursday, May 13, 2004 11:06 am
LOS ANGELES - Miramax Films chiefs Bob and Harvey Weinstein plan to buy back Michael Moore's "Fahrenheit 9-11" - which Walt Disney Co. blocked Miramax from releasing - and distribute it themselves.
Sunday, May 20, 2007 8:51 am
CANNES, France - "Sicko," Michael Moore's attack on the U.S. health care system, got a warm welcome at Cannes Saturday that marked the director's triumphant return to the film festival and a respite from the controversy his work has started at home.
Wednesday, July 21, 2004 10:15 am

LOCAL LEGEND: Michael Allen, a Scottsdale golfer, has a two-shot lead after firing a 63 on Thursday in the first round of the Fry's Electronics Open.
Friday, November 4, 2005 11:41 pm
Mountain Pointe's Michael Moore left Phoenix Alhambra in the dust, scoring six touchdowns to tie the Pride's single-game touchdown record in an 83-0 drubbing of the visiting Lions.
Sunday, September 13, 2009 5:37 pm
Austin Hill: Michael Moore is releasing a new movie, and I'm sooo excited about it. More about me in a moment. First, the man who brought us "Bowling for Columbine" and "Fahrenheit 9/11" is about to release a new film entitled "Capitalism: A Love Story." Just as "Bowling" embodied Moore's left-leaning view that gun rights are bad,  so also does "Love Story" advance another idea that is popular among American liberals: Capitalism is evil.
Saturday, October 16, 2004 9:18 am
October 16 - NEW YORK - A cable pay-per-view company has decided not to show a three-hour election eve special with filmmaker Michael Moore that included a showing of his documentary "Fahrenheit 9/11," which is sharply critical of President Bush.
Friday, October 21, 2005 11:32 pm
Mountain Pointe's Michael Moore rushed for a school record 337 yards as the host Pride cruised to a 60-12 victory Friday over 5A Central Region foe Corona Del Sol.
Wednesday, October 13, 2004 6:38 pm
Wednesday, October 13, 2004 6:39 pm
Wednesday, October 13, 2004 6:35 pm
Michael Moore concluded the Phoenix stop of his "Slacker Uprising Tour" Wednesday by exhorting his loud and often raucously supportive audience to sign on as Kerry volunteers.