Sunday, January 14, 2007 5:15 am

Terry stayed still in the spotlight of the police car, one foot on a concrete bench that he had slept under minutes before. He lifted his eyes occasionally toward the Phoenix police officers who huddled close by, deciding what to do with him.

SHARING THE STREETS: Phoenix police officer Dave Beauchamp checks on a homeless man who displays symptoms of mental illness near Grand Avenue in Phoenix. Beauchamp and his partner, Nick Margiotta, are trained in crisis intervention for the mentally
Saturday, July 14, 2012 12:20 pm
"Is The Web Driving Us Mad?," asks a recent Newsweek cover story.
Thursday, October 23, 2008 9:12 pm
A Mesa woman suffering from mental illnesses has been missing for a week.
Saturday, October 4, 2008 8:39 pm
The safety net for Maricopa County's poor and mentally ill has frayed to the point where advocates worry not just about patient care, but also about public safety.

Bernard Allen

Mesa police surround an entrance to the Fiesta Mall after Bernard Allen fatally stabbed a Issurah Jackson to death in a mall restroom on March 31, 2008.

Jill Manahan
Thursday, June 28, 2007 9:04 pm
LOS ANGELES - Comedian Richard Jeni, who shot himself to death in March, had a history of mental illness and was hospitalized late last year for suicidal depression, according to a coroner's report obtained Thursday. Jeni, 49, died at a hospital after shooting himself in the head at his Hollywood home on March 10, authorities have said.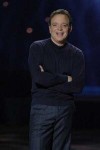 Comedian Richard Jeni appears in this undated photo released by Jonas PR.
Tuesday, February 11, 2003 10:21 pm
As it turns out, Laura Lawless' timing is perfect.
Sunday, June 12, 2011 1:45 am
It has been law for over 30 years that the state of Arizona is obligated to provide services for residents who have serious mental illness. Over the last year the governor has stripped many of these services through the cuts to AHCCCS. Her actions and the denial of services to these people comes from a back-room agreement to put a "stay" on the Arnold vs. Sarn ruling. However the law and the courts both agree that the state has an obligation based on the law passed in 1979 that sparked the Arnold vs. Sarn case, which was upheld by the Supreme Court.
Wednesday, May 28, 2008 11:35 pm
A Mesa man suspected of raping an 93-year-old woman inside her home in March wants a judge to determine he is too mentally ill to stand trial.
Sunday, April 20, 2008 8:28 pm
Some of the smartest people in the field of mental health will gather at the Mesa Convention Center this week to talk about the connection between mental and physical well-being.
Tuesday, April 1, 2008 9:16 am
By all accounts, the system seemed to work for Bernard Allen. Troubled in his teens, he joined a gang and, at age 16, went to prison for seven years for his involvement in a drive-by shooting in Mesa.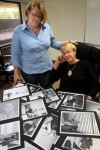 AWAKENINGS: Alicia Brown, left, from Triple R Behavioral Health, and Kathy Bashor from PSA Art Awakenings organized a photo exhibit that offers a glimpse into the lives of those with mental illness.

Issurah Jackson

Bernard E. Allen

Issurah Jackson's mother, Mary Babbitt, and his sister, Lynnette Nahlee, console each other Tuesday in Mesa. Jackson was fatally stabbed Monday in a restroom at Fiesta Mall. ABC15 NEWS
Wednesday, December 12, 2007 2:34 am
Training for Valley police officers on how to interact with people in mental crisis has survived the county's transition to a new behavioral health care provider.
Sunday, May 21, 2006 7:07 am
Mentally ill criminal suspects will be diverted to hospitals instead of jail under a $1 million pilot program that Maricopa County supervisors have tentatively approved.