Sunday, July 13, 2008 11:33 pm

LOS ANGELES - The Who was celebrated at a special concert by a few bands outside of their generation.
Thursday, July 12, 2007 10:17 pm
LOS ANGELES - Soccer great David Beckham and his wife, "Posh Spice" Victoria, arrived with their three children to begin their new life in Los Angeles, greeted by the familiar sight of reporters and photographers.
Friday, July 13, 2007 7:55 am
LOS ANGELES - Soccer star David Beckham and his wife, Victoria, arrived Thursday night to begin their new lives in the United States.
Friday, July 27, 2007 11:21 pm
LOS ANGELES - Etta James was in stable condition Thursday after being hospitalized for complications from abdominal surgery she had last month, her manager said. The 69-year-old blues singer was being treated at Cedars-Sinai Medical Center.

Etta James performs during the 2006 New Orleans Jazz and Heritage Festival in New Orleans in a Saturday, April 29, 2006 file photo.
Wednesday, February 21, 2007 1:22 am
LOS ANGELES - The Police have added stops in Oakland and Los Angeles to their reunion tour. Promoters on Tuesday announced concerts on June 13 at Oakland's McAffee Coliseum and June 23 at Dodgers Stadium in Los Angeles.
Thursday, August 17, 2006 6:53 am
Scottsdale-based Taser International is on the cusp of landing its largest U.S. delivery of stun guns after the Los Angeles Police Commission approved the purchase of nearly 6,800 Taser stun guns for use by the Los Angeles Police Department.
Monday, May 8, 2006 6:19 am
If you look at the playoff bracket, it says the Phoenix Suns have advanced. But if you look at their Western Conference semifinal itinerary, you'd swear the Suns are stuck in a remake of "Groundhog Day." Once again, Phoenix is playing Los Angeles. Once again, they'll be in southern California for the weekend, again playing in Staples Center on Friday and Sunday.

Phoenix's Boris Diaw scores on a layup as Los Angeles Clippers center Chris Kaman watches during an April 5 game at US Airways Center.
Monday, August 9, 2004 2:20 pm

FILE - In this Oct. 3, 2006 file photo, people explore the interior of the expanded Griffith Observatory on Mount Hollywood in Los Angeles. Griffith Park bills itself as the largest urban wilderness in the United States. While the zoo and some of the park's other attractions charge admission, the world-famous Griffith Observatory does not. Nighttime visitors are free to check out the moon and stars through its powerful telescopes, while those arriving during the day can safely gaze at the sun. Or they can just walk outside to take in some of the city's best views of the iconic Hollywood Sign. (AP Photo/Damian Dovarganes, File)

FILE - In this Aug. 30 2000, file photo, commuters walk into a tunnel at Los Angeles's Amtrack-Metrolink Union Station under the mural "City of Dreams/River of History" by artist Richard Wyatt, showing the diversity of California's population. Union Station is renowned for both its beauty and distinctive fusion of Spanish Colonial and Art Deco architecture when it opened in 1939. With its huge waiting room and landscaped gardens, the place, still a working train station, offers a perfect venue for reading, resting, people watching or taking a lunch break. (AP Photo/Damian Dovarganes, File)

FILE - In this file photo taken Aug. 17, 2012, tourists take photos with a 10-foot statue created and modeled after English soccer star David Beckham displayed in the Hollywood section of Los Angeles. The intersection of Hollywood and Highland is the crossroads for the Hollywood Walk of Fame, where more than 2,400 terrazzo-and-brass stars containing the biggest names in the entertainment business can be viewed by just walking down the sidewalk. (AP Photo/Damian Dovarganes, File)

FILE --In this March 3, 2011 file photo, tourists shop at Olvera Street stores at El Pueblo de Los Angeles Historic District in Los Angeles. The area to visit for the cool free stuff, though, is on the north side of the Hollywood Freeway, home to the historic El Pueblo de Los Angeles, where the city was founded in 1781. There you'll see many of its oldest and most beautiful buildings restored to their previous grandeur. (AP Photo/Damian Dovarganes,File)

This Oct. 20, 2003 file photo shows early morning sun illuminating the new Walt Disney Concert Hall in downtown Los Angeles. Downtown has undergone a revival in recent years, adding upscale condos, chichi bars and the iconic, Frank Gehry-designed Walt Disney Concert Hall. (AP Photo/Nick Ut, file)

This undated image provided by the Nethercutt Collection shows the Nethercutt Collection Grand Salon, a recreation of a 1920s-1930s auto sales salon. The Nethercutt Museum in Sylmar, Calif., houses a collection of antique and rare automobiles. It's one of a number of free things to see and do in the Los Angeles area. (AP Photo/ The Nethercutt Collection)

In this July 13, 2011 photo, tourists photograph each other on a hill with a view of the Hollywood sign in Los Angeles. With more than 50 miles of free hiking trails, many of them winding through chaparral-covered canyons and over hillsides, Griffith Park bills itself as the largest urban wilderness in the United States. (AP Photo/Damian Dovarganes, File)
Monday, March 19, 2012 9:12 am
TEMPE — Arizona State University President Michael Crow says the school may be ready to establish a presence in the Los Angeles area soon.
Friday, March 11, 2011 12:00 am
Disaster films will really get interesting when they start running out of iconic skylines to destroy. How about "Battle: Wichita" or "Deep Impact: Albany"?
Thursday, September 24, 2009 7:10 am
LOS ANGELES -- Torrents of water swept cars off streets and barbecues out of backyards in Los Angeles in recent weeks, but the floods are coming from the ground rather than the sky.
Wednesday, November 19, 2008 10:06 am
LOS ANGELES - Hundreds of shrieking fans - mostly teenage girls - lined the streets outside the Mann Village and Bruin Theatres on Monday for a chance to peek at the stars attending the Los Angeles premiere of "Twilight." Some enthusiasts of the popular vampire literary series-turned-movie camped out overnight, while many arrived at dawn to secure a place in line.
Saturday, November 15, 2008 1:06 am
LOS ANGELES - The Los Angeles city attorney has charged Don Cornelius, former host of "Soul Train," in connection with two domestic incidents involving his wife last month.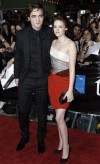 Co-stars Robert Pattinson, left, and Kristen Stewart pose together at the premiere of "Twilight" in Los Angeles on Monday, Nov. 17, 2008.