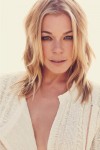 LeAnn Rimes comes to Mesa Arts Center
Saturday, December 8, 2012 3:00 pm
LeAnn Rimes will be at the Mesa Arts Center Sunday, Dec. 9. Get Out chatted with her about her upcoming show, her new album and how the last year has impacted her.
Thursday, July 15, 2010 6:38 pm
LeAnn Rimes, known for rich vocals likened to those of country music icon Patsy Cline, is taking her voice into men's territory. On "Lady and Gentlemen," her new album due out in October, she'll reinterpret some of the best-known songs of Waylon Jennings, George Jones, Merle Haggard and other men of country music. Co-produced by 20-time Grammy winner and fellow country star Vince Gill, the record features classics such as "He Stopped Loving Her Today," "Good Hearted Woman" and Rimes' current single, the John Anderson remake "Swingin.' "
Monday, June 20, 2005 11:34 am
RENO, Nev. - LeAnn Rimes is on the road with her summer tour, after recovering from an injury to one of her vocal cords and an unspecified dental procedure.
Tuesday, April 12, 2005 6:45 am

LeAnn Rimes performs at the Grand Ole Opry in Nashville, Tenn., Tuesday, Sept. 27, 2005.
Wednesday, November 4, 2009 2:33 pm
She's not even 30 years old, but some would say Leann Rimes is already a bona fide country music icon. That's what happens when you burst onto the scene at age 13 with a captivating song (1996's "Blue") and vocals so rich they're compared to Patsy Cline's. The powerhouse singer-songwriter hasn't stopped since, winning two Grammy Awards and capturing the longest-standing song to be charted on the Billboard Hot 100 with the hit "How Do I Live."
Thursday, May 29, 2008 3:54 pm
Because of an inflamed vocal cord, country singer LeAnn Rimes has pulled out of her scheduled appearance in the "Poet and Pirates" tour, which begins 3:30 p.m. May 31 at University of Phoenix Stadium in Glendale. Headline acts Kenny Chesney and Keith Urban are still scheduled to perform, as are fellow singers Sammy Hagar and Gary Allen.
Tuesday, July 11, 2006 6:20 am
LOS ANGELES - Country singer LeAnn Rimes was resting Tuesday after undergoing surgery for a leg infection, her publicist said. Rimes, 23, canceled three performances on her "This Woman" tour to undergo outpatient surgery for a tissue tear, publicist Diana Baron said.
Monday, November 19, 2012 9:00 am
We're big fans of giving experiences rather than "stuff," and we'll take just about any excuse to avoid stores the day after Thanksgiving.
Tuesday, May 3, 2011 9:45 am
Gilbert goes country next week during the "Gilbert Entertains You" spring concert series at Freestone Park (Lindsay and Juniper roads).
Monday, October 13, 2008 9:56 pm
IRVING, Texas - The Jonas Brothers will perform during halftime of the Dallas Cowboys' nationally televised Thanksgiving Day game against the Seattle Seahawks.
Friday, June 23, 2006 12:14 pm
LOS ANGELES - Sean "Diddy" Combs, rock disc jockey Rodney Bingenheimer and Barbara Walters have something in common: They will receive a star on the Hollywood Walk of Fame.
Thursday, July 26, 2012 5:00 pm
When summer grows long and our ideas for amusement short, we love options like Chandler Center for the Arts' free summer concert series.
Friday, February 9, 2007 10:39 am
LOS ANGELES - Country took its turn in the Grammy week spotlight with LeAnn Rimes, Marty Stuart, Charley Pride and Porter Wagoner among the stars calling attention to efforts to preserve vintage country audio and video performances.
Tuesday, November 1, 2005 4:38 pm
IRVING, Texas - Sheryl Crow will perform at halftime of the Thanksgiving game between Denver and Dallas in support of The Salvation Army's Red Kettle Christmas campaign.
Thursday, March 6, 2008 10:08 pm
NASHVILLE, Tenn. - Brad Paisley's "Online" video received four Country Music Television awards nominations, and Sugarland received three for their video "Stay."
Thursday, January 18, 2007 7:39 pm
LOS ANGELES - Kelly Clarkson will soon be showing her racing stripes in the biggest partnership NASCAR has ever made with a music artist, the sports franchise announced Thursday.
Wednesday, March 5, 2003 9:39 am
LOS ANGELES - Toby Keith received a leading eight Academy of Country Music nominations Tuesday, including song and single of the year for "Courtesy of the Red, White and Blue (The Angry American)."
Monday, August 2, 2004 11:00 am
Monday, April 14, 2008 10:49 pm
NASHVILLE, Tenn. - Taylor Swift won video of the year and female video for her smash "Our Song" while newcomer Kellie Pickler took home three awards during Monday's Country Music Television awards. "
Tuesday, April 13, 2010 5:24 pm
LOS ANGELES — Manny Ramirez homered for the first time this season, the first of four longballs by the Dodgers, and Los Angeles beat the Arizona Diamondbacks 9-5 Tuesday to win its home opener for the third consecutive year.
Tuesday, October 27, 2009 7:41 pm
A $215 million chunk of Las Vegas will land in the East Valley on Friday when the Wild Horse Pass Hotel and Casino opens on the Gila River Indian Community at Interstate 10 and Wild Horse Pass Boulevard.