Dennis Peoples, an employee of a Total Wine and More outlet in Phoenix, fills a jug called a growler with draft beer. A new state law allows bars and stores selling wine and beer to fill growlers for customers.

Desert Vista's John Marshall, right, attempts to pressure Corona del Sol's Casey Benson in the Division I state semifinals at Jobing.com Arena.

Proposed Arizona legislation would allow pet owners with liability insurance to allow their dogs to be leash-free.

Laurie Gargione holds her Terrier-mix, Bella. Bella was killed in May by a pit bull that was off its leash.

Laurie Gargione's Terrier-mix Bella was killed last month by a pit bull that was off its leash.

Laurie Gargione holds her Terrier-mix, Bella. Bella was killed in May by a pit bull that was off its leash.

Laurie Gargione's Terrier-mix Bella was killed last month by a pit bull that was off its leash.
Saturday, November 5, 2005 5:41 am
Daniel Ortega Jr. felt outnumbered.

FILE - In this Feb. 12, 2009, file photo, the wreckage of Continental flight 3407 lies amid smoke at the scene after crashing into a suburban Buffalo home and erupting into flames, killing all 48 people aboard and at least one person on the ground, according to authorities. Faced with substantial industry opposition, federal regulators are struggling to implement a sweeping aviation safety law enacted in the wake of the last fatal U.S. airline crash nearly four years ago, according to a report by a government watchdog. The Federal Aviation Administration is experiencing lengthy delays in putting in place rules required by the law to increase the amount of experience necessary to be an airline pilot, provide more realistic pilot training and create a program where experienced captains mentor less experienced first officers, according to the report by the Department of Transportation's Inspector General. (AP Photo/Dave Sherman, File)

FILE - In this Saturday night, May 3, 2008 file photo provided by the U.S. Border Patrol, some of the 61 suspected illegal immigrants from Mexico are seen after U.S. Border Patrol agents found them in a tractor-trailer, on Interstate 8 east of San Diego. Before leading the way for other states to pursue immigration laws, Arizona passed a ban on human smuggling in 2005 that has led to more than 2,100 arrests and drawn criticism for a tactic in which people who pay to be sneaked into the country are charged as conspirators to the crime. Seventy-five percent of the people charged under the smuggling law in the state's largest county since 2008 have been charged with conspiring to sneak themselves into the country, drawing complaints from immigrant rights advocates that the statute was intended for often-violent smugglers, not their customers. (AP Photo/U.S. Border Patrol, File)
Friday, February 17, 2012 7:12 am
Holy cow, what is going on at the Arizona Legislature: Bill aims to censor teachers' speech? For years now our legislators have been micromanaging everything that goes on in our state: micromanaging its citizens, micromanaging the cities, micromanaging the schools and universities, micromanaging law enforcement. Now they want to control what teachers can and cannot say in and around the classroom. Isn't that what we have school boards and principals for? Somebody complains or gripes and we get another bill, another law? Don't we have enough laws already? Isn't Arizona supposed to be a conservative bastion? Conservative in social norms, fiscally conservative, limited government? After 100 years, can't Arizona citizens be trusted to do anything right? I guess not.
Friday, August 19, 2011 4:00 am
Monday, June 6, 2011 1:30 am
I find it interesting that Richard K. Meszar, in his letter to the editor regarding Joe Arpaio, states he would "travel almost anywhere to be one of the first to sign his recall petition and to contribute to his removal," because, he continues, "we need and deserve a sheriff who is professional, (and) follows federal (and state) laws." I wonder, Mr. Meszar, do you mean the federal mandate to protect our borders? Just curious.

In May 2011, Senate President Russell Pearce explained why he thinks the hardships Arizona faces from illegal immigration should allow the state to start enforcing SB 1070, the state's immigration law approved in 2010, but placed on hold by a federal judge. On Monday, the U.S. Supreme Court ruled Arizona can require police to check the immigration status of those they stop, one of the more controversial provisions of SB 1070. Pictured with Pearce are Attorney General Tom Horne and Gov. Jan Brewer. (Capitol Media Services file photo)

The cast of "Law & Order: Criminal Intent" includes, from left: Julianne Nicholson, Jeff Goldblum, Vincent D'Onofrio and Kathryn Erbe.
Friday, February 18, 2011 1:43 pm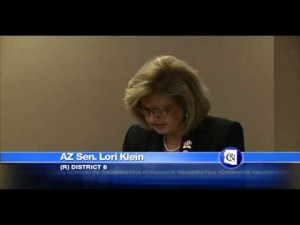 Thursday, June 24, 2010 6:30 pm
She bounded out of the truck, covered in dirt and bursting at the seams. Arriving home from a camping trip with the Meehl men – her daddy, uncle, brother and cousins – my 8-year-old daughter couldn't wait one more minute to tell me about their escapades.
Friday, November 27, 2009 3:55 pm
State lawmakers will have to start over again in January if they want to tighten up foreclosure laws.
Sunday, August 30, 2009 5:00 pm
A state law taking effect Sept. 30 sets conditions under which shelters may sterilize and implant microchips on impounded dogs and cats before they are released to owners.

Aprille Hollis, spokeswoman for Maricopa County Animal Care and Control Center, holds a dog under the center's care while discussing a law taking effect Sept. 30, 2009, that makes it easier for shelters to sterilize and implant microchips on dogs that stray or bite. Hollis and other supporters say the measure will help reduce animal overpopulation.
Saturday, June 27, 2009 4:51 pm
Rep. Russell Pearce: The Tribune again ignores the facts. Our citizens deserve better! The Tribune's June 17 editorial talks about finding Mesa Police Chief George Gascón's replacement, someone who can "dispel the myth that Mesa is a sanctuary city for illegal immigrants." But it is not a myth!
Wednesday, December 10, 2008 11:44 am
A new law regulating Arizona license plates set to go into effect Jan. 1 will require all motorists to completely display their rear license plates or face a fine averaging $135.

An example of a legally displayed license plate
Tuesday, July 1, 2008 7:27 pm
Arizona voters are likely going to get a chance to do what lawmakers and a federal judge have so far refused to do: dilute the state's new employer sanctions law. A business-financed group filed about 284,000 signatures Tuesday for its own version of a statute that backers say provides "tough, enforceable, fair" laws.