Sunday, March 16, 2008 11:47 pm

MIAMI - When Jason Taylor takes the stage to face network TV cameras and dance the fox trot, he figures his jitters will be Super Bowl-size. "I'll be shaking," he says.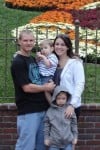 The Taylor family, from left, Kody, Broxton, Brody and Kristi, enjoy a family vacation at Disneyland together. Broxton, 2, was diagnosed with a terminal genetic disease called Batten Disease.
Wednesday, April 25, 2012 8:21 am
What's the impact that one life can make?
Friday, February 3, 2012 8:51 am
Friends and neighbors of a Gilbert toddler with a terminal genetic disease are hosting a 5K and one mile run Feb. 12 to help pay his medical expenses and donate to the Batten Disease Support and Research Foundation.
Wednesday, July 2, 2008 1:16 pm
LOS ANGELES - The father of a 13-year-old girl who may be Lindsay Lohan's half-sister said the family went public with the story after Lohan's father, Michael, repeatedly refused to provide support.
Tuesday, May 20, 2008 12:14 am
LOS ANGELES - Kristi Yamaguchi is clearly the most talented contestant on "Dancing with the Stars. But the question still looms heading into Tuesday's finale: Can a woman win the celebrity dance-off?
Wednesday, June 2, 2010 4:00 pm
Rosters for the Class 5A All-Star game are set. The 5A game will be the second (8 p.m.) of a doubleheader with the 4A All-Star game (6 p.m.) on June 3 at Mesquite high school.
Monday, September 21, 2009 4:07 pm
Bashas' President and Chief Operating Officer Mike Proulx has retired after more than 40 years with the company, according to an official with the Chandler-based supermarket chain.
Friday, October 31, 2008 10:46 pm
Phoenix Arcadia boys diver Hayden Sells finished in second place with a score of 352.70 at the 4A-II state swimming and diving meet at ASU's Mona Plummer Aquatic Center.
Friday, May 2, 2008 4:32 pm
The Chandler-based Bashas' supermarket chain said Friday it was cutting about 100 management positions, affecting less than 1 percent of its total work force of about 13,000.
Wednesday, April 16, 2008 8:24 am
LOS ANGELES - Despite committing to the cause and calming her nerves each week with yoga and candles, Priscilla Presley became the latest celebrity casualty Tuesday on "Dancing With the Stars."
Tuesday, April 8, 2008 10:50 pm
LOS ANGELES - Last place became last dance for Adam Carolla on "Dancing With the Stars." The 43-year-old comedian and his professional partner, two-time champ Julianne Hough, were eliminated from the ABC dance-off during Tuesday's results show.
Tuesday, March 25, 2008 8:30 pm
LOS ANGELES - Magician Penn Jillette and tennis champ Monica Seles were the first stars eliminated from the sixth season of ABC's "Dancing With the Stars." Each came into Tuesday's results show in last place.
Friday, May 22, 2009 3:58 pm
The 2009 All-Region Softball Teams
Monday, April 6, 2009 2:31 pm
Saturday, December 25, 2004 5:00 am
Buying holiday gifts for family members is expected; buying them for U.S. troops stationed in the Middle East is inspired.
Friday, February 6, 2009 5:23 pm
The Bashas' grocery chain discriminates against Hispanic employees and is refusing to cooperate in a federal investigation of the company, the Equal Employment Opportunity Commission charges in documents filed this week in U.S. District Court in Phoenix.
Friday, February 6, 2009 2:43 pm
Bashas' will close five stores in Arizona, including two in Mesa, as the weak economy continues to weigh on the company's business, corporate officials said Friday.
Thursday, January 3, 2008 9:24 pm
Kevin Soliz scored a team-high 21 points and played an important defensive role in the fourth quarter to help the Gilbert High boys basketball team hold on and beat Phoenix Trevor Browne 63-61 at the Phoenix Union Holiday Classic on Thursday.
Saturday, October 27, 2007 6:45 am
With the Airbus A380 jet taking flight in its first commercial service, the chief executive of Airbus Americas will visit Honeywell Aerospace in Tempe on Monday morning to thank employees for the factory's contribution to the double-decker aircraft.
Friday, February 25, 2005 5:46 am
Tuesday, April 29, 2008 8:33 pm
LOS ANGELES - Shannon Elizabeth won't have to shed any more tears over "Dancing With the Stars."
Saturday, June 9, 2012 6:37 am
Saturday, April 18, 2009 7:24 pm
The top hitters and pitchers in local prep softball through April 17.
Saturday, April 11, 2009 9:07 pm
The leading hitters and pitchers in prep softball: