Cameron Farnsworth, 21, of Mesa and a freshman at Mesa Community College, was first in the drive-through winodw line at the grand opening of the Krispy Kreme Doughnuts at West Main Street and Dobson Road in Mesa on Tuesday after camping out to win a dozen free doughnuts each week for a year. (Tribune photo, Mike Sakal)

First in line: Adam Brown, 25, a second-year law student at Arizona State University, camped out for nearly 24 hours to win a dozen free doughnuts each week for a year at the grand opening of the Krispy Kreme Doughnuts in Mesa on Tuesday. Brown arrived at the store at 8 a.m. on Monday and waited until the shop opened at 5:30 a.m. the next day for his winnings. (Tribune photo, Mike Sakal)

Handing'em out: Krispy Kreme Doughnuts worker Debbie Pacheco hands out boxes of the first dozen free glazed doughnuts during the grand opening of the Krispy Kreme Doughnuts at West Main Street and Dobson Road in Mesa on Tuesday. the second through the 100th person in line received a dozen free doughnuts for one year. (Tribune photo, Mike Sakal)

What was a drive-thru menu board outside a Krispy Kreme location in Chandler at 4200 S. Arizona Ave., shown Wednesday, August 3, 2011. [Tim Hacker, Tribune]
What was a Krispy Kreme location in Chandler at 4200 S. Arizona Ave., shown Wednesday, August 3, 2011. [Tim Hacker, Tribune]
What was a Krispy Kreme location in Chandler at 4200 S. Arizona Ave., shown Wednesday, August 3, 2011. [Tim Hacker, Tribune]
What was a Krispy Kreme location in Chandler at 4200 S. Arizona Ave., shown Wednesday, August 3, 2011. [Tim Hacker, Tribune]

What was a Krispy Kreme location in Chandler at 4200 S. Arizona Ave., shown Wednesday, August 3, 2011. [Tim Hacker, Tribune]

What was a Krispy Kreme location in Chandler at 4200 S. Arizona Ave., shown Wednesday, August 3, 2011. [Tim Hacker, Tribune]
What was a Krispy Kreme location in Chandler at 4200 S. Arizona Ave., shown Wednesday, August 3, 2011. [Tim Hacker, Tribune]

What was a drive-thru menu board outside a Krispy Kreme location in Chandler at 4200 S. Arizona Ave., shown Wednesday, August 3, 2011. [Tim Hacker, Tribune]
Fans of Krispy Kreme doughnuts get their certificates for a year free doughnuts at the Superstition Springs location which was celebrating a reopening, Tuesday, June 19, 2012 in Mesa. [Tim Hacker/ Tribune]
Fans of Krispy Kreme doughnuts get their certificates for a year free doughnuts at the Superstition Springs location which was celebrating a reopening, Tuesday, June 19, 2012 in Mesa. [Tim Hacker/ Tribune]
The first two fans of Krispy Kreme doughnuts Brandie Hernandez,center, and Destiny Kenner, right, celebrate, Tuesday, June 19, 2012 after waiting for the Superstition Springs location to reopen and waiting since 7:00 pm Monday night, and winning doughnuts free for a year. [Tim Hacker/ Tribune]

Fans of Krispy Kreme doughnuts get their certificates for a year free doughnuts at the Superstition Springs location which was celebrating a reopening, Tuesday, June 19, 2012 in Mesa. [Tim Hacker/ Tribune]
Fans of Krispy Kreme doughnuts get their certificates for a year free doughnuts at the Superstition Springs location which was celebrating a reopening, Tuesday, June 19, 2012 in Mesa. [Tim Hacker/ Tribune]
Fans of Krispy Kreme doughnuts get their certificates for a year free doughnuts at the Superstition Springs location which was celebrating a reopening, Tuesday, June 19, 2012 in Mesa. [Tim Hacker/ Tribune]
Krispy Kreme workers Brittny Atz,left, and Jason Sanson box doughnuts for customers at the Superstition Springs location which was celebrating a reopening, Tuesday, June 19, 2012 in Mesa. A new Krispy Kreme is opening in west Mesa. [Tim Hacker/ Tribune]

Krispy Kreme doughnut
Tuesday, November 23, 2004 6:08 am
CHARLOTTE, N.C. - Krispy Kreme Doughnuts quarterly earnings fell sharply for the third consecutive quarter, as sluggish sales and an intensifying government investigation raised concerns Monday about whether the glaze was permanently off the once-hot pastry maker.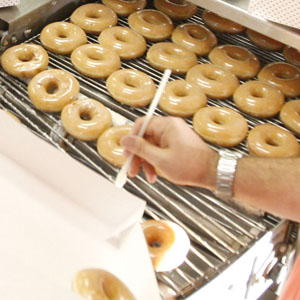 The only Arizona Krispy Kreme Doughnuts location at Superstition Springs reopened early Tuesday, June 19, 2012 in Mesa. [Tim Hacker/ Tribune]
Monday, April 21, 2008 3:22 pm
Arizona's first Krispy Kreme Doughnuts shop is set to open next month in Mesa, nearly two years after the company's unceremonious departure from the state.

BACK IN BUSINESS: Krispy Kreme Doughnuts manager Chris Adams cleans the chrome on the Doughnut Line machine conveyor inside the Krispy Kreme store in Mesa. The store, which had been closed for nearly two years, is scheduled to reopen on May 13.