Saturday, January 19, 2008 12:40 am

NAIROBI, Kenya - Clashes between rival tribes armed with machetes and bows and arrows on Friday marked the third, the bloodiest and what the government hopes is the last day of opposition protests over Kenya's disputed presidential election.
Wednesday, January 2, 2008 4:33 am
NAIROBI, Kenya - International pressure mounted Wednesday on Kenya's leaders to bring an end to postelection violence that has shaken the country and killed more than 275 people, including dozens burned alive as they sought refuge in a church.
Friday, January 4, 2008 10:12 pm
NAIROBI, Kenya - Kenya's opposition party demanded new presidential elections Friday as thousands of hungry slum dwellers swamped aid workers after days of deadly riots over the disputed vote cut supplies of groceries and water.

Crew members of the ship Maersk Alabama, from left, ATM Reza, Ken Quinn, a man only identified as Andrew, and unidentified man. They talk to the media after docking at port in Mombasa, Kenya, April 11, 2009.
Saturday, April 11, 2009 2:49 pm
MOMBASA, Kenya - Cheering and guarded by Navy Seals, the crew of an American ship reached a Kenyan port Saturday evening without their captain, still held hostage by Somali pirates in a lifeboat hundreds of miles from shore.
Tuesday, May 31, 2005 11:01 am
Valerie Long said her faith pulled her toward a group of children halfway around the world. Those who know Long credit her compassion and work ethic.
Friday, June 20, 2003 2:22 pm
WASHINGTON - The United States closed its embassy in Kenya on Friday after the Pentagon issued a terrorism alert to all U.S. interests there and raised the threat level to "high," officials said.

The German war ship Frigate Rheinland-Pfalz docks at the port in Mombassa, Kenya, Tuesday, March 10, 2009, as they prepare to hand over suspected pirates to the Kenya police after the German navy arrested them off the coast of Somalia last week.

The Maersk Alabama ship lies in dock as the sun sets April 13, 2009, at Port of Mombasa Kenya. The captain of the ship was released on Sunday.
Thursday, April 1, 2010 8:31 am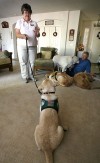 Sandy Thomas of Gilbert works on commands with her latest pupil, Kenya, a 4-month-old Lab, as husband Robert and their other guide dogs, both current and retired, relax during the session.

Old meets new as four-month-old puppy-in-training, Kenya, visits with 10-year-old, Lane, who currently serves as Robert Thomas' guide dog. Thomas' wife Sandy has been raising guide dogs for the blind for years.
Monday, March 3, 2008 12:16 pm
ROME - Italy's Giuseppe Di Stefano, one of the greatest tenors of the 20th century and celebrated singing partner of Maria Callas, has died.

G3Box is a non-profit organization that works to covert steel shipping containers into medical grade clinics, including maternity and emergency relief. The first clinic, designed as a school project by ASU students (from left) Gabrielle Palermo, Susanna Young and Clay Tyler (along with John Walters; not pictured), is nearing completion and will be shipped to Kenya if an online fundraising campaign goal can be met. [submitted photo]
Wednesday, March 10, 2010 3:53 pm
NAIROBI, Kenya — A global Internet oversight agency is reopening discussions about whether to create a ".xxx" domain name as an online red-light district where porn sites can set up shop away from the wandering eyes of children and teenagers.
Monday, January 18, 2010 4:03 pm
NAIROBI, Kenya — A shootout between rival Somali pirate gangs over their biggest ransom ever threatened to turn an oil supertanker and the 28 hostages aboard into a massive fireball until bandits begged the anti-piracy force for help, a negotiator said Monday.
Monday, November 30, 2009 10:19 pm
NAIROBI, Kenya — Crews on oil tankers aren't allowed to smoke above deck, much less carry guns, for fear of igniting the ship's payload. That's one of the main reasons Somali pirates met little resistance when they hijacked a U.S.-bound supertanker carrying $20 million in crude.
Monday, November 9, 2009 7:12 pm
NAIROBI, Kenya — Somali pirates attacked an oil tanker and fired automatic weapons and rocket-propelled grenades Monday farther out at sea than any previous assault, suggesting that pirate capabilities are growing as they increase activity off East Africa.
Tuesday, June 9, 2009 9:36 am
WASHINGTON -- U.S. authorities have brought the first Guantanamo Bay detainee to the United States, flying him into New York to face trial for bombing U.S. embassies in Tanzania and Kenya, the Justice Department said Tuesday.

In this Oct. 1998 file photo, Hungarian T-72 armored tanks maneuver during a military drill in Veszprem, Hungary. Russia's navy dispatched a warship to Somalia's coast, officials said Friday Sept. 26, 2008, a day after pirates seized a Ukrainian vessel carrying Russian and Ukranian crew and loaded with 33 T-72 tanks and ammunition bound for Kenya.

Dr. Kevin McCabe and Donna Moser work at Banner Baywood Medical Center in Mesa. McCabe spent the month of June doing missionary work at the Kijabe Hospital in Kenya, while Moser spent nine days in Panama working with Nazarene Missions International.

COME BACK HERE: Arizona State's Amy Denson tries to hang on to the ball as North Carolina's Kenya McBee applies pressure Saturday at Wells Fargo Arena during their Sweet 16 matchup in the Tempe Regional. North Carolina won 79-72.
Thursday, February 2, 2006 6:12 am
One can hardly distinguish the racial tension from the sexual tension in "Something New," and that — the smart, forcible coupling of taboos — is what makes this otherwise formulaic romantic comedy so giddily satisfying.
Friday, June 27, 2008 12:19 pm
Kris Anne Erickson was recently ordained to the sacred order of deacons at Living Faith Church, 1945 E. Guadalupe Road, Tempe. Erickson, who has completed a master's degree in theology from Fuller Theological Seminary, has worked in missions in Kenya, Rwanda and other parts of Africa.