Friday, October 7, 2011 11:54 pm

 When coach Brian Cole took the job at Joy Christian he expected to win some games. But 7-0 and on the verge of the school's first playoff appearance?

The Eagles Thomas Madrid, bottom, David Lee and a host of other Joy Christian tacklers bring down Gila Bend's Todd Pino.

Joy Christian's Edward Beasley runs over traffic during the Eagles win against Gila Bend Friday.
Monday, August 22, 2011 12:25 pm
At first glance it's difficult to understand why an accomplished coach with decades of experience at the highest level of Arizona high school football would want to take the job at Joy Christian School.

Brian Cole is the new football coach at Division VI Joy Christian School in Glendale, after eight years and one state title at Division I Phoenix North Canyon.
Friday, January 13, 2012 12:00 am
If some incarnation of "Glee" were to be developed for the Christian Broadcasting Network, it would probably look a lot like "Joyful Noise."
Sunday, April 12, 2009 4:51 pm
Our View: History's pivotal moment, as Christians understand it, was when a gracious God redeemed fallen sinners.As the human-born son of God, Jesus Christ's redemptive work culminated on this day nearly 2,000 years ago when he rose again from a stony tomb.
Monday, December 25, 2006 2:08 am
BAGHDAD, Iraq - Umm Salam draws her curtains across her windows, then settles into an armchair in a living room festooned with colored lights and a portrait of Jesus on the cross. Her Christmas tree glitters in the corner.
Thursday, May 20, 2010 5:32 pm
Clergy Corner: Rev: James Gilchrist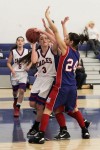 Joy Christian sophomore guard Mariah Kempf turns in the post to attempt a shot against two Mayer players Jan. 7, as freshman guard Victoria Morin (5) watches. Joy Christian beat Mayer 63-30.

Joy Christian senior forward Paul Kretzmann drives past his teammate, freshman Rosario DelSorbo, in practice Jan. 13.
Tuesday, January 18, 2011 2:02 pm
On the surface, there's not much different about the Joy Christian boys basketball team this year.
Saturday, October 7, 2006 5:48 am
Pardon the presumption, but Christians deserve better than this. "Love's Abiding Joy" — the first theatrical release by 20th Century Fox's newly minted Fox Faith division — is a bland, blinkered tale of life on the American frontier, full of lukewarm virtue but sorely lacking in cinematic ambition.
Friday, January 14, 2011 9:34 am
Starting a basketball program with two sisters capable of averaging more than 16 points per game accelerates a growth curve.
Friday, January 14, 2011 9:31 am
Starting a basketball program with two sisters capable of averaging more than 16 points per game accelerates a growth curve.

This undated family handout provided by the Chapman family shows from left to right: Will Franklin, Maria, Steven Curtis, Shaoey, MaryBeth, Stevey Joy, Caleb, and Emily Chapman. The 5-year-old daughter of Grammy-winning Christian music star Steven Curtis Chapman was struck and killed Wednesday May 21, 2008 by a sport utility vehicle driven by her brother, authorities said.
Monday, October 5, 2009 7:34 am
SALT LAKE CITY -- Mormons should dedicate their lives to serving others and avoid becoming caught up in the details of daily life that could detract from their role as the "Lord's hand" on earth, the church's president said Sunday.
Saturday, July 1, 2006 6:47 am
A young East Valley couple is using their faith as a guide as they enter the business world. And the strength of that faith can be seen in everything they do, including the Tshirts they're wearing.
Saturday, May 21, 2011 8:00 am
Will Lane had the ball in his hand, the game on the line and history in front of him.
Tuesday, October 16, 2012 5:17 pm
Larry Cain had visions of being a head football coach one day.
Saturday, November 21, 2009 9:02 pm
Addison Bare took a wild ride on Saturday and it showed on his face. Bare's day was filled with elation and dejection, pain (lots of pain), and in the end, pure joy.
Friday, March 2, 2012 1:11 pm
While reading the New Living Translation of Acts 2: 43-47, I had to stop and wonder how conservative "Born-again" Christians, especially those who strongly advocate slashing the social safety net to make up for cutting taxes for wealthy billionaires would respond to this text?
Wednesday, November 30, 2011 8:13 pm
Saturday, November 5, 2011 7:40 pm