Vice President Joe Biden dances with Jill Biden during The Inaugural Ball in the Washington convention center during the 57th Presidential Inauguration in Washington, Monday, Jan. 21, 2013. (AP Photo/Paul Sancya)

Vice President Joe Biden and Jill Biden react to the crowd at The Inaugural Ball in the Washington convention center during the 57th Presidential Inauguration in Washington, Monday, Jan. 21, 2013. (AP Photo/Paul Sancya)

President Barack Obama, first lady Michelle Obama pass the presidential box and the White House during the Inaugural parade walk down Pennsylvania Avenue, Monday, Jan. 21, 2013, in Washington. Thousands marched during the 57th Presidential Inauguration parade after the ceremonial swearing-in of President Barack Obama. (AP Photo/Steve Helber)

President Barack Obama talks with Vice President Joe Biden in the presidential box during the inaugural parade down Pennsylvania Avenue en route to the White House, Monday, Jan. 21, 2013, in Washington. Thousands marched during the 57th Presidential Inauguration parade after the ceremonial swearing-in of President Barack Obama. (AP Photo/Gerald Herbert)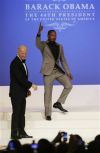 Jamie Foxx arrives to sing for Vice President Joe Biden's dance at the Commander-in-Chief's Inaugural Ball in Washington during the 57th Presidential Inauguration on Monday, Jan. 21, 2013. (AP Photo/Jacquelyn Martin)

Republican vice presidential nominee Rep. Paul Ryan, of Wisconsin, right, watches as Vice President Joe Biden, speaks during the vice presidential debate at Centre College, Thursday, Oct. 11, 2012, in Danville, Ky. (AP Photo/David Goldman)

President Barack Obama, accompanied by Vice President Joe Biden, and others, holds up a copy of his American Jobs Act during a statement in the Rose Garden of the White House in Washington, Monday, Sept. 12, 2011. (AP Photo/Susan Walsh)

President Barack Obama, flanked by Vice President Joe Biden and House Speaker John Boehner of Ohio, gestures as he gives his State of the Union address during a joint session of Congress on Capitol Hill in Washington, Tuesday Feb. 12, 2013. (AP Photo/Charles Dharapak, Pool)

Vice President Joe Biden and House Speaker John Boehner of Ohio applaud President Barack Obama as he gives his State of the Union address during a joint session of Congress on Capitol Hill in Washington, Tuesday Feb. 12, 2013. (AP Photo/Charles Dharapak, Pool)

President Barack Obama, flanked by Vice President John Biden and House Speaker John Boehner smiles as he gives his State of the Union address during a joint session of Congress on Capitol Hill in Washington, Tuesday Feb. 12, 2013. (AP Photo/Charles Dharapak, Pool)

Israeli Prime Minister Benjamin Netanyahu gestures while addressing a joint meeting of Congress on Capitol Hill in Washington, Tuesday, May 24, 2011. Vice President Joe Biden, left, and House Speaker John Boehner of Ohio, right, listen. (AP Photo/Susan Walsh)

President Barack Obama is applauded by Vice President Joe Biden and House Speaker John Boehner of Ohio, prior to delivering his State of the Union address on Capitol Hill in Washington, Tuesday, Jan. 25, 2011. (AP Photo/Pablo Martinez Monsivais, Pool)
Friday, August 22, 2008 10:21 pm
WASHINGTON - Democratic presidential candidate Barack Obama is calling his running mate, Joe Biden, "a leader who is ready to step in and be president."

Sen. Joe Biden, D-Del., listens to testimony during a Senate Committee on Foreign Relations hearing on Capitol Hill in Washington in this Sept. 19, 2006 file photo.

Vice President Joe Biden, Senate Minority Leader Mitch McConnell of Ky., left, Rep. Shelia Jackson Lee, D-Texas, right, and others arrive on Capitol Hill in Washington, Tuesday, Feb. 12, 2103, for President Barack Obama's State of the Union address during a joint session of Congress. (AP Photo/Charles Dharapak, Pool)
Friday, October 3, 2008 9:28 pm
NEW YORK - Who's running for president, anyway?
Sunday, September 21, 2008 8:18 pm
Where did U.S. Sen. Joe Biden, D-Del., come up with his definition of patriotism?

Vice President Joe Biden speaks at the Impulse Manufacturing plant in Dawsonville, Ga., on Thursday, Dec. 17, 2009. Biden announced Federal stimulus money will be used to bring more high speed Internet access to north Georgia and other rural areas across the country.
Friday, September 25, 2009 1:35 pm
WASHINGTON -- Former Democratic Party chairman Paul G. Kirk Jr. has taken over for the late Edward Kennedy in the Senate. Vice President Joe Biden swore in Kirk on Friday hours after a Massachusetts judge rejected a Republican request to delay it.
Tuesday, April 21, 2009 12:45 pm
If nothing else, President Barack Obama's visit to Mesa in February has garnered key contacts for the city within the federal administration. For Mesa Mayor Scott Smith, that meant scoring a conference call with Vice President Joe Biden on Tuesday morning.
Thursday, December 17, 2009 12:47 pm
DAWSONVILLE, Ga. — Vice President Joe Biden on Thursday announced the first $182 million in federal stimulus money for 18 projects to expand high-speed Internet networks in rural areas and other underserved communities, including computer centers for 84 libraries in Arizona.
Monday, November 16, 2009 9:02 am
Vice President Joe Biden will be in Phoenix on Monday morning to lead a discussion with community members on the recovery act's impact on economic development in Arizona.

Vice President Joe Biden smiles during his commencement address at Syracuse University in Syracuse, N.Y. May 10, 2009.