Sunday, December 28, 2008 11:18 am
The patriarch of the Jeep brand was built for purpose, not pleasure.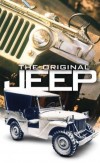 Above is the 1940 prototype all-terrain military vehicle submitted by Willys-Overland. By the end of the war in 1945, production had totalled 650,000. Keep in mind that the shape was significantly altered along the way. At top is a 1946 model. To meet volume demands, Ford was called in to help.
Saturday, August 25, 2007 12:00 am
Change is vital in the car biz, but Jeep refrained from going overboard when making over the Liberty for 2008.
Friday, July 13, 2007 12:00 am
Superstition Springs Chrysler Jeep, at 6130 E. Auto Park Drive in Mesa (near Superstition Springs Drive and US 60) is a newer dealership serving the East Valley. It's part of the newly built Auto Park Mall.
Saturday, September 16, 2006 12:00 am
Do you remember the Cherokee? Jeep certainly hopes you do, and in a fond way. It's a big reason why this DaimlerChrysler division has added the Patriot to its ever-expanding range of sport-utility vehicles.
Friday, July 28, 2006 12:00 am
The next-generation Jeep Wrangler might be a touch more civilized than before, but it's no less athletic and no less suited to being your outdoor play thing.
Tuesday, December 27, 2011 11:14 am
Lolly looks like a curious kid's dream come true.
Monday, November 20, 2006 12:00 am
Test drive a new 2007 Saturn Aura sedan at Saturn of Scottsdale, or visit Tempe Dodge and take the new 2007 Jeep Compass for a spin.
Friday, February 10, 2006 12:00 am
In the market for a new Grand Cherokee, or the very hard to find 2006 300C SRT-8? Then come visit Airpark Chrysler Jeep at Frank Lloyd Wright and Hayden in Scottsdale. A 5-star reputation assures customers this dealership pays close attention to customer care and satisfaction before and after the sale. And a groundbreaking for the new Audi of Chandler luxury auto dealership is coming soon at Ray Road and I-10 in the auto park. With a location next to Lexus of Chandler and Mercedes Benz, luxury buyers will have even more of a choice with the soon-to-be Audi of Chandler.
Friday, August 19, 2005 12:00 am
More than 65 years of Jeep know-how and DNA have been poured into the Commander, an all-new people-friendly off-roader.
Wednesday, March 24, 2010 2:04 pm
The U.S. Equal Employment Opportunity Commission has ordered a Sedona based jeep tour operator by consent decree to pay $35,000 to settle an age discrimination lawsuit.
Wednesday, March 26, 2008 1:53 pm
FLAGSTAFF - A Mesa man dies after crashing his Jeep Wrangler on a rugged dirt road in the mountains of north-central Arizona.
Sunday, December 2, 2007 9:05 am
PHOENIX - A motorcyclist who ran into a Jeep Wrangler on the Loop 101 freeway in north Phoenix has died of his injuries.
Wednesday, March 27, 2013 2:22 pm
The Earnhardt Chrysler Jeep Dodge RAM franchise will move from north Gilbert to south Gilbert this year and occupy an 80,000 square-foot sales and service facility in the San Tan Auto Motorplex at Val Vista and Loop 202 in Gilbert. Ground breaking on the new facility will be held April 9.
Tuesday, March 1, 2005 12:00 am
It's so cleverly hidden behind the luggage rack that at first glance you don't notice the Jeep Commander's key feature. The stepped roof yields more than three inches of headroom for third-row passengers, and Jeep's first third-row seat is the whole point.

A Darner Chrysler Jeep sales person assist customer Dan Carroll as he looks over the dealership's stock of new and used Jeep Wranglers. The Mesa dealership is fighting an effort by Chrysler Corporation to terminate their new car dealer franchise. May 26, 2009.
Wednesday, February 11, 2009 9:39 am
Mesa police are alerting people to be on the lookout for a man in a red Jeep Wrangler who reportedly tried to order two women into his vehicle at a busy intersection Tuesday night.
Thursday, January 17, 2013 6:00 am
The biggest name in Sedona tourist must-do's has arrived in the Valley.