James Harden's contract expires after next season, but the former Arizona State star and Thunder GM Sam Presti have both expressed interest in working out a long-term deal to keep him in Oklahoma City.
Saturday, February 28, 2009 4:41 pm
Too on One talks to ASU's James Harden, who dishes on the beard, singing Mariah and more.

THE BEARD'S THE THING: Arizona State guard James Harden drives to the basket against Washington's Jon Brockman during their game Thursday. Harden has been drawing attention for the growth on his chin as well as his game recently.

WORKING IN TRAFFIC: ASU freshman James Harden, left, goes up for a shot over Oregon's Kamyron Brown during Thursday's Pac-10 opening win for the Sun Devils.
Friday, January 4, 2008 9:07 pm
The numbers weren't pleasant: 41 percent shooting, 5 of 20 from beyond the arc and 11 assists. Even free throws clanged more often than usual. Yet it was freshman James Harden who bailed out the Arizona State men's basketball team more than once Thursday night.
Tuesday, April 7, 2009 10:43 am
As expected, Arizona State sophomore James Harden is skipping his final two seasons in Tempe and heading to the NBA. Harden will make it official at a press conference Wednesday, a school official said.
Wednesday, April 8, 2009 3:05 pm
All-America guard James Harden of Arizona State says he will hire an agent and make himself available to the NBA draft.
Wednesday, May 24, 2006 2:00 am
Three of the four remaining teams in the NBA playoffs can boast of at least two players who were top-five picks in the draft.
Friday, March 27, 2009 5:55 pm
Point-Counterpoint: After a solid season and a trip to the second-round of the NCAA tournament, is there anything left for James Harden at Arizona State?
Saturday, November 29, 2008 1:57 am
ANAHEIM, Calif. – If this is sophomore James Harden's last season at Arizona State, and he has not addressed the issue definitively, he is going out with a flourish.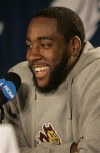 ASU guard James Harden smiles as speaks during a news conference Thursday in Miami.

HEADING FOR A NEW HOME: ASU's James Harden is one of four Arizona-schooled players expected to be selected in Thursday's 2009 NBA draft.

UP FOR THE SHOT: Arizona State guard James Harden shoots over a Mississippi Valley State defender during the second half of Friday's game in Tempe.

Alley-oop: ASU freshman James Harden sets up teammate Jeff Pendergraph for a dunk during Wednesday's win over Delaware State.

Indiana Pacers forward Tyler Hansbrough, left, and Oklahoma City Thunder guard James Harden laugh during the second half of a summer league NBA basketball game Tuesday in Maitland, Fla.
Wednesday, June 24, 2009 1:08 pm
MINNEAPOLIS -- The Minnesota Timberwolves have brought in Arizona State guard James Harden for a last-minute workout.
Thursday, March 19, 2009 2:08 pm
Scott Bordow: The NCAA tournament is where stars are born. Every once in a while, a special player will lead an average team – at least by tournament standards – on a three-week magical mystery tour. Which brings us to James Harden.                                                            
Tuesday, July 7, 2009 8:48 pm
ORLANDO, Fla. — James Harden and Tyler Hansbrough are giving a glimpse of what to expect from them this NBA season, and it's exactly what the team that drafted them hoped to see.
Thursday, January 3, 2008 11:07 pm
There were no wide eyes on the faces of freshmen James Harden or Ty Abbott in their maiden voyage into the Pac-10 Conference Thursday night.
Friday, November 14, 2008 11:43 pm
It was good enough to win, and that meant it was good enough for the 15th-ranked Arizona State men's basketball team. Sometimes it was silky-smooth. Other times sluggish.
Wednesday, December 5, 2007 11:28 pm
At 4 p.m. Wednesday afternoon, James Harden was alone in an empty gym shooting.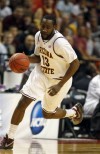 Former Arizona State guard James Harden.