Sunday, February 7, 2010 11:59 pm
Brandon Longtin loves to move around, is "joyful," puts anything in his mouth and has a smile that lights up a room, his mom, Gretchen, says.

OPTIMISTIC OUTLOOK: Gretchen Longtin of Apache Junction plays with her 7-month-old son Brandon in their home Thursday shortly before his surgery. Brandon underwent surgery Friday for a condition called Bilateral coronal synostosis, which is a premature closing of cranial sutures.
Friday, November 13, 2009 9:29 pm
A 19-year-old Gilbert father was arrested Friday on suspicion of first-degree murder in connection with the death of his 2-month-old daughter, who died at a local hospital on Thursday after suffering serious head injuries, according to police.
Tuesday, September 8, 2009 1:36 pm
A 3-week-old girl has been hospitalized with life-threatening injuries after police say the baby's father admitted to poking her in the eye before dropping her, according to Chandler police.
Friday, March 7, 2008 12:32 am
An infant found dead on Monday by his baby sitter in a Johnson Ranch-area home day care died of untreated pneumonia, a preliminary autopsy report found.
Tuesday, April 17, 2007 8:13 pm
Mesa police responded to a child drowning call for the second day in a row on Tuesday. Eight-month-old Cathy Marie Romero was in a bathtub with three other children at 4656 East Caballero when her mother left the bathroom to check on a fifth child in another part of the house.
Sunday, June 13, 2004 7:05 am
Baby formula companies spend millions of dollars each year to convince parents their products are safe and beneficial for newborns.
Tuesday, May 20, 2003 9:42 am
A 3-month-old girl died Monday several hours after being attacked by a swarm of ants during a nap in her west Phoenix home, said Phoenix police detective Tony Morales.
Monday, April 7, 2008 12:12 pm
Hospital workers' suspicions about the serious injuries suffered by a 2-month-old boy led to the arrest of the infant's father, Tempe police said.

Louis Anthony Quinones
Friday, September 30, 2011 5:30 pm
Reminds us of dangers associated with delivering a baby electively before 39 weeks of gestation
Friday, September 30, 2011 5:30 pm
Reminds us of dangers associated with delivering a baby electively before 39 weeks of gestation
Friday, May 28, 2010 1:41 pm
Police are investigating the death of a 3-month-old infant girl at a north Scottsdale home that is a licensed family child care facility through the Department of Economic Security.
Saturday, March 27, 2010 6:08 pm
Ramona Torres' twins were born seven months ago — and eight weeks early.

Ramona Torres, right, and her husband Joe feed their twin sons Giovanni, front, and Noah while speech therapist Meghan Quarn looks on at the Cardon Banner Children's Hospital in Mesa.
Sunday, January 24, 2010 9:42 pm
About 150 people gathered on the south soccer field in Scottsdale's Chaparral Park on Sunday for a candlelight vigil to pray for the safe return of missing 8-month-old Gabriel Johnson whose father and family pleaded for anyone with knowledge of the boy's whereabouts to come forward.

HOPING: Holding a small bear, Logan McQueary leans on his aunt Cathy Pullium for support during a candlelight vigil at Scottsdale's Chaparral Park for his son, Gabriel Johnson, who has been missing since December. Jan. 24, 2010.
Thursday, May 28, 2009 1:39 pm
The newborn son of Arizona Treasurer Dean Martin has died. Martin says Austin Michael Wright died Wednesday night. Martin's wife, Kerry, died Monday night several hours after giving birth.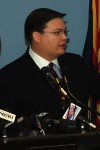 Dean Martin
Thursday, August 21, 2008 10:36 pm
Scottsdale Healthcare's baby-signing class is designed to lessen some frustration and improve communication between parent and child nonverbally.