Wednesday, April 10, 2013 6:00 am

An evening of snazzy clothes, cocktails, art, music and fine dining could be fun for you — but crucial for some of Arizona's struggling men, women and children.
Wednesday, April 3, 2013 6:00 am
You could pick up some pretty good art for a decent price this weekend.

"The Power of Music," a self-portrait by Nathan Begay (Navajo) was the 2012 Best of Show winner in The Heard Museum Guild American Indian Student Art Show & Sale. This year's event is April 6-8, 2013.
Wednesday, January 30, 2013 4:00 pm
"I just poured Gatorade all over my plants."
Friday, January 25, 2013 10:00 am
Browse the booths of this juried art festival, featuring, among others, the work of Gold Canyon and Apache Junction artists. Musicians and entertainers, including the Mariachi Pasion Band, the Yellow Bird Indian Dancers, and the Salt River 5, perform throughout the day.
Wednesday, January 16, 2013 9:00 am
Get a glimpse at the traditions and cultures of the Native American nations that span the Southwest during the 11th season of Native Trails.
Friday, December 14, 2012 2:00 pm
When you think of Native American art, pottery and textiles may come to mind. You may not be so quick to picture art made on the lined sheets of ledger paper.
Thursday, December 13, 2012 11:30 am
When you're not finding the right gifts or stocking stuffers at the stores or online, it's time to think outside the box. Take, for example, the Christmas Indian Art Market.
Tuesday, December 11, 2012 12:49 pm
What was once an empty 15-acre lot at Indian School Road and Central Avenue is now filled with tractors tilling the land for farming and flexible outdoor classroom space for local schools. Once a former Phoenix Indian School is now PHX Renews, the largest transformation of vacant land into useable public space in the country.
Wednesday, November 28, 2012 11:00 am
Seeking gift ideas for that music lover this holiday season, check out the following box set reviews from The Associated Press:
Wednesday, November 21, 2012 9:36 am
Pete Rose, baseball's all-time hit king best known from the Cincinnati Reds' "Big Red Machine" days and banned from baseball in 1989 for gambling on baseball including the Reds when he managed them, was scheduled to sign autographs for $70 a pop for a sports memorabilia shop at the Paradise Valley mall on Saturday.
Wednesday, November 21, 2012 1:15 am
"Life of Pi" is one of those lyrical, internalized novels that should have no business working on the screen. Quite possibly, it wouldn't have worked if anyone but Ang Lee had adapted it.
Tuesday, November 13, 2012 2:16 pm
A new 26,000-square-foot bingo hall opened Nov. 8 at the Salt River Pima-Maricopa Indian Community's Casino Arizona. The opening was marked with an official ribbon cutting that included Pima-Maricopa tribal officials, members of the Gaming Enterprise Board and casino executives and staff, according to a news release.
Tuesday, November 6, 2012 12:00 pm
Raising funds for a museum doesn't have to be boring and the San Tan Historical Society in Queen Creek knows that people here love to shop outdoors, especially if it is for a good cause.
Monday, October 29, 2012 9:30 am
A survivor of the 1994 Rwandan genocide, Immaculee Ilibagiza tells her story of forgiveness and hope at this event benefiting St. Peter Indian Mission School in Bapchule.
Sunday, October 28, 2012 3:45 pm
Growing up, they had been told not to speak their language, but as young soldiers in a country at war, men like Charles Chibitty and Teddy Draper, Sr., found their words were their mightiest weapons.
Wednesday, October 17, 2012 10:00 am
SARASOTA, Fla. — Aerialist Nik Wallenda says he's planning a tightrope walk near the Grand Canyon, but he won't be wearing a safety harness like he used at Niagara Falls.
Tuesday, October 9, 2012 5:45 pm
If weekend after weekend of beer festivals have left you hankering for an outing with a little more cultural value, head to the Chandler Indian Art Market.
Monday, October 1, 2012 12:00 am
Whether you want to explore a classy art festival or cheer at the ostrich, or even Chihuahua races, the East Valley has it! Let's take advantage of our Arizona paradise and dance outdoors to live music, indulge during a cook-off, put on our boots for the rodeo and Old West Days, or run foot races.
Monday, October 1, 2012 12:00 am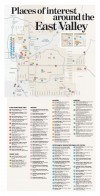 Monday, September 24, 2012 6:00 am
A good man is hard to find, but so is a good guide. Consequently, the Heard Museum is recruiting community members for their "Las Guias" guild — a group of volunteer museum guides passionate about Indian art, history and culture in the Southwest.
Tuesday, September 18, 2012 6:30 am
No tickets? No worries — at least, not if you know where to go for a little free entertainment. Complimentary concerts abound in the East Valley. We love them for those days when our schedules magically open up, giving us a chance for an easy, impromptu outing. Some of our faves:
Monday, September 17, 2012 5:45 pm
September is a great month for football fans, but it's also a wonderful time to take in some top-notch ballet performances for free.
Sunday, September 9, 2012 1:00 pm
The Arizona Art Alliance will host a new show this November that is aimed at honoring Arizona military veterans and veterans' issues.