Wednesday, November 5, 2008 6:32 pm

Like smoke lingering in the air, the owner of a Tempe hookah lounge is still hanging around in the hope he can keep his business running.
Thursday, November 6, 2008 11:14 pm
The owner of a Tempe hookah lounge cannot allow smoking in his establishment, the City Council reaffirmed on Thursday night.
Wednesday, September 10, 2008 6:30 pm
A Tempe neighborhood is on its third try to have a nearby hookah lounge put out of business.
Friday, September 12, 2008 12:45 pm
Disappointment hung heavier than smoke inside Tempe's HB Tobacco. The hookah lounge had its permit pulled by the City Council late Thursday night, meaning that smoking flavored tobacco from the water pipes no longer is allowed.
Thursday, September 11, 2008 11:34 pm
A Tempe hookah lounge no longer can offer customers pulls of flavored tobacco from water pipes after the City Council voted unanimously Thursday night to yank its permit.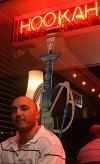 Anis Ben Harzalla inside Tempe's HB Tobacco Monday.

DO THEY BELONG? The hookah pipes at HB Tobacco hinge on a vote Thursday by the Tempe City Council.
Thursday, November 13, 2008 6:06 pm
The adage goes that you can't fight City Hall; you can, of course, but the question is whether you can win the fight. And in the case of Tempe hookah lounge owner Anis Ben Harzallah, it seems his best bet after two losses is to move on, but not to throw in the towel.
Monday, September 15, 2008 6:43 pm
Anis Ben Harzallah made a mistake when he opened his Tempe hookah lounge early in 2007.
Monday, October 20, 2008 6:19 pm
Gilbert's regulations regarding pawnshops, tattoo and piercing parlors, and other businesses will be examined tonight during a joint meeting of the Town Council with the Planning Commission, Design Review Board and Redevelopment Commission.
Tuesday, March 11, 2008 3:43 am
Mesa's city manager has upheld the firing of a gang detective who internal affairs investigators said had sex with a prostitute and then lied about it.
Saturday, December 20, 2008 5:53 pm
Gilbert isn't known for a proliferation of tattoo and body-piercing studios, pawnshops, check cashing outlets, hookah bars, unlicensed massage parlors and other businesses that many people look askance at.
Friday, September 28, 2012 5:15 pm
The Ahwatukee Foothills Village Planning Committee denied a recommendation to revise the zoning ordinance and limit where smoke shops could be located within the city on Monday night.
Wednesday, April 12, 2006 11:08 am
Scottsdale police netted four arrests and confiscated drug paraphernalia in an early morning raid on a rundown house Tuesday.
Wednesday, April 17, 2013 7:31 am
Starting next semester, students who smoke will have to find other places to light up between classes. All Arizona State University campuses and buildings will become tobacco-free beginning Aug. 1.
Thursday, November 15, 2012 10:30 am
Arizona State University will become a tobacco-free campus beginning next summer, but in protest and to raise awareness of the ban, one student-led group passed out cigarettes to students on the Tempe campus Wednesday.
Tuesday, January 6, 2009 11:44 pm
Gilbert will no longer provide a vehicle for the mayor's exclusive use after the end of the fiscal year June 30, and all Town Council members may soon have to track their job-related miles driven rather than get a transportation allowance along with their salaries.
Thursday, February 19, 2004 9:09 am
Tempe's live music scene took a double hit last month with the closings of long-running venues Nita's Hideaway and The Bash On Ash. Still, there are plenty of musicians plying their trade in the city and, just as importantly, other nightspots are stepping in to host performances by them.
Wednesday, June 17, 2009 3:19 pm
Matthew Yenkala overcame a lot to make Chandler Cinemas a success at Arizona Avenue and Warner Road, but it wasn't enough to keep the 10-screen independent theater open.
Friday, April 3, 2009 3:05 pm
Gilbert's ordinance to regulate pawnshops, tattoo parlors and other "nontraditional businesses" is beginning to take shape, but a split over whether $1,500 use permits should be required was mulled by the town's Planning Commission this week.
Thursday, February 12, 2009 5:44 pm
At 16, Lonnie Stradling helped build the workshop and showroom for the family cabinetry business that has served area residents since 1935.
Saturday, September 13, 2008 6:42 pm
 "Somebody, please tell me after seven years of watching memorials for 9/11, that after seven years of saying we are fighting the terrorists so they are not going to get away with what they did, why is it the families still have to march down into a big hole in the ground and a construction zone?"
Tuesday, May 5, 2009 6:04 pm
Gilbert is in the midst of determining how much say it should have over new pawn shops, tattoo parlors, check-cashing outlets and smoking lounges.
Friday, September 16, 2005 4:02 pm
People flock to Tempe for entertainment. And why not, with Mill Avenue, Tempe Town Lake, Sun Devil Stadium, and Broadway shows at Gammage Auditorium.