Historic Headline: A Honolulu Star-Bulletin published on Dec. 7, 1941. (Mike Sakal)
Thursday, December 31, 2009 7:40 am
Conservative talk show host Rush Limbaugh is resting comfortably in a Hawaii hospital after suffering chest pains while on vacation, his radio program says.
Thursday, October 13, 2005 7:24 pm
HONOLULU - Josh Holloway, who plays con man Sawyer on the ABC castaway drama "Lost," said Thursday he was grateful to Honolulu police for their help after a reported armed robbery at his Hawaii Kai home. But the actor who cuts a volatile, angry figure in the series had nothing to say about the robbery itself in a statement released by Touchstone Television.

Josh Holloway, a cast member of the television show
Saturday, June 23, 2012 7:39 am
Amid the recent brouhaha in Arizona over a birth certificate — a document we each have but virtually none of us knows where it is — was the unlikely revelation that in 2008, a secret pilot for a big hit TV show set in Hawaii was being filmed.
Thursday, September 28, 2006 11:24 pm
HONOLULU - Don Ho was released from a hospital Thursday following a two-week stay after having a new pacemaker installed. "I'm recuperating from the hospital! I feel great," the 76-year-old Waikiki crooner said as he had lunch at one of his favorite restaurants.
Tuesday, July 22, 2008 10:21 am
An ongoing Web survey that asks people where they'd like to fly to from Phoenix-Mesa Gateway Airport has garnered more than 10,000 voters so far.
Saturday, March 13, 2010 3:17 pm
HONOLULU — Their kingdom long ago overthrown, Native Hawaiians seeking redress are closer than they've ever been to reclaiming a piece of Hawaii.
Thursday, February 18, 2010 3:09 pm
HONOLULU — Hawaii has always been known for its sun, sand and surf. It may soon add another attraction: slots.
Sunday, August 9, 2009 2:14 pm
HONOLULU — Hawaii braced for Tropical Storm Felicia on Sunday, taking no chances even though the storm weakened rapidly as it slipped toward the islands.

FAN FAVORITE: Cardinals quarterback Kurt Warner signs autographs for fans after NFC Pro Bowl football practice at Aloha Stadium Saturday in Honolulu.
Monday, November 3, 2008 3:25 pm
HONOLULU - Barack Obama's grandmother, whose personality and bearing shaped much of the life of the Democratic presidential contender, has died, Obama announced Monday, one day before the election.

An Hawaiian monk seal called Nuka, 18, pokes its head above the water, Monday, in this March 2, 1998 file photo, at the Waikiki Aquarium in Honolulu.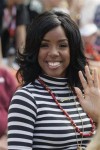 Singer Kelly Rowland is seen before the start of the Pro Bowl football game in Honolulu, in this, Feb. 10, 2008, file photo.

Josh Holloway one of the stars of ABC\'s television show \"Lost,\" pauses between interviews on Waikiki Beach in Honolulu, Hawaii, on Sept. 30, 2006.

Don Ho gets a kiss from a fan after a show at the Waikiki Beachcomer Hotel on June 24, 2004, in Honolulu.

This Feb. 3, 2005 file photo shows Vise Vitale of Honolulu performing a Samoan fire knife dance during in an "Aloha Friday" celebration of Polynesian music song and dance in Honolulu. Fire knife dancing is often mistaken for Hawaiian even though it's a Samoan invention. Hawaii resorts are increasingly turning to Hawaii's actual rich traditions to make trips special for travelers. (AP Photo/Lucy Pemoni, file)
Saturday, January 9, 2010 4:00 pm
HONOLULU — Cash-strapped Hawaii can't afford to pay for an election to replace a congressman who is planning to step down next month to run for governor, potentially leaving 600,000 urban Honolulu residents without representation in Washington.

A Waikiki restaurant and store with cartoonish tiki decorations in seen in Honolulu on Aug. 29, 2012. Many Hawaii resorts are edging away from kitschy marketing inventions and are instead turning to Hawaii's actual rich traditions to make trips special for travelers. (AP Photo/Audrey McAvoy)

Mesa vice-mayor Scott Somers speaks during a press conference in which Allegiant airlines announced the airlines new destination from Phoenix-Mesa Gateway Airport in Mesa to Honolulu, Hawaii, Tuesday, August 21, 2012. [Tim Hacker/ Tribune]

Hawaiian dancers perform prior to the Allegiant airlines announcement the airline will have a new destination from Phoenix-Mesa Gateway Airport in Mesa to Honolulu, Hawaii, Tuesday, August 21, 2012. [Tim Hacker/ Tribune]

Hawaiian leis are passed out to those in attendance in which Allegiant airlines announced the airlines new destination from Phoenix-Mesa Gateway Airport in Mesa to Honolulu, Hawaii, Tuesday, August 21, 2012. [Tim Hacker/ Tribune]

Allegiant communications director Brian Davis speaks during a press conference announcing the airlines new destination from Phoenix-Mesa Gateway Airport in Mesa to Honolulu, Hawaii, Tuesday, August 21, 2012. [Tim Hacker/ Tribune]