D-backs, now tied atop NL West, return home to take on nemesis Padres in three-game series.
Thursday, May 23, 2013 5:00 pm
NEW YORK — Thomas Sohmers, 17, of Hudson, Mass., has been working at a research lab at the Massachusetts Institute of Technology since he was 13, developing projects ranging from augmented reality eyewear to laser communications systems. This spring, his mom, Penny Mills, let him drop out of 11th grade. She says she "could see how much of the work he was doing at school wasn't relevant to what he wanted to learn."
Thursday, May 23, 2013 5:01 pm
The jury in Jodi Arias' trial was dismissed Thursday after failing to reach a unanimous decision on whether the woman they convicted of murdering her one-time boyfriend should be sentenced to life or death in a case that has captured headlines worldwide with its sex, lies, violence.
Thursday, May 23, 2013 12:11 pm
Why is it that when New Orleans was hit by a very strong hurricane, the Democratic party wasted no time demonstrating and condemning the Republican party, the president and all Republicans in congress for not supplying food, shelter and repairing or replacing homes that were completely destroyed by mother nature.
A Tempe 18-year-old accused of having an improvised explosive device in his bedroom in his family's home has pleaded not guilty.
Thursday, May 23, 2013 7:01 am
Forget fears of sequestration. And never mind the hike in payroll taxes that shrunk paychecks.
Thursday, May 23, 2013 6:54 am
The Mesa Preservation Foundation, Arizona Preservation Foundation and State Historic Preservation Office/Arizona State Parks, in conjunction with the 2013 Arizona Historic Preservation Conference, will present a free Historic Homeowner's Expo June 15 at the Hilton Phoenix/Mesa, 1011 W. Holmes Ave. in Mesa.
Wednesday, May 22, 2013 7:00 pm
When the school year ends a few weeks from now, millions of kids will head off to sleepaway camp for a summer filled with color wars, kayaking and bunk life. Most will have a great time, some will make friends for life, and many will look back on the experience fondly.
Wednesday, May 22, 2013 2:04 pm
I am writing to discover if any of you will stand with practicing midwives of Arizona and the parents that use their services and oppose onerous restrictions on the practice of midwifery in Arizona.
Wednesday, May 22, 2013 1:33 pm
Emergency Medical Services week celebrates the hard work and dedication these professionals provide our community every day. During the 2013 EMS week, however, Southwest Ambulance also celebrated a milestone; surpassing their goal of 500 community members trained in CPR over the last 12 months.
Wednesday, May 22, 2013 11:58 am
"Why does it seem you only publish the partisan hateful comments? Are there no sane people out there who just want an honest government that will not lie to them or spy on them and not have to worry about the IRS harassing them just because they want to be left alone to live their lives in peace? Why must everything be about politics?"

This undated photo provided by courtesy of New Orleans Airlift shows The Music Box, a temporary community art project built in the yard of a private homeowner in New Orleans. The Music Box was phase one of the Dithyrambalina project--a permanent musical structure planned for New Orleans. (AP Photo/Courtesy New Orleans Airlift, Melissa Stryker)

This May 15, 2013 photo shows Lauren Russ in Chicago reading letters that she wrote home as a child from sleepaway camp begging her parents to come and get her. While many children enjoy attending overnight camp, Russ is one of a number of adults who look back on the experience with less-than-fond memories of feeling homesick and lonely. Russ' tearful letters home to mom and dad are so famous in her family that her parents even read them at her wedding shower 10 years ago. (AP Photo/Michael S. Green)

This April, 2013 photo shows a detail of a 20-foot-wide American flag on the side of Richard Ormbrek's home in Seattle. The flag is made up of around 180 individual hand-painted tiles depicting scenes of Americana. Ormbrek periodically rotates the tiles and replaces some with thematic scenes for various holidays. (AP Photo/Cedar Burnett)

In this photo taken April, 2013, resident Richard Ormbrek stands next to his house, which has been decorated with a 20-foot wide American flag made up of 180 individually-painted tiles, in Seattle. (AP Photo/Cedar Burnett)

In this undated photo provided by courtesy of New Orleans Airlift, an unidentified child plays an instrumental house in The Music Box, a temporary community art project built in the yard of a private homeowner in New Orleans. The Music Box was phase one of the Dithyrambalina project--a permanent musical structure planned for New Orleans. (AP Photo/Courtesy New Orleans Airlift, Morgan Sasser)

This undated photo provided by courtesy of New Orleans Airlift, shows a detail of Brooklyn street artist, Swoon's "Thalassa" print wheat-pasted on a section of fence in New Orleans. The fence sits outside the yard of Jay Pennington, the associate curator of The Music Box, a temporary community art project in New Orleans. The Music Box was phase one of the Dithyrambalina project--a permanent musical structure planned for the city. AP Photo/Courtesy New Orleans Airlift, Jay Pennington)

This May 15, 2013 photo shows Lauren Russ in Chicago, reading letters that she wrote home as a child from sleepaway camp begging her parents to come and get her. While many children enjoy attending overnight camp, Russ is one of a number of adults who look back on the experience with less-than-fond memories of feeling homesick and lonely. Russ' tearful letters home to mom and dad are so famous in her family that her parents even read them at her wedding shower 10 years ago. (AP Photo/Michael S. Green)

This May 15, 2013 photo shows Lauren Russ in Chicago, posing with letters that she wrote home as a child from sleepaway camp begging her parents to come and get her. While many children enjoy attending overnight camp, Russ is one of a number of adults who look back on the experience with less-than-fond memories of feeling homesick and lonely. Russ' tearful letters home to mom and dad are so famous in her family that her parents even read them at her wedding shower 10 years ago. (AP Photo/Michael S. Green)

This May 15, 2013 photo shows Lauren Russ in Chicago, reading letters that she wrote home as a child from sleepaway camp begging her parents to come and get her. While many children enjoy attending overnight camp, Russ is one of a number of adults who look back on the experience with less-than-fond memories of feeling homesick and lonely. Russ' tearful letters home to mom and dad are so famous in her family that her parents even read them at her wedding shower 10 years ago. (AP Photo/Michael S. Green)

This undated publicity photo provided by Z Gallerie shows multi-colored picture frames. Intensely colored accessories add punch to spring decor (www.zgallerie.com). Offset the intensity with crisp white or darker hues that will simultaneously tone them down while showing them off. (AP Photo/Z Gallerie)

This undated publicity photo provided by Z Gallerie shows a Palmer stool. Bright neon yellow accessories add a punch of color to spring decor. Offset the intensity with crisp white or darker hues that will simultaneously tone them down while showing them off (www.zgallerie.com). AP Photo/Z Gallerie, TSK Photography)

This undated publicity photo provided by Z Gallerie shows a pair of Mariposa candleholders. Bright neon yellow accessories add a punch of color to spring decor. Offset the intensity with crisp white or darker hues that will simultaneously tone them down while showing them off (www.zgallerie.com). (AP Photo/Z Gallerie, TSK Photography)

This undated publicity image provided by BPlusShop.com shows designer Byron Samayoa's coasters of neon acrylic which are etched with symbols from the Periodic Table of Elements. Small accessories like these are a great way to introduce bold, bright colors for spring decor. (AP Photo/BPlusShop.com, Laurel Dailey)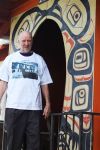 This April 2013 photo shows resident Richard Ormbrek standing beneath the doorway of his house, which was once known as "The Totem House" among local residents, for the enormous Tlingit Haida painting on the side of the home in Seattle. The totem archway is the last remaining vestige of the totem artwork. (AP Photo/Cedar Burnett)