Friday, May 17, 2013 12:24 pm

Wayne Brown spent decades working to improve Mesa, from its arts programs to its financial standing. Under his leadership on the city council and as mayor, the city saw a new spring training facilities built, a new convention center created and the establishment of the Mesa Arts Center.
Thursday, May 2, 2013 2:47 pm
Several freeway-improvement projects in the Valley will require closures May 3-5, according to the Arizona Department of Transportation. Drivers are encouraged to plan ahead and consider alternate routes while the following freeway closures are in place this weekend:
Wednesday, May 1, 2013 9:48 am
On Thursday, the Division I and II baseball state tournaments will move to Spring Training stadiums across the Valley.
Wednesday, May 1, 2013 7:37 am
His acceptance speech was easily the most brief, but the thoughts shared Friday night by United Food Bank President and CEO Bob Evans were certainly among the most poignant.
Wednesday, April 10, 2013 11:14 am
Is the water supply in the Valley sustainable for the near future? What about for the next 1,000 years? These are just a few of the questions asked in Chandler Museum's new exhibit, "Choosing a Future with Water: Lessons from the Hohokam."
Friday, April 5, 2013 7:37 am
More than 1.7 million fans helped the Cactus League set a new attendance record with the 2013 spring training season that ended Saturday in Arizona.
Wednesday, April 3, 2013 6:49 am
As Mesa grows as a community, so has the attention it's paid in the region and nationally.
Friday, March 29, 2013 3:17 pm
Nearly 10,500 fans gathered to bid a farewell to the 2013 Major League Baseball Spring Training season Thursday afternoon.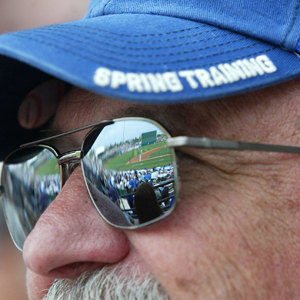 The Mariners take on the Cubs, Thursday, March 28, 2013 during the Cubs last Spring Training game at Hohokam Stadium. [Tim Hacker/ Tribune]
Baseball fan Ron Mox, of Seattle, looks on as the Mariners play the Cubs, Thursday, March 28, 2013 during the Cubs last Spring Training game at Hohokam Stadium. [Tim Hacker/ Tribune]
Beer vendor Mark Carlson works the stands during the Mariners at Cubs game, Thursday, March 28, 2013 during the Cubs last Spring Training game at Hohokam Stadium. [Tim Hacker/ Tribune]
Beer vendor Mark Carlson works the stands during the Mariners at Cubs game, Thursday, March 28, 2013 during the Cubs last Spring Training game at Hohokam Stadium. [Tim Hacker/ Tribune]
Cubs fans on Spring Break from Chicago Delaney Chabria,10,left, and Laine VandeHei,11, look to catch a foul ball as the Cubs play the Mariners, Thursday, March 28, 2013 during the Cubs last Spring Training game at Hohokam Stadium. [Tim Hacker/ Tribune]
The Cubs take on the Mariners, Thursday, March 28, 2013 during the Cubs last Spring Training game at Hohokam Stadium. [Tim Hacker/ Tribune]
Baseball fans look over the starting lineup as the Cubs take on the Mariners, Thursday, March 28, 2013 during the Cubs last Spring Training game at Hohokam Stadium. [Tim Hacker/ Tribune]

The Cubs take on the Mariners, Thursday, March 28, 2013 during the Cubs last Spring Training game at Hohokam Stadium. [Tim Hacker/ Tribune]

Baseball fans look to buy tickets, Thursday, March 28, 2013 during the Cubs last Spring Training game at Hohokam Stadium. [Tim Hacker/ Tribune]

Cubs Hall of Famer Fergie Jenkins signs autographs behind third base stands, Thursday, March 28, 2013 during the Cubs last Spring Training game at Hohokam Stadium. [Tim Hacker/ Tribune]

Organist George Kiefer plays between batters as the Cubs take on the Mariners, Thursday, March 28, 2013 during the Cubs last Spring Training game at Hohokam Stadium. Kiefer has worked the past nine seasons with the Cubs.[Tim Hacker/ Tribune]

The Cubs take on the Mariners, Thursday, March 28, 2013 during the Cubs last Spring Training game at Hohokam Stadium. [Tim Hacker/ Tribune]

Winter visitors from Joliet, IL, Jim and Shirley Maloney tailgate in the parking lot before the Mariners play the Cubs, Thursday, March 28, 2013 during the Cubs last Spring Training game at Hohokam Stadium. [Tim Hacker/ Tribune]

Baseball fans sit in the grass as the Cubs take on the Mariners, Thursday, March 28, 2013 during the Cubs last Spring Training game at Hohokam Stadium. [Tim Hacker/ Tribune]

The Cubs take on the Mariners, Thursday, March 28, 2013 during the Cubs last Spring Training game at Hohokam Stadium. [Tim Hacker/ Tribune]

Beer vendor Alex Lopez works the stands during the Mariners at Cubs game, Thursday, March 28, 2013 during the Cubs last Spring Training game at Hohokam Stadium. Lopez has sold beer at Cubs Spring Training games over the past eight years. [Tim Hacker/ Tribune]

The Cubs take on the Mariners, Thursday, March 28, 2013 during the Cubs last Spring Training game at Hohokam Stadium. [Tim Hacker/ Tribune]