Sunday, March 30, 2008 1:57 am

Hispanic college students pursuing degrees in science, technology, engineering or math can apply for more than $2 million in scholarship and internship opportunities through the Society of Hispanic Professional Engineers educational foundation.
Monday, October 31, 2005 2:38 pm
The answer may depend on whom you ask. But demographers contacted by the Tribune say both are acceptable. "We use those terms interchangeably," says Angela Brittingham, a demographic statistician with the U.S. Census Bureau.

In this screen grab from a Cronkite News video, two workers at La Tolteca Restaurant in Phoenix pass a customers' order over the service counter. [Cronkite News]

In this image taken on April 2, 2012 wok picadillo is shown in Concord, N.H. (AP Photo/Matthew Mead)

In this image taken on April 2, 2012 wok picadillo is shown in Concord, N.H. (AP Photo/Matthew Mead)
Wednesday, October 5, 2011 8:00 am
Tempe's Hispanic roots can be traced to before European settlers came on the scene and named the community what it's called today. This Sunday, the community will celebrate that heritage and culture with the 13th annual Tempe Tardeada Festival. First of all: What's a tardeada? It's an afternoon party, which is exactly what's planned this weekend. From noon to 8 p.m., you can take in Hispanic entertainment music, dance, art, food and exhibits at the Tempe Community Complex, 3500 S. Rural Road.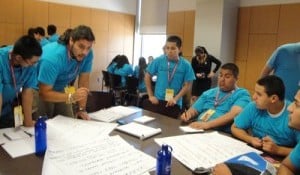 Students attending the Arizona Hispanic Youth Institute conference work together to identify community problems and create solutions at the ASU Tempe campus Thursday, July 14.

In this photo taken Tuesday, March 29, 2011 a Hispanic physical therapy office is located across the street from the American icon, fast food restaurant McDonald's, in Aurora, Ill. More than 35,000 of about 55,000 new residents in Aurora between 2000 to 2010 were Hispanic. This rise in Aurora's population helped surpass Rockford, Ill. to become the state's second-largest city.
Tuesday, March 29, 2011 5:00 pm
In the past few years, Arizona has attempted to do what it sees best for the state. This includes denying people the right to work, persecuting people based solely on nationality, and attempting to segregate children born in the U.S. by noting on their birth certificate that they were born of non-U.S. citizens. These bills are only designed to discriminate against Hispanics trying to get a better life in the states. By doing this, the state of Arizona is creating a self-fulfilling prophecy where, by excluding able workers from the labor market, they force the "natural" born citizens of the state to take up their jobs. These bills will also encourage the discrimination of citizens naturalized at birth into the state. By marking them on birth certificates, it's an easy step to say that job candidates or residents marked with this stamp will not be eligible for jobs or state offices because of their social status. As Howard Fisher mentioned in his Tribune article, another part of the bill is designed to allow other states to recognize these certificates. These preposterous propositions pushing their way out of the Capitol building are setting up the nation for another civil war pitting a collection of bullheaded, ignorant states that fear for their "economic" stability against members of a union prepared to fight for the freedom and rights of everyone, not just its citizens.
Saturday, February 26, 2011 9:00 am
The Arizona Hispanic Chamber of Commerce has named Fry's Food Stores corporation of the year and presented sports mogul Jerry Colangelo with its Arizona Legacy Award.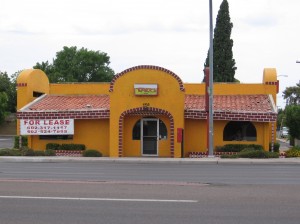 Many Hispanic businesses in Mesa are empty, or are on the verge of closing, due to the economic downturn and the recent fallout over Arizona's immigration law, SB 1070.
Thursday, January 7, 2010 3:38 pm
A national initiative to seat 1 million more Hispanic students in Catholic schools by 2020 could boost what's already being done by the Diocese of Phoenix, the superintendent said this week. 

Teacher Cheryl Casey helps student Elizabeth Rodriguez, 6, on Jan. 6, 2010, while Andrew Hann and Zoe Barton wait during class at St. Mary-Basha Elementary School in Chandler.
Wednesday, May 13, 2009 9:06 pm
A new report suggests an upcoming surge in Arizona's Hispanic population.
Wednesday, October 8, 2008 6:28 pm
Five Valley Hispanic business owners will be honored by Latino Future magazine at the Hispanic Small Business Awards luncheon Oct. 24 at Camelback Inn, 5402 E. Lincoln Drive, Paradise Valley.
Friday, September 28, 2007 3:40 am
Scottsdale's fifth annual Hispanic Heritage ¡Celebración Comunitaria! will be held at the Civic Center Mall amphitheater on Saturday night. Admission is free.
Thursday, October 4, 2007 2:13 pm
Local Hispanic artists, performances, music and foods will be featured at Gilbert's annual Hispanic Heritage Celebration this Saturday.
Saturday, August 11, 2007 11:08 pm
Arizona's Hispanic residents will have more than $28 billion to spend this year on everything from burritos to back-to-school backpacks.

Tomasa Garcia, the tortilla manager at Food City, restocks the fresh tortillas as customers walk by and make their selections Wednesday afternoonin Chandler.
Sunday, September 3, 2006 6:51 am
Mesa is wooing Canadians. Tempe is trying to attract gay travelers. Scottsdale is still seeking the well-heeled resort lovers the city has been courting for half a century. In the Valley, only the Greater Phoenix Convention & Visitors Bureau is targeting the fastest growing minority travel market — U.S. Hispanics.

TOURISM LEADER: Marc Garcia is vice president for cultural affairs for the Greater Phoenix Convention & Visitors Bureau.