Mark Heller is the East Valley Tribune sports editor. He can be reached at mheller@evtrib.com or (480) 898-6576.

Mark Heller is the East Valley Tribune sports editor. He can be reached at mheller@evtrib.com or (480) 898-6576.
Saturday, August 14, 2010 7:58 pm
Picture day equates to all kinds of craziness with football because of its sheer size and number of teenagers involved, and Zane Zamenski is being pulled in a dozen different directions before Thursday's practice at Corona del Sol.

Overseeing practice this week, Corona del Sol coach Zane Zamenski and his players are trying to move forward following a rough spring and summer in his first season at the school.
Sunday, December 28, 2008 5:23 pm
Ahhhhhh, the holiday hangover. Arizona State went through it a little upon their three-day hiatus (even coach Herb Sendek said he didn't watch film on Christmas Eve or Christmas Day, but we aren't fully convinced).
Monday, October 27, 2008 9:40 pm
A couple weeks ago I promised to divulge the Pac-10 preseason basketball ballot upon its return to the league office, so here it is:
Thursday, May 24, 2012 5:54 pm
Mum was the word when it came to transfer talk during the Arizona Interscholastic Association Executive Board meeting on Monday. Amidst a flurry of off-the-field activities and issues, the issue wasn't really discussed, instead being workshopped and further explored through August, likely to be discussed in the August meeting and possibly have a resolute decision one way or another come late September.
Wednesday, November 7, 2007 8:24 am
I called 10 people around the Mercury Tuesday asking who the next coach was going to be. I got three answers: "I don't know," "You'll find out Wednesday," or voicemail. Whiff.
Thursday, December 22, 2011 5:10 pm
It's one of the biggest and best coaching jobs in Arizona's high school landscape. There's a good case to be made that it's become the best.
Thursday, October 20, 2011 4:56 pm
This is supposed to be the tense time of year in high school football. Two weeks left in the regular season, and, with a new scheduling and playoff structure, all the ecstasy and agony of trying to decipher who is going to make it. Who's going to move up or down? Who's going to fall on its face?
Tuesday, September 13, 2011 5:25 pm

Marcos de Niza quarterback Tommy Thornton runs through Notre Dame's defense en route to a 32-yard touchdown run during the first quarter of their football game on August 26. Marcos de Niza went on to a 56-6 win.
Tuesday, July 5, 2011 5:21 pm
Life moves at 4G speed these days, which is bad news if you're 61 years old, took your first weeklong vacation from work in more than 40 years and have a hip replacement and knee surgeries.

Former Chandler coach Jim Ewan called it a career last fall after 40 years of high school and college football. He'll continue to teach at Chandler and possibly look to find a high school assistant position elsewhere beginning in 2012.
Sunday, May 15, 2011 1:58 am
The "what" behind two of Arizona's best high school softball programs is easy: State championships, deep playoff runs and keeping kids out of trouble and in the classroom.

Red Mountain pitcher Breanna Macha, left, celebrates with teammates Siera Phillips and Payton Kornfeind following the Lions' 5-4 victory over Basha in the girl's 5A-I softball state championship game at Rose Mofford Softball Complex on Friday.
Tuesday, January 25, 2011 5:14 pm
Highland lost what would have been its best returning soccer player, Ari Sanchez, to the new Real Salt Lake Arizona youth academy this winter.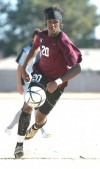 Tanner Clay chose the Real Salt Lake youth academy in Casa Grande instead of playing his senior season for Hamilton this winter. A handful of elite East Valley soccer players have done the same, but the high school boys game is still at a high level.
Saturday, January 15, 2011 6:21 pm
Until Jan. 3, Eddy Zubey wasn't thinking about leaving St. Mary's.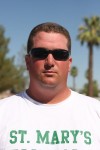 Eddy Zubey has traded in the gold and green of St. Mary's and returned to the East Valley to take over Higley following the retirement of former coach Jim Beall.
Tuesday, December 7, 2010 5:23 pm
Two questions in, and the writing was on the wall that this conversation wasn't going to reveal some watershed explanation.