Tuesday, March 16, 2010 4:05 pm

Gilbert will host German leaders this week as part of an international fellowship program to study city management and government administration.
Sunday, September 11, 2005 6:44 pm
An inevitable byproduct of any disaster is a certain amount of nonsense about the cause. Jerry Falwell, for example, memorably blamed 9/11 on the ACLU. This time it's the Germans' turn: Katrina is President Bush's fault.

Sage Schneider of Chandler's Hamilton High School was interviewed by a reporter from German television at the Inauguration Monday. A group of 35 Hamilton students, all from the school's American Studies program, are in D.C. taking part in a tour of memorials and museums, as well as the Inauguration. They will visit the Capitol, White House and National Archives before returning Tuesday. [Photo courtesy Steve Carr]
Tuesday, December 28, 2010 3:37 pm
On Dec. 19, nearly 400 German natives, German language students, German-teaching professors from Tucson and Flagstaff and even English speakers with an interest in German language and culture attended the first German Christmas Service in Ahwatukee Foothills at Mountain View Lutheran Church.
Monday, December 20, 2010 1:03 pm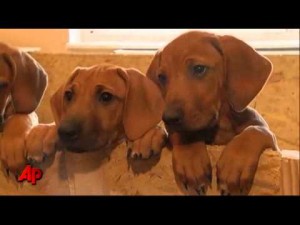 A dog in Germany has given birth to 17 puppies, leaving their owner thrilled but fatigued after having to feed them with a bottle for several weeks because their mother couldn't cope with the demand. (Dec. 20)
Monday, August 3, 2009 2:26 pm
BERLIN — Somali pirates released a German freighter after a ransom was paid Monday, nearly four months after the ship was seized in the Indian Ocean, a European Union naval spokesman said.
Monday, January 30, 2006 5:12 am
NEW YORK - ABC News led its broadcasts with its own journalists in the news: anchor Bob Woodruff and a cameraman had been seriously injured by a roadside bomb while reporting in Iraq.

On Sunday, Dec. 18, nearly 400 Arizona residents attended the second annual German Christmas service at Mountain View Lutheran Church in Ahwatukee.
Sunday, March 20, 2011 5:00 am
The West Valley Chorale, under the direction of Ken Goodenberger, brings Johannes Brahms' "German Requiem" to the community. The piece will be presented in English. Accompanied by orchestra, the 75-member chorale will be joined by dramatic baritone Richard Paul Fink and lyric soprano Carolyn E. Folks. 
Sunday, August 22, 2010 7:30 pm
Bratwursts, brews, and oompah-pahs will spice up Historic Downtown Chandler for the Third Annual Chandler Oktoberfest on Saturday, Sept. 25. An estimated 5,000 Oktoberfest revelers will gather at SanTan Brewing Company (8 S. San Marcos Place, between Arizona Avenue and Buffalo Street) beginning at 2 p.m. and party until 11 p.m.
Sunday, February 14, 2010 8:21 pm
 WHISTLER, British Columbia — Felix Loch blazed across the finish line, dropped his feet to the track and pulled back on the front runners to brake his speedy sled, spraying ice in every direction. The gangly German punched the frosty air in triumph.
Monday, October 13, 2008 3:01 pm
Arizona State University, Arizona Public Service and an international solar company are merging their resources to create a new solar-testing joint venture in Tempe.
Thursday, July 24, 2008 11:21 am
BERLIN - Before an enormous crowd, Democratic presidential contender Barack Obama on Thursday summoned Europeans and Americans together to "defeat terror and dry up the well of extremism that supports it" as surely as they conquered communism a generation ago.
Monday, July 7, 2008 10:44 pm
TOYAKO, Japan - President Bush and German Chancellor Angela Merkel pledged Tuesday to keep working together on common problems, but progress appeared slow on reaching a consensus on climate change as the Group of Eight major economies tackled that and other knotty global issues.
Saturday, July 21, 2007 6:34 am
KANDAHAR, Afghanistan - A purported Taliban spokesman said the hardline militia on Saturday shot and killed two German hostages because Germany's government didn't announce that its troops would leave Afghanistan.
Monday, December 4, 2006 2:14 am
Police are investigating a bizarre case of a missing Mesa man. Jonas Richert, a 21-year-old German immigrant, was last seen Thursday night by his fiancee's mom, who dropped him off for work near the Target at Power and McKellips roads.
Thursday, September 21, 2006 6:09 am
WILHELMSHAVEN, Germany - Germany began its biggest naval operation since World War II on Thursday as eight warships set sail for the eastern Mediterranean to help the U.N. keep the peace in Lebanon.
Friday, June 30, 2006 12:57 am
Craig Friedman normally bleeds red, white and blue. Not so with the World Cup. When host Germany takes the field this morning against Argentina in a quarterfinal match, Friedman will be hooting and hollering for the Germans.
Friday, June 30, 2006 12:56 am
Craig Friedman normally bleeds red, white and blue. Not so with the World Cup. When host Germany takes the field this morning against Argentina in a quarterfinal match, Friedman will be hooting and hollering for the Germans.
Tuesday, October 4, 2005 11:06 am
STOCKHOLM, Sweden - Americans John L. Hall and Roy J. Glauber and German Theodor W. Haensch won the 2005 Nobel Prize in physics Tuesday for work that could lead to better long-distance communication and more precise navigation worldwide and in space.
Friday, July 8, 2005 7:10 am
VERDEN, Germany - The teenager who created the Sasser worm that snarled tens of thousands of computers last year was convicted Friday on charges including computer sabotage and given a suspended sentence, a court official said.
Monday, August 16, 2004 10:43 am
Wednesday, May 7, 2003 9:46 am
BERLIN - German media company EM.TV said Wednesday it is selling the Muppets' creator, The Jim Henson Co., back to the Henson family for a fraction of what it paid at the height of the tech boom.
Friday, January 20, 2012 12:27 pm
A German solar-powered home that's on a tour of North America will make a stop in Tempe, opening Monday to showcase the latest in ultra-efficient design and technology.