Saturday, September 1, 2012 4:00 pm
Last Updated: Oct. 27, 2012 | Compiled by Tribune
Saturday, September 1, 2012 3:55 pm
Last Updated: Oct. 27, 2012 | Compiled by Tribune

The Hamilton football team shook off two losses early to win another Division I state championship.

In his first year at Westwood, coach Spencer Stowers, right, has found the going difficult. After the team went 1-9 in 2011, the Warriors are currently 1-5.

Dobson High School quarterback Gabe Martinez,right, throws a pass against Mesa High on September 21. Dobson is currently 1-5 and the Mustangs have won just eight games since 2009.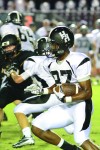 Highland receiver Bill Johnson runs the ball while taking on Gilbert, Friday, August 31, 2012.

Gilbert defenders, including RJ Patino, left, attempt to stop Highland's Evan Dadasievwicz in the third quarter of play at Gilbert, Friday, August 31, 2012.
The Basha High school football field shown, Wednesday, August 22, 2012 in Chandler. [Tim Hacker/Tribune]
The Basha High school football field shown, Wednesday, August 22, 2012 in Chandler. [Tim Hacker/Tribune]
The Basha High school football field shown, Wednesday, August 22, 2012 in Chandler. [Tim Hacker/Tribune]

Dobson football coach George De La Torre looks on as his team practices, Wednesday, August 8, 2012. [Tim Hacker/Tribune]
Dobson football coach George De La Torre looks on as his team practices, Wednesday, August 8, 2012. [Tim Hacker/Tribune]
Dobson quarterback Gabe Martinez throws a pass during practice, Wednesday, August 8, 2012. [Tim Hacker/Tribune]
The Dobson football team gathers for a huddle during practice, Wednesday, August 8, 2012. [Tim Hacker/Tribune]

Dobson wide receiver Martin Tew, center, looks on from the sideline during practice, Wednesday, August 8, 2012. [Tim Hacker/Tribune]

Dobson football coach George De La Torre looks on as his team practices, Wednesday, August 8, 2012. [Tim Hacker/Tribune]
Dobson wide receiver Martin Tew carries the ball during practice, Wednesday, August 8, 2012. [Tim Hacker/Tribune]
Dobson quarterback Gabe Martinez throws a pass during practice, Wednesday, August 8, 2012. [Tim Hacker/Tribune]
Dobson football coach George De La Torre looks on as his team practices, Wednesday, August 8, 2012. [Tim Hacker/Tribune]