Bob Englehart, The Hartford Courant

Donald Trump speaks to a crowd of 600 people during a gathering of Republican women's groups, Thursday, April 28, 2011, in Las Vegas. Trump's flirtation with a White House bid continued Thursday night with a lavish reception at the Treasure Island casino in Las Vegas.(AP Photo/Julie Jacobson)

FILE - In this Feb. 10, 2011 file photo, Donald Trump addresses the Conservative Political Action Conference (CPAC) in Washington. It's the weird issue that won't go away, and it's forcing GOP presidential contenders and other Republican leaders to pick sides: do they think President Obama was born outside the United States and is therefore disqualified to be president? Polls show that a remarkable two-thirds of all Republican voters either think Obama was born abroad or they aren't sure. With Donald Trump stirring the pot, other potential candidates are distancing themselves from his comments to varying degrees. (AP Photo/Alex Brandon, File)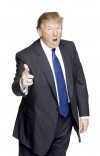 "Roast of Donald Trump"
Thursday, April 29, 2004 7:50 am
NEW YORK - There's a new member of Donald Trump's "A-Team." Following Ivana and Marla, model Melania Knauss became engaged this week to the billionaire developer, Trump spokesman Norma Foerderer said Thursday.

Donald Trump and Melania Knauss pose for photographers as they arrive for the Entertainment Industry Foundation\'s National Colorectal Cancer Research Alliance evening on board the Queen Mary 2, Saturday, April 24, 2004 in New York.
Friday, December 16, 2005 5:26 am
NEW YORK - Donald Trump chose Randal Pinkett, an experienced 34-year-old founder of a New Jersey consulting firm, for his fourth "Apprentice" on the show's finale Thursday.
Tuesday, September 13, 2005 12:18 pm
This was one deal The Donald could not make.

Donald Trump and his wife Melania Knauss wait for the start of the showing of the Oscar de la Renta spring 2006 collection, Monday.

Former governor of Alaska Sarah Palin looks back at a crowd as she walks to the door of Tump Tower for a scheduled meeting with Donald Trump in New York Tuesday, May 31, 2011. (AP Photo/Craig Ruttle)
Wednesday, June 10, 2009 1:39 pm
 Miss California USA Carrie Prejean, who stirred up trouble for herself when she said gays shouldn't be allowed to marry, got the word from pageant poobah Donald Trump on Wednesday: "You're fired."

Real estate mogul Donald Trump, left, talks about his 92-story Trump International Hotel & Tower during a news conference with his children, Ivanka, right, Eric, second right and Donald Jr., in Chicago, Thursday.
Monday, April 2, 2007 5:07 am
DETROIT - One of the world's most famous 'do's - considered by many to be a fashion don't - remains intact after its owner, Donald Trump, prevailed in Sunday night's "hair match" at Wrestlemania.

Donald Trump, left, and Bobby Lashley, right shave the head of Vince McMahon after Lashley defeated Umaga at Wrestlemania 23 at Ford Field in Detroit, Sunday, April 1, 2007.
Monday, March 20, 2006 5:34 am
NEW YORK - Donald Trump's wife gave birth to a boy Monday, the billionaire developer announced. "Everyone's perfect," Trump said in a telephone interview on MSNBC's "Imus in the Morning," about 20 minutes after the arrival of his fifth child.
Tuesday, September 27, 2005 11:19 am
NEW YORK - Donald Trump's empire keeps on expanding, but his newest addition is on the home front. Norma Foerderer, a Trump spokeswoman, confirmed a report Tuesday that the 59-year-old real estate mogul-TV reality star's wife, Melania, is pregnant.
Thursday, September 15, 2005 12:07 pm
NEW YORK - Donald Trump, soon to premiere the fourth season of "The Apprentice," will make his daytime soap opera debut on NBC's "Days of Our Lives."

Donald and Melania Trump arrive at a party in New York on April 19, 2005.A Trump spokeswoman, confirmed a report Tuesday, Sept. 27, 2005, that the 59-year-old billionaire developer\'s wife, Melania Knauss, is pregnant.
Friday, May 25, 2007 10:27 am
CHICAGO - Donald Trump has exchanged insults with Rosie O'Donnell and questions Elisabeth Hasselbeck's intelligence. So which co-host does he back in their recent on-air tiff on ABC's "The View"?

World Wrestling Entertainment owner Vince McMahon, left, and Donald Trump, right, are seen in this combination photo.

Donald Trump poses with a dining room suite during the introduction of his new furniture line by Thomasville Furniture in Thomasville, N.C., Tuesday, March 27, 2007. \"Trump Home furniture offers consumers a tangible way to experience the luxu
Monday, February 19, 2007 8:17 pm
DETROIT - Will Donald Trump put his hair where his mouth is? Trump and World Wrestling Entertainment owner Vince McMahon will pick a wrestler to represent them in the ring April 1 at Wrestlemania 23 at Detroit's Ford Field, The Detroit News reported last week.