Tuesday, October 18, 2011 11:30 am

PRODUCED BY EMILY TIMM FOR THE EAST VALLEY TRIBUNE
Sunday, July 3, 2011 9:00 am
Sunday, July 3, 2011 9:00 am
Tuesday, May 26, 2009 9:53 pm
Scott Hyder: Let's be honest: People generally despise lawyers. What was once a respected profession has been tarnished by vindictive prosecutions, sloppy defenses, frivolous lawsuits, and lawyers resorting to legal trickery and fighting that they justify as the necessary evil to ensure "vigorous advocacy" for their clients.
Wednesday, October 22, 2008 9:13 pm
ANCHORAGE, Alaska -An analysis of DNA found in saliva and hair shows that the grizzly bear killed by state biologists is the same one that attacked a runner this summer.
Friday, January 4, 2008 10:10 pm
BOGOTA, Colombia - Results of a DNA test on Friday revealed why leftist rebels failed to deliver this week on their promise to free a 3-year-old boy born in captivity: Little Emmanuel has spent the last two years not in a jungle rebel camp, but in a Bogota foster home.
Tuesday, September 18, 2007 1:05 am
A Pinal County judge ruled Monday that two Queen Creekarea boys charged in the slaying of Amber LeAnn Hess in June must submit swabs with saliva that can be tested for DNA.
Monday, June 11, 2007 9:55 pm
LOS ANGELES - Phil Spector's DNA was not found on the gun that killed Lana Clarkson, a criminalist testified Monday, but he suggested it might have been hidden under the large amount of the actress' blood on the weapon.
Tuesday, June 12, 2007 9:22 pm
LOS ANGELES - DNA consistent with Phil Spector's genetic markers was found on Lana Clarkson's breast but was not present on the gun that killed her, on the bullets in the weapon or under her broken fingernail, a sheriff's criminalist testified Tuesday.

Defense Attorney Christopher Plourd gestures toward an evidence graphic used by Los Angeles Sheriff\'s Department Criminalist Steve Renteria during testimony in the Phil Spector murder trial at Los Angeles Superior Court Tuesday, June 12, 2007,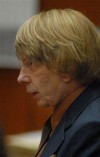 Music producer Phil Spector is shown in court during his murder trial, Monday, June 11, 2007, in Los Angeles.
Tuesday, February 27, 2007 9:22 am
AIKEN, S.C. - A lawyer for James Brown's partner says an agreement has been reached over obtaining DNA samples from the late soul singer's body.
Saturday, March 24, 2007 4:27 am
LOS ANGELES - Zsa Zsa Gabor's husband provided a DNA sample Friday in the ongoing dispute about the paternity of Anna Nicole Smith's infant daughter, and said he wanted to raise the child if he was the father. Frederic von Anhalt said he's "almost sure" the test will prove he's the father of 6-month-old Dannielynn. He says he carried on a decades-long affair with the former Playboy Playmate of the Year.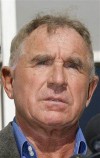 Prince Frederic von Anhalt, husband of Zsa Zsa Garbor, speaks to media outside Santa Monica, Calif., courthouse in this file photo from Feb. 15, 2007.
Tuesday, March 1, 2005 10:20 am
SANTA MARIA, Calif. - Authorities investigating allegations of child molestation against Michael Jackson found no DNA from his accuser when they searched the pop star's bedroom, his attorney told the jury Tuesday.
Tuesday, March 1, 2005 5:30 am

Michael Jackson, center, arrives for court with his mother Catherine, left, and brother Jermaine on the second day of his child molestation trial at Santa Barbara County Superior Court, Tuesday.
Thursday, April 8, 2004 7:35 am
A 34-year-old Colorado prison inmate has been named a suspect in a Mesa sexual assault that took place nearly 18 years ago.
Tuesday, October 14, 2003 10:13 am
DNA taken from the tape that bound a slain Mesa man has led to the release from jail of one of two men accused in the murder.
Wednesday, August 13, 2003 9:52 pm
Baseball legend Ted Williams' DNA is not missing from a Scottsdale cryonics company, and any damage to his body would be the result of regular procedures related to freezing a corpse for preservation, the company's director said Wednesday.
Wednesday, June 6, 2012 2:30 pm
LOS ANGELES — Since hatching "Alien" 33 years ago, Ridley Scott has hoped no other filmmakers would try to answer this question: Where did the space eggs containing those terrifying beasts come from?