Thursday, May 2, 2013 7:00 am

Spain once again is home to the world's top restaurant.
Thursday, April 18, 2013 3:00 pm
NASHVILLE, Tenn. — Coachella is over and Lollapalooza is sold out. Bonnaroo's nearly there, too. But eager fans need only be patient: Wait a few years and chances are you'll have a star-studded music festival of your own within driving distance.
Thursday, January 10, 2013 8:57 am
Complete list of 85th Annual Academy Award nominations announced today:
Thursday, December 13, 2012 6:00 am
Experience a traditional Danish Christmas from the late 1800s at Tempe's Niels Petersen House, the oldest Queen Anne-style brick residence in the Salt River Valley.
Saturday, November 17, 2012 4:00 pm
Across the pond, Danish filmmaker Nikolaj Arcel made a name for himself with acclaimed movies like "King's Game," but is probably best-known to American audiences for penning the Swedish film adaptation of "The Girl with the Dragon Tattoo," starring breakout leading lady Noomi Rapace.
Thursday, November 8, 2012 5:15 pm
New York filmmaker Ira Sachs made his feature debut over 15 years ago with gay teen romance "The Delta" in 1996, and has been steadily making sultry, experimental cinema ever since. This weekend, Sachs gives Valley audiences his most personal picture to date: the semi-autobiographical "Keep The Lights On," now playing at Harkins Shea in Scottsdale.
Saturday, October 20, 2012 11:47 pm
Higley Unified School District will offer a variety of youth and middle school classes later this month. Classes are scheduled at the end of the school day and include cheer, aviation, LEGO building, athletics, filmmaking and more. Register in person at the district's Community Education Office, 3333 E. Vest Ave. Bldg. A, Gilbert or check online at husd.org.

Lead singer Damon Albarn from British rock band "Blur," performs at the main stage of the Skanderborg Music Festival 2012 in Skanderborg, Denmark, Thursday evening Aug. 9. 2012. Blur will perform at the closing ceremony of the Olympics in London on Sunday. (AP Photo/Polfoto, Sisse Dupont) DENMARK OUT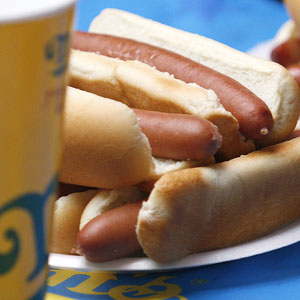 The Nathan's Famous Hot Dog Eating Contest qualifier at Arizona Mills in Tempe, Saturday, June 9, 2012. Denmark advances to compete in the 97th annual July Fourth International Hot Dog Eating Contest. Within the 10 minute contest, Erik "The Red" Denmark ate 30 1/2 hot dogs and buns while Michelle Lesco downed 24 hot dogs and buns. [Tim Hacker/ Tribune]
Erik "The Red" Denmark, of Seattle, Wash., kisses a trophy after winning a qualifying Nathan's Famous Hot Dog Eating Contest at Arizona Mills in Tempe, Saturday, June 9, 2012. Denmark advances to compete in the 97th annual July Fourth International Hot Dog Eating Contest[Tim Hacker/ Tribune]
The Nathan's Famous Hot Dog Eating Contest qualifier at Arizona Mills in Tempe, Saturday, June 9, 2012. Denmark advances to compete in the 97th annual July Fourth International Hot Dog Eating Contest. Within the 10 minute contest, Erik "The Red" Denmark ate 30 1/2 hot dogs and buns while Michelle Lesco downed 24 hot dogs and buns. [Tim Hacker/ Tribune]
The Nathan's Famous Hot Dog Eating Contest qualifier at Arizona Mills in Tempe, Saturday, June 9, 2012. Denmark advances to compete in the 97th annual July Fourth International Hot Dog Eating Contest. Within the 10 minute contest, Erik "The Red" Denmark ate 30 1/2 hot dogs and buns while Michelle Lesco downed 24 hot dogs and buns. [Tim Hacker/ Tribune]
The Nathan's Famous Hot Dog Eating Contest qualifier at Arizona Mills in Tempe, Saturday, June 9, 2012. Denmark advances to compete in the 97th annual July Fourth International Hot Dog Eating Contest. Within the 10 minute contest, Erik "The Red" Denmark ate 30 1/2 hot dogs and buns while Michelle Lesco downed 24 hot dogs and buns. [Tim Hacker/ Tribune]
The Nathan's Famous Hot Dog Eating Contest qualifier at Arizona Mills in Tempe, Saturday, June 9, 2012. Denmark advances to compete in the 97th annual July Fourth International Hot Dog Eating Contest. Within the 10 minute contest, Erik "The Red" Denmark ate 30 1/2 hot dogs and buns while Michelle Lesco downed 24 hot dogs and buns. [Tim Hacker/ Tribune]
The Nathan's Famous Hot Dog Eating Contest qualifier at Arizona Mills in Tempe, Saturday, June 9, 2012. Denmark advances to compete in the 97th annual July Fourth International Hot Dog Eating Contest. Within the 10 minute contest, Erik "The Red" Denmark ate 30 1/2 hot dogs and buns while Michelle Lesco downed 24 hot dogs and buns. [Tim Hacker/ Tribune]
The Nathan's Famous Hot Dog Eating Contest qualifier at Arizona Mills in Tempe, Saturday, June 9, 2012. Denmark advances to compete in the 97th annual July Fourth International Hot Dog Eating Contest. Within the 10 minute contest, Erik "The Red" Denmark ate 30 1/2 hot dogs and buns while Michelle Lesco downed 24 hot dogs and buns. [Tim Hacker/ Tribune]
Michelle Lesco, of Tucson, holds the women's trophy after winning a qualifying Nathan's Famous Hot Dog Eating Contest at Arizona Mills in Tempe, Saturday, June 9, 2012. Lesco advances to compete in the 97th annual July Fourth International Hot Dog Eating Contest. Within the 10 minute contest, Erik "The Red" Denmark ate 30 1/2 hot dogs and buns while Michelle Lesco downed 24 hot dogs and buns. [Tim Hacker/ Tribune]
The Nathan's Famous Hot Dog Eating Contest qualifier at Arizona Mills in Tempe, Saturday, June 9, 2012. Denmark advances to compete in the 97th annual July Fourth International Hot Dog Eating Contest. Within the 10 minute contest, Erik "The Red" Denmark ate 30 1/2 hot dogs and buns while Michelle Lesco downed 24 hot dogs and buns. [Tim Hacker/ Tribune]
The Nathan's Famous Hot Dog Eating Contest qualifier at Arizona Mills in Tempe, Saturday, June 9, 2012. Denmark advances to compete in the 97th annual July Fourth International Hot Dog Eating Contest. Within the 10 minute contest, Erik "The Red" Denmark ate 30 1/2 hot dogs and buns while Michelle Lesco downed 24 hot dogs and buns. [Tim Hacker/ Tribune]
The Nathan's Famous Hot Dog Eating Contest qualifier at Arizona Mills in Tempe, Saturday, June 9, 2012. Denmark advances to compete in the 97th annual July Fourth International Hot Dog Eating Contest. Within the 10 minute contest, Erik "The Red" Denmark ate 30 1/2 hot dogs and buns while Michelle Lesco downed 24 hot dogs and buns. [Tim Hacker/ Tribune]
The Nathan's Famous Hot Dog Eating Contest qualifier at Arizona Mills in Tempe, Saturday, June 9, 2012. Denmark advances to compete in the 97th annual July Fourth International Hot Dog Eating Contest. Within the 10 minute contest, Erik "The Red" Denmark ate 30 1/2 hot dogs and buns while Michelle Lesco downed 24 hot dogs and buns. [Tim Hacker/ Tribune]
The Nathan's Famous Hot Dog Eating Contest qualifier at Arizona Mills in Tempe, Saturday, June 9, 2012. Denmark advances to compete in the 97th annual July Fourth International Hot Dog Eating Contest. Within the 10 minute contest, Erik "The Red" Denmark ate 30 1/2 hot dogs and buns while Michelle Lesco downed 24 hot dogs and buns. [Tim Hacker/ Tribune]
The Nathan's Famous Hot Dog Eating Contest qualifier at Arizona Mills in Tempe, Saturday, June 9, 2012. Denmark advances to compete in the 97th annual July Fourth International Hot Dog Eating Contest. Within the 10 minute contest, Erik "The Red" Denmark ate 30 1/2 hot dogs and buns while Michelle Lesco downed 24 hot dogs and buns. [Tim Hacker/ Tribune]
The Nathan's Famous Hot Dog Eating Contest qualifier at Arizona Mills in Tempe, Saturday, June 9, 2012. Denmark advances to compete in the 97th annual July Fourth International Hot Dog Eating Contest. Within the 10 minute contest, Erik "The Red" Denmark ate 30 1/2 hot dogs and buns while Michelle Lesco downed 24 hot dogs and buns. [Tim Hacker/ Tribune]
The Nathan's Famous Hot Dog Eating Contest qualifier at Arizona Mills in Tempe, Saturday, June 9, 2012. Denmark advances to compete in the 97th annual July Fourth International Hot Dog Eating Contest. Within the 10 minute contest, Erik "The Red" Denmark ate 30 1/2 hot dogs and buns while Michelle Lesco downed 24 hot dogs and buns. [Tim Hacker/ Tribune]