Thursday, August 18, 2011 1:27 pm

Since they started playing football at Deer Valley, the Class of 2012 has stood out.

Deer Valley senior linebacker Jon Reed will lead a defense that returns seven starters and is looking to slice the 31 points per game it gave up a year ago in half.
Thursday, August 26, 2010 3:48 pm
Entering his first year as a high school head coach, Deer Valley's Joe Kersting is happy to have a rare pair of juniors with talent and experience at quarterback and tailback.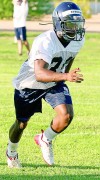 Deer Valley junior tailback Trae Armstong goes through drills at summer camp.
Thursday, November 13, 2008 9:44 pm
Thursday night, with Deer Valley five points from a berth in the state semifinals, the celebratory mood in Skyhawk Gym suddenly turned somber.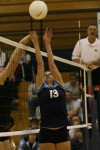 Deer Valley sophomore setter Kayla Kane sets up a teammate during Thursday's game
Tuesday, October 14, 2008 9:55 pm
After sweeping the Silver Division at the Goldwater Tournament Oct. 10-11, Deer Valley fans wouldn't blame the Skyhawk girls volleyball squad for taking a night off.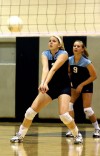 Sarah Rossman, right, looks on as Makayla Higgins digs a hit from Willow Canyon during a game at Deer Valley High School in Glendale Tuesday
Saturday, September 8, 2007 12:27 pm
Chandler Basha showed Friday that while it is young on talent, it is used to finding ways to win. The Bears captured a 27-3 homecoming victory over Glendale Deer Valley in 5A nonregion action. Bears quarterback Troy Graham had nine completions on 16 attempts for two touchdowns, including a 50-yard pass to Ryan McBurney with 2:05 left in the second quarter to put the Bears up 13-0. The Bears also picked up 224 rushing yards, 60 of them on a rushing touchdown from back Dusty Rush. Despite the numbers, Basha (3-0) had problems all night with stalled offensive drives caused mostly by penalties (eight for 108 yards) or miscues. "I think we were flat," Basha coach Tim McBurney said. "We have a young team that does not know how to come and prepare each week." McBurney said the loss of playing the first game of the season (San Luis forfeited in Week 1) still is problematic for his team. "This is a young team and we need all the game experience we can get to become a good team and we're not there yet," McBurney said. However, the Bears' defense did force four Deer Valley turnovers and kept the Skyhawks (1-2) from doing much offensively the entire game. The game took on a somber tone when Deer Valley's Jared Ritter was injured on a Skyhawk offensive play just a minute into the second half. Ritter was examined by emergency personnel on the scene and then removed from the field on a backboard and flown by emergency helicopter to St. Joseph's Hospital in Phoenix as a precautionary measure. His condition was not immediately known.
Tuesday, September 18, 2007 9:46 pm
The Deer Valley Skyhawks volleyball team entered the 2007 season coming off their first losing campaign in recent memory. Following a trip to the 5A Div-II state finals in 2005 Jackie Wallace inherited a young squad in 2006. While they took their lumps, the Skyhawks managed to make the state tournament during a season that saw them finish third in the Northwest Region. With most of her roster back this season the second year coach anticipated a strong squad in 2007. On Tuesday in their region opener the Skyhawks improved to 5-0 with a 25-22, 25-15, 25-18 win over the Kingman Bulldogs. "I can't say enough about this team's effort," Wallace said. "The experience we have now really shows and the intensity is there." While Kingman was in all three games early Deer Valley came up with a run to gain some separation each time. "I think they were hurting us with tips," Deer Valley junior Izzy Gaulia said. "We'd get ahead and then they'd make a comeback. It was a little frustrating, but we stuck with it." The conclusion to game one may have been the turning point in the match. After battling to a 9-9 tie early the Skyhawks rattled off 14 of the next 17 points to earn a 23-12 advantage. An opening game win seemed inevitable. By if you're going to drive all the way from Kingman you might as well go down swinging. The Bulldogs would end up turning the laugher into a nail-biter. After Goldwater rattled off five straight points Deer Valley sophomore middle Kaitlynn Ausmus put her team within one point of a victory with a cross-court kill. Kingman would continue to battle, fighting off four game points and leading Wallace to call a timeout with the score at 24-21 and the visiting team on a 10-1 run. "That was pretty concerning," Wallace admitted. "I don't like being uneasy, it's a lot more fun when we get up early and stay way ahead. We were making some bad passes, but we stayed together." Kingman would get to within two on a Dominique Hale block of an attempted kill by the Skyhawks. That would finally bring an end to the Kingman surge. On the following point an attempted pass to Skyhawks setter Alyssa Rodrigues was long putting her in a tight spot up close to the net. Contorting her body to keep from touching the net Rodrigues did the only thing she could. Instead of setting one of the Skyhawks two main weapons Gaulia or Sarrah Davis the senior simply tipped the ball backwards over her head, a perfectly placed dump that dropped untouched to end game one. "I was proud that we were able to finish that game out, because all the momentum started going their way," Rodrigues said. "You look at their defense and I kind of got the idea that would be open, but on that play I really had no idea that that shot would drop. I'm glad it did though." The last two games weren't nearly as dramatic. In game two Deer Valley closed a tight 15-13 game by scoring 10 of the last 12 points while the final game saw the host Skyhawks run off a 6-0 run to open up a 10-10 tie. From there Kingman would get no closer than four at 19-15. With last year's region champion Mountain Ridge out of the picture in the Northwest Region the Skyhawks believe they have as good of a shot as anyone to claim the region title. "We're working hard towards that goal," Rodrigues said. "Last year we really hadn't played together before. This year we all know each others strengths and weaknesses so it makes things a lot easier." That being said Gaulia said she and her teammates won't get too excited about their 5-0 start. "We've got to keep practicing hard," she said. "We can't get cocky." Wallace likes the approach of her team and Gaulia, one of her team's captains. "You can't say enough about her," the coach said. "She gets after it. She's always vocal, intense. She just wants to win. Izzy will do whatever we need from her." Deer Valley continues their season Wednesday when they play host to Ironwood.
Thursday, August 23, 2007 8:02 pm
Key matchup: With 20 new starters overall, 10 on offense and 10 on defense, Toros must rely on new group to neutralize Deer Valley offense that returns two receivers who combined for 1,022 yards and 68 receptions last year.
Friday, September 8, 2006 4:40 am
Outlook: A week off after a nontitle game visit to Sun Devil Stadium allows Red Mountain to refocus and pick up a victory in its second start.
Thursday, May 13, 2004 11:54 pm
Friday, January 15, 2010 11:35 pm
Deer Valley boys basketball picked up its fourth straight Northwest Region victory Friday night by concentrating on the things it does best - driving, defending and deferring.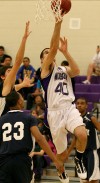 Valley Vista senior forward Jameel Yousif goes up for the layup after splitting the Deer Valley defense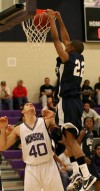 Deer Valley sophomore guard Tre Ogles dunks the ball during the first half at Valley Vista Friday
Tuesday, November 16, 2010 4:48 pm
Three seniors at Deer Valley signed letters of intent with colleges last week.

Deer Valley seniors Kayla Kane, left, and Lauren Haeger celebrate signing college scholarships at the Glendale school. Kane will play volleyball at Phoenix College, while Haeger will play softball at the University of Florida.
Tuesday, November 2, 2010 11:13 pm
Valley Vista upsets Skyhawks in first round of State Tournament

Deer Valley Rock Art Center
Wednesday, September 1, 2010 10:49 am
The Deer Valley High School girls volleyball team shouldn't have a problem with their chemistry course work if it works as well in the classroom as it did on the court Tuesday night.

Ironwood's Kaila Gladden tries to tip the ball over Deer Valley blockers Lauren Haeger, left, and Chelsea Clark while Brittany Bruning looks on.
Tuesday, March 2, 2010 9:58 pm
Don't ask the Deer Valley softball team about last season's 1-0 loss in last season's 5A-II state finals. No one is talking.

Deer Valley senior Jenny Tyler throws out a batter at first base during the Skyhawks 1-0 winning Tuesday against Ironwood