Saturday, April 9, 2005 7:40 am

Sometimes a legislative faction has to manufacture a problem in order to pass a pet law. And, as we stated earlier in the legislative session, a bill to legally protect pharmacists who refuse filling certain prescriptions on "conscience" grounds seemed to be way out in front of any problem we're aware of.
Wednesday, September 10, 2003 2:52 am
Amanda Laux is one of those people who stands on street corners, begging for your change.

UNINTENDED TREASURE: Amanda Laux shows a ring Tuesday that was given to her while panhandling Monday on the northbound side of Chandler Boulevard and Loop 101.
Wednesday, September 30, 2009 4:30 pm
Alan Sears: Whenever Planned Parenthood and The Center for Reproductive Freedom team up, something dies. Sometimes, it's a freedom. More often, it's a life. If the two organizations' respective lawsuits - one state, one federal - succeed in dismantling a new Arizona law designed to protect pregnant women and those who serve them, you'll see mortal wounds nationwide to both lives and liberty.
Tuesday, March 22, 2005 10:08 am
Sunday, January 9, 2005 7:18 am
Every legislative session, far too many bills are filed to pander to this or that special interest, rather than actually solve a real problem.

In this photo from ABC, Actor Robert Blake talks to ABC News\' Barbara Walters in his first interview after being acquitted of murder charges, on the
Saturday, March 26, 2011 5:30 am
Linda Turley-Hansen, guest commentary
Saturday, December 29, 2007 1:03 am
No one can fault Guillaume Grenier-Marmet for not giving it his best shot. But neither should he blame the city of Mesa and its people for the Symphony of the Southwest's failure to attract customers and financial support.
Sunday, February 26, 2006 5:24 am
When I found out I was going to die, I asked Slim if he would mind letting me use this space as sort of a farewell message.
Sunday, November 14, 2004 4:39 am
Sunday, November 14, 2004 4:38 am
That inner voice called "conscience" and how it affects your life and the lives of others will be examined Tuesday at the next discussion sponsored by the Scottsdale Office of Diversity and Dialogue.
Sunday, January 6, 2013 3:12 pm
I find the opposition to Obamacare a gross, contradictory, and hypocritical position held by certain elected officials who represent the citizens of this great country.
Thursday, April 14, 2005 11:20 am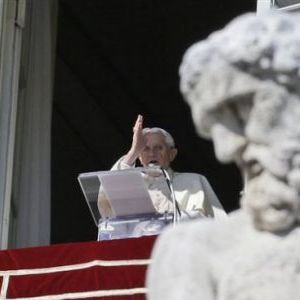 Pope Benedict XVI announced Monday that he will resign on Feb. 28. The 85-year-old pope announced his decision in Latin during a meeting of Vatican cardinals. "After having repeatedly examined my conscience before God, I have come to the certainty that my strengths due to an advanced age are no longer suited to an adequate exercise of the Petrine ministry," he told the cardinals. Benedict, the first pontiff to resign in nearly 600 years, emphasized that carrying out the duties of being pope — the leader of more than a billion Roman Catholics worldwide — requires "both strength of mind and body." He says he is simply too infirm to carry on. Here is a look at Pope Benedict XVI's career in photo. [-- The Associated Press]
Friday, August 26, 2011 10:30 am
Democratic and Republican lawmakers now vote in virtual lockstep; their primary loyalty isn't to their constituents or to their consciences, but to their party. That's not democracy, and it's certainly not governance. It's warfare.
Sunday, August 15, 2010 11:00 am
In response to whether "It's OK to be gay in Arizona" (Tribune guest commentary, Aug. 13) in which Jon Beydler commented that state government should not legislate moral issues:
Wednesday, April 13, 2005 1:34 pm
Gov. Janet Napolitano refused Wednesday to let pharmacists legally decline to fill prescriptions for the "morning-after" pill.
Saturday, March 3, 2012 9:03 am
I've always known it: Readers quite often say it better than — well, the usual columnists. In an unusual move, I've dedicated this space to a letter written by Diana Smith, the mother of nine children, grandmother of seven children. Smith, a long time East Valley resident is doing what she can to awaken women to frightening games being played in the political arena. She warns women their emotions are manipulated, while their freedoms to choose for themselves are at high risk. Read on:
Friday, November 5, 2010 5:00 am
"We the People" have spoken. Not against Democrats or for Republicans, but against a philosophy that trivializes individuality while promoting central power in big government.
Monday, August 2, 2010 3:08 pm
Many citizens feel ripped-off by wasted tax money and want to squeeze whatever self-serving monies they can get out of our government services. Take the billions of dollars spent (wasted?) in Afghanistan. What's a few bucks for me in whatever form? Not exactly critical thinking, but that's the problem.
Friday, August 22, 2008 12:17 am
WASHINGTON - The Bush administration Thursday announced plans to implement a controversial regulation designed to protect doctors, nurses and other health-care workers who object to abortion from being forced to deliver services that violate their personal beliefs.
Wednesday, May 2, 2007 1:27 pm
PHOENIX - A Glendale man was sentenced to a year in prison in an animal-cruelty case that made a list of the nation's 100 worst cases in the country.