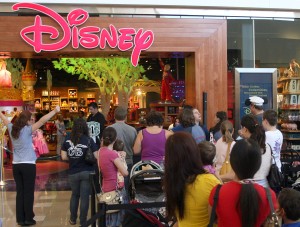 Disney opened a state-of-the-art store at Chandler Fashion Center on Wednesday, May 11, 2011.

A customer enters a pay day loan store Monday, June 28, 2010 in Chandler. Payday loan customers will have to look elsewhere for credit options when the law allowing the industry to operate in Arizona expires on Thursday.
Sunday, March 25, 2007 6:38 am
Merchants in downtown Chandler plan to hire an offduty police officer in a further attempt to push the day labor trade away from their businesses.
Wednesday, October 28, 2009 12:13 pm
Police arrested three suspects accused of robbing a Chandler jewelry and clothing store on Monday, two of whom were released from an Arizona Department of Corrections prison earlier this year, including one on an attempted first-degree murder conviction.
Saturday, March 7, 2009 5:17 pm
The hairstylists at Cielo salon in Chandler depend on walk-in traffic to make a living. Too bad for them the city's massive renovation of a nearby intersection has reduced traffic to near nothing.
Sunday, September 7, 2003 2:59 am
Some Chandler residents are concerned they may end up with empty buildings in their neighborhood after the City Council approved a development that may result in three grocery stores at one intersection.
Tuesday, February 11, 2003 10:12 pm
About a half-dozen thrift and dollar stores dot Arizona Avenue from Ray Road to north of Warner Road.
Sunday, March 3, 2013 9:01 am
A man has been arrested for allegedly selling stolen property at his mini-mart store in Phoenix.
Wednesday, February 16, 2011 10:14 am
Wednesday, February 16, 2011 10:14 am
Wednesday, February 16, 2011 10:14 am
Wednesday, February 16, 2011 10:14 am
Tuesday, March 16, 2010 4:06 pm
Dollar Tree will open a new 7,989-square-foot store March 24 at 1070 E. Ray Road, Chandler.
Tuesday, May 12, 2009 8:02 am
Nerdvana: Chandler is about to get a new comic book store. Dave's Comics, Cards & Games is planning a May 23 grand opening with a location on Eliott Road just east of Alma School Road.
Saturday, December 20, 2008 9:53 pm
An armed man attempting to rob a Chandler jewelry store Saturday died of a gunshot wound resulting from a gun battle between the robber and store workers, police said.
Thursday, September 11, 2008 9:51 pm
 A man suspected of robbing several East Valley pharmacies was arrested last month according to a report released Thursday by Chandler authorities.
Monday, June 2, 2008 2:07 pm
Sharper Image stores in Scottsdale and Chandler, as well as 84 other U.S. stores that made the original cut when the upscale gadget chain slipped into bankruptcy, are now liquidating merchandise as the brand tries to resuscitate itself as a Internet- and catalog-only retailer.
Wednesday, February 6, 2008 8:42 am
Phoenix artist Joe Willie Smith pulls open the large door of his backyard studio, light falling on mounds of junk — a chaos of books, records, old amplifiers, tools, overtaking the room.

RENEWAL: Phoenix artist Joe Willie Smith Makes new creations out of thrown-away things: shotgun shells, wood clippings, plastics and metals. He has two exhibits this month in Chandler.

WOODWORK: Joe Willie Smith's "Standing here, wondering which way to go," at Chandler's Tryst Art Gallery, looms more than 10 feet tall. JOE WILLIE SMITH
Sushi Eye is one of two recent store front closings in the downtown Chandler area despite the demand for space in the area continues to grow, shown Monday, July 30, 2012. [Tim Hacker/ Tribune]
Thursday, April 4, 2013 12:10 pm
The new Phoenix Premium Outlets, located in Chandler adjacent to the Wild Horse Pass Hotel and Casino, opened its doors Thursday with 90 stores ready to offer discounts of 25 to 65 percent off retail prices.