DARRYL WEBB/EAST VALLEY TRIBUNE-JAN,9,2009-A picture of Julio Cesar Chavez, the famous Mexican boxer hangs on the front door of the new restaurant he plans on opening at Southern and Country Club.

Julio Cesar Chavez Campeones, the Hispanic-themed sports bar and boxing and entertainment venue at 1300 S. Country Club Drive at Southern Avenue, closed about three weeks ago and is being renovated into a Country and Western-themed restaurant, bar and entertainment venue scheduled to open next month. Julio Cesar Chavez Campeones closed due to a bad economy, management issues and partially because of the looming effect of Senate Bill 1070, its managers say.

Thomas Boggan, Tribune 05/04/09--Former boxer Julio Cesar Chavez answers questions during a promotional event for the release of a new energy drink branded with former boxer Julio Cesar Chavez at the site of soon-to-be developed restaurant in Mesa, Ariz., Monday, May 4, 2009.

DARRYL WEBB/EAST VALLEY TRIBUNE-JAN,9,2009-Julio Cesar Chavez, the famous Mexican boxer, plans on opening a restaurant at Southern and Country Club.
Wednesday, September 26, 2007 9:51 pm
The Mountain Ridge Mountain Lions know what they have ahead of them. With perennial power Xavier looming Thursday in a Desert Valley Region showdown the Mountain Lions wasted little time sweeping one of their last non-region matches of the regular season The visiting squad from Cesar Chavez fought gamely but had no answers for the Mountain Lions (5-3), who rattled off their fourth straight match win. As much as Cesar Chavez coach Benadette Campas may have championed the cause of defense there was no stopping the arsenal of attackers setter Bree Homsey had to choose from. "I thought our serve receive was pretty good tonight," Homsey said. "I was getting a lot of good passes so I could go where ever I wanted to." Whether it was Sam Schofield and Katie Peterson in the middle or McKenzie Jensen and freshman Chelsey Schofield on the outside Cesar Chavez had trouble matching the firepower as middle Jasmine Box was largely their only consistent weapon. In game one the Mountain Lions jumped to a 6-0 lead. Cesar Chavez would pull within two however Homsey would then serve her team to five straight points with an array of challenging serves, a trend that would continue throughout the evening. "I've been working on my jump serve a lot in practice and tonight seemed a good time to test it out," she said. Game one would finish without the Pegasus ever getting closer than four points in a 25-15 win that was punctuated with a well directed touch kill by Peterson who spotted the hole in the defense. In the second game Cesar Chavez started strong battling Mountain Ridge to a stand still through the first 16 points, but Mountain Ridge pulled away with 10 of the next 12 points on their way to a 25-13 win. The elder Schofield, the team's captain, said the team's effort has been consistent throughout the season. "I thought we kept it pretty high even though we were playing a team that didn't have such a good record (3-6)," she said. "I try to keep people up if they're not into the game. Katie does a good job of getting everybody going too." Game three was more of the same. Cesar Chavez was scrappy enough to be competitive, tying the deciding game for the last time at 15, but then could do nothing to stop the surge by Mountain Ridge. Inspired by Queen's We will we will rock you, which played prior to the final game the Mountain Lions rocked their way to victory by scoring the game's final 10 points with Homsey serving her team to victory. Included in the final 10 points were five Homsey aces. Peterson finished the match with a kill on match point. Devenney was happy with his teams effort, but knows bigger challenges lay ahead. "We're streaky," he said. "When we play well, we're very confident and very tough to beat, but we've got to learn how to shake off the times when we aren't playing well quicker," he said. "I see progress. We're definitely playing more consistently." As of Wednesday night's power ratings, a combination a team's record with its strength of schedule, that are used to seed the state tournament at the end of the year, the Mountain Lions stood No. 10 as they prepared to face No. 8 Xavier (7-1). Devenney's club lost to the Gators in a tournament earlier this year in two close games. "With Xavier they just have that history of success where they come out on the court and even if they're down they know they can comeback and win against any team," Devenney said. "We were at 20-20 in both games with them and then they pulled away. I think we have to know we can beat them." In other Northwest Valley action this week Deer Valley remained undefeated, moving to 6-0 on the season and 2-0 in Northwest Region action with a 3-1 win over Goldwater. In a battle of two Desert West Region teams Tuesday night Centennial swept Sunrise Mountain to improve to 2-0 in region play and 4-3 overall. The Mustangs, who had earned an emotional region opening win over defending champion Ironwood (5-2) Tuesday, fell to 1-1. On Thursday Ironwood and Centennial square off for the first time this season with the Coyotes looking to get to 3-0 in region play when they travel to Ironwood. At least when it comes to the power rating the 4A West Valley is the place to be. In addition to 4A Div-I defending state champion Cactus, which is undefeated at 10-0, Millennium (6-4) is No. 2, Peoria (7-2) is No. 5, while Agua Fria (4-6) is No. 9. The Cobras last win came Tuesday at Copper Canyon, a 3-0 Cactus win.
Friday, September 8, 2006 4:53 am
Outlook: Dobson gave up fewer points in its 2006 opener (14) than it did in any game on its 2005 slate.
Friday, September 15, 2006 2:00 am
Outlook: Last week's loss to Buena could come back to haunt Highland at season's end. The Hawks blew a 17-0 lead, which playoff-caliber teams can't afford to do.
Thursday, October 13, 2005 11:38 pm
Address: 3921 W. Baseline Road, Laveen; Records: Basha 4-2; Cesar Chavez 4-2; Gametime: 7:00 p.m.

Cesar Chavez held their annual "Senior Night" celebrating graduating senior from the winter activities Friday, Oct. 26, 2012 in Phoenix. [Jerry Burch/Special to Tribune]

Marcos de Niza captains walk to meet the Chavez captains for the opening coin toss, Friday, Oct. 26, 2012 in Phoenix. [Jerry Burch/Special to Tribune]

Chavez quarterback Arturo Macias fends off a Marcos de Niza defender as he moves runs with the ball in the first half of play Friday, Oct. 26, 2012 in Phoenix. [Jerry Burch/Special to Tribune]

Macos de Niza's Taylor Blankenship turns the corner to grab a first down early on Friday, Oct. 26, 2012 in Phoenix. [Jerry Burch/Special to Tribune]

Cesar Chavez quarterback Arturo Macias is brought down by a host of Marcos de Niza defenders in the second half of play Friday, Oct. 26, 2012 in Phoenix. [Jerry Burch/Special to Tribune]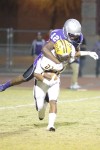 Cesar Chavez's Chasyi Bryant grabs a Marcos de Niza ball carrier Friday, Oct. 26, 2012 in Phoenix. [Jerry Burch/Special to Tribune]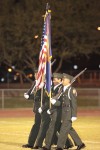 The Cesar Chavez Junior ROTC marches to present the color before Marcos de Niza and Cesar Chavez football teams meet, Friday, Oct. 26, 2012 in Phoenix. [Jerry Burch/Special to Tribune]

Marcos de Niza fans show their support for their team Friday, Oct. 26, 2012 in Phoenix. [Jerry Burch/Special to Tribune]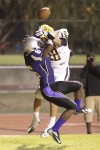 Two players collide in the endzone during the matchup between the Padres from Marcos de Niza and the Champions of Cesar Chavez Friday, Oct. 26, 2012 in Phoenix. [Jerry Burch/Special to Tribune]

A Cesar Chavez band member shows team support before his team meets visiting Marcos de Niza Friday, Oct. 26, 2012 in Phoenix. [Jerry Burch/Special to Tribune]

Marcos de Niza's Josh Kirkwood and Khadeem Stewart stop the Cesar Chavez runner Friday, Oct. 26, 2012 in Phoenix. [Jerry Burch/Special to Tribune]

Marcos de Niza's Mauriece Lee evades Chavez defender Kevin Stone Friday, Oct. 26, 2012 in Phoenix. [Jerry Burch/Special to Tribune]

Padres Mauriece Lee runs the ball while taking on Cesar Chavez Friday, Oct. 26, 2012 in Phoenix. [Jerry Burch/Special to Tribune]

A cheer mom from Cesar Chavez photographs the "Champions" squad Friday, Oct. 26, 2012 in Phoenix. [Jerry Burch/Special to Tribune]