Just more than two months before training camp, Cardinals still not close in negotiations with Glendale.
Monday, May 13, 2013 11:57 am

Monday, May 13, 2013 6:00 am
Jerome; Willcox; Mormon Lake
Monday, May 6, 2013 2:28 pm
Magdalena Mozes Herzberger has been on a mission ever since a British soldier picked her up from among the dead at the Bergen-Gelsen concentration camp in northwest Germany in April 1945. The soldier cried as he carried her, and she looked over the numerous dead as they passed.
Monday, May 6, 2013 10:00 am
It has become a real-life soap opera watched by people around the world and dozens of fanatics who camp out on a Phoenix sidewalk in the middle of the night to get into the show. One seat even sold for $200.
Sunday, May 5, 2013 7:45 am
The Arizona Cardinals didn't need this.
Saturday, May 4, 2013 5:00 pm
NAPA, Calif. — Love the lush and lovely Napa Valley but hate how expensive it can be? You're not the first. In the late 19th century, writer Robert Louis Stevenson moved his honeymoon to the rustic but free setting of an abandoned mining camp when the $10-a-week going rate for Calistoga hotels proved too much for his slender purse.
Friday, April 26, 2013 12:00 pm
When one thinks of the Holocaust film genre, dramas such as "Schindler's List" and "The Pianist" instantly come to mind for their harrowing portrayals of victims and survivors who suffered at the hands of Nazis. But what about the German survivors – more specifically, the children of Nazi war criminals forced to come to terms with the atrocities of their parents? This is a question posed by the exceptional new German-language film, "Lore," Cate Shortland's follow-up to her acclaimed 2004 feature "Somersault."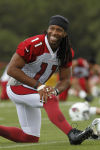 Arizona Cardinals' Larry Fitzgerald stretches out during the first day of NFL training camp football practice at Northern Arizona University Wednesday, July 25, 2012, in Flagstaff, Ariz.(AP Photo/Ross D. Franklin)
Wednesday, April 24, 2013 6:37 am
Just before sunrise at a campground near Payson, Carly Stoltenberg and her husband, Steve, woke to their friends screaming, "Bear! Bear!" from a nearby tent.
Thursday, April 18, 2013 3:00 pm
NASHVILLE, Tenn. — Coachella is over and Lollapalooza is sold out. Bonnaroo's nearly there, too. But eager fans need only be patient: Wait a few years and chances are you'll have a star-studded music festival of your own within driving distance.
Thursday, April 18, 2013 9:17 am
Mark was on the verge of losing it. A deadline was approaching for an important client and the success of the project was hinging on his teams activities.
Wednesday, April 17, 2013 12:16 pm
This letter is in response to Kimberly Miller's letter published April 12.
Friday, April 12, 2013 12:30 am
Jackie Robinson was the ideal class act to break the barrier and become the first black player in Major League Baseball.
Wednesday, April 10, 2013 10:45 am
"Reveille" mini camps offer a wake-up call for addicts, their families and helpers; while a two-hour workshop for couples provides the means for "Reunification."
Sunday, April 7, 2013 12:46 pm
He is being remembered as a businessman, a philanthropist and man who loved his family and community.
Saturday, April 6, 2013 2:26 pm
Camp Paz, hosted by Arizona-based nonprofit Stepping Stones of Hope, is planned for the weekend of April 27 at Whispering Hope Ranch in Payson. The weekend-long overnight camp is designed for grieving children ages 6 to 17 and their families.
Saturday, April 6, 2013 12:15 pm
The Arizona Rattlers are bringing more than just championships to the Valley.
Friday, March 29, 2013 3:17 pm
Nearly 10,500 fans gathered to bid a farewell to the 2013 Major League Baseball Spring Training season Thursday afternoon.
Friday, March 29, 2013 6:00 am
WASHINGTON — President Barack Obama is designating five new national monuments, using executive authority to protect historic or ecologically significant sites — including one in Delaware sought by Vice President Joe Biden.
Tuesday, March 26, 2013 7:49 pm
Registration is now open for summer programs in many East Valley school districts.
Tuesday, March 26, 2013 5:22 pm
Boy Scout Troop 653 is having its annual benefit car wash 7 a.m. to noon Saturday at the AM/PM at 2751 University Drive in Mesa.
Tuesday, March 26, 2013 11:39 am
Matt Johnson will be the new boys basketball coach at Skyline pending Tuesday night's governing board approval.