Rep. Chad Campbell, D-Phoenix, the House minority leader, held a news conference Wednesday to outline a $261 million plan that he would prevent gun violence in schools and communities.

Calais Campbell and the Cardinals agreed on a new five-year contract extension on Thursday.

Glen Campbell performs during the 54th annual Grammy Awards on Sunday, Feb. 12, 2012 in Los Angeles.

Lisa D. Campbell, author of "Michael Jackson: The Complete Story of the King of Pop" at her Ahwatukee home on Tuesday, Nov. 13, 2012.
Friday, December 16, 2011 7:30 am
When our country's housing market crashed, Arizona felt it more than just about any other state in the nation.

House Minority Leader Chad Campbell explains Friday how Democrats want the state's tax code restructured but how they are unwilling to go along with plans by Republicans, including House Majority Leader Andy Tobin, to shift some of that burden on homeowners.
Saturday, August 1, 2009 8:08 pm
Too on One caught up with Cardinals defensive end Calais Campbell to talk about celery, life after football and Will Smith.

GOOD FIRST YEAR: As a rookie, Cardinals defensive end Calais Campbell got to celebrate a division title and a trip to the Super Bowl.
Friday, April 4, 2008 11:05 pm
 LONDON - Naomi Campbell was released on bail Friday after a spat with a police officer at Heathrow Airport's troubled new Terminal 5, where one of her bags was lost.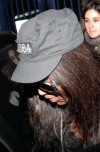 British model Naomi Campbell leaves the police station at London's Heathrow airport Friday April 4, 2008, after she was arrested following an incident before a flight she was taking a few hours earlier.
Tuesday, February 26, 2008 12:01 pm
SAO PAULO, Brazil - Naomi Campbell has been hospitalized in Sao Paulo and is being treated by one of Brazil's top specialists in infectious disease, the hospital's press office said Tuesday.
Saturday, September 9, 2006 1:59 am
Desert Mountain remained undefeated on the young season, improving to 2-0 with a 49-7 win Friday over host Phoenix Carl Hayden in a 5A Division II nonregion contest.
Friday, July 21, 2006 5:37 am
LONDON - Naomi Campbell was arrested after allegedly causing a disturbance outside a former boyfriend's home, a British newspaper reported Friday.
Saturday, April 8, 2006 7:12 am
AUGUSTA, Ga. - The top 10 conclusions we can jump to at the midway point of the 70th Masters: No. 1 — Chad Campbell is ready to win his first major championship. The 36-hole leader, who not long ago was picked in a poll by his peers to be "the next great player,'' has the game and the demeanor to win a green jacket.
Monday, June 14, 2004 10:51 am
PHOENIX - Country music singer Glen Campbell, who pleaded guilty last month to extreme drunken driving and leaving the scene of an accident, had his sentence delayed so he could perform Sunday at the CMA Music Festival in Nashville, Tenn.
Wednesday, January 29, 2003 9:30 am
Steve Campbell hopes to be a much better football coach than he was a player.
Tuesday, February 19, 2008 12:41 am
MOUNT LAUREL, N.J. - The Campbell Soup Co.'s kid-oriented soups, which feature characters such as Dora the Explorer and Batman on the cans, are getting their second sodium reduction in three years, the company announced Monday.
Wednesday, December 21, 2011 5:00 pm
I read State Representative Chad Campbell's populous, socialist tirade (Campbell: Protect the people, not the banks) that was published Dec. 16. Campbell attempts to thwart any effort to avert a future prolonged housing downturn by advocating that the ability to walk away from a mortgage that a borrower is able to pay, will be the default policy in Arizona, forever.  
Monday, August 17, 2009 3:18 pm
Calais Campbell has a big new role with the Cardinals, and he certainly has the size for the job. The 6-foot-8, 290-pound second-year pro out of Miami replaces the departed Antonio Smith at defensive end, and he relishes the challenge.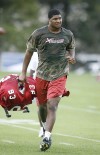 Calais Campbell was drafted in the second round, the 50th pick overall, last season.
Thursday, April 9, 2009 3:58 pm
Chad Campbell ran off five straight birdies, the best start ever in the Masters. Jim Furyk charged up the crowd with four straight birdies late in his round. Even that notoriously slow starter, Tiger Woods, got in on the action.