Bruce Springsteen along with E Street Band perform Thursday, Dec. 6, 2012, in Glendale, Ariz. [Miachelle DePiano/ Special to Tribune]

Bruce Springsteen along with E Street Band perform Thursday, Dec. 6, 2012, in Glendale, Ariz. [Miachelle DePiano/ Special to Tribune]

Bruce Springsteen along with E Street Band perform Thursday, Dec. 6, 2012, in Glendale, Ariz. [Miachelle DePiano/ Special to Tribune]

Bruce Springsteen along with E Street Band perform Thursday, Dec. 6, 2012, in Glendale, Ariz. [Miachelle DePiano/ Special to Tribune]

Bruce Springsteen along with E Street Band perform Thursday, Dec. 6, 2012, in Glendale, Ariz. [Miachelle DePiano/ Special to Tribune]

Bruce Springsteen along with E Street Band perform Thursday, Dec. 6, 2012, in Glendale, Ariz. [Miachelle DePiano/ Special to Tribune]

Bruce Springsteen along with E Street Band perform Thursday, Dec. 6, 2012, in Glendale, Ariz. [Miachelle DePiano/ Special to Tribune]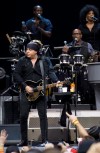 Bruce Springsteen along with E Street Band perform Thursday, Dec. 6, 2012, in Glendale, Ariz. [Miachelle DePiano/ Special to Tribune]

Bruce Springsteen performs during the 54th annual Grammy Awards pre-show on Sunday, Feb. 12, 2012 in Los Angeles. (AP Photo/Matt Sayles)

Nils Lofgren, left, and Bruce Springsteen share a moment on stage during a concert.
Thursday, January 29, 2009 4:25 pm
Five questions with Bruce Springsteen, who will perform at halftime of Super Bowl XLIII:
Tuesday, January 27, 2009 12:00 am
Friday, October 31, 2008 9:10 am
RUMSON, N.J. - Bruce Springsteen has a Halloween treat for his fans.

This Sept. 28, 2007 file photo shows Bruce Springsteen as he appears with his band on the NBC "Today" television program in New York's Rockefeller Center. Springsteen and his wife, Patti Scialfa, say they won't be having their usual elaborate Halloween display featuring masked characters and decorations. The 59-year-old rocker and his wife say too many visitors to their Rumson neighborhood raised concerns for the safety of children and parents.
Monday, September 29, 2008 8:07 am
NEW YORK - Bruce Springsteen and the E Street Band will perform at the 2009 Super Bowl halftime show in Tampa, Fla., the NFL and NBC announced Sunday night.
Thursday, April 27, 2006 4:35 pm
Bruce Springsteen is the rare musician who transcends generations, equally at ease sharing the stage with Bob Dylan or Conor Oberst.
Tuesday, April 26, 2005 6:59 am
Thursday, March 8, 2012 5:15 pm
Nearly three decades ago, Bruce Springsteen wrote with sadness about a man showing his young son a hometown ravaged by outside economic forces, a town the family was about to leave.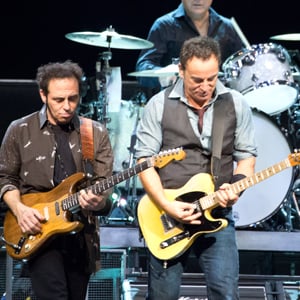 Bruce Springsteen along with E Street Band perform Thursday, Dec. 6, 2012, in Glendale, Ariz. [Michelle DePiano/ Special to Tribune]

In this photo released by Shorefire Media, a young Bruce Springsteen performs at New York Citys Bottom Line in 1975.
Friday, February 19, 2010 7:04 am
WASHINGTON -- Live Nation Entertainment Inc.'s Ticketmaster unit has reached a settlement with federal regulators to refund money to people who bought marked-up tickets to 14 Bruce Springsteen concerts last year.
Friday, November 18, 2005 5:12 pm
WASHINGTON - Bruce Springsteen famously was "born in the USA," but he's getting scorned in the U.S. Senate.